Biodiversity disturbed by climate change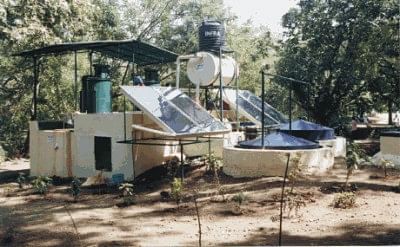 Every species plays an important role in maintaining an ecological balance among the living systems of the earth. Loss of any species threats the survival of several species inclusive of man. Man's own survival depends on his willingness and ability to co-operate with the living environment as it provides critical benefits to humans. These benefits encompass ecosystem services, such as air, water, and soil purification, climate regulation, and the generation of moisture and oxygen. Human beings turn to biodiversity also for spiritual, psychological and cultural benefits. Biodiversity is aesthetically pleasing and provides opportunities for recreational activities.
Neither the earth can afford to replace these services if it is lost once nor these services can always be measured in terms of money alone (WRI, 2002). The direct economic benefits of biodiversity run into trillions of dollar per year (Constanza et al., 1997). It has much scientific value also. Scientists have gained medical knowledge and discovered important medical products by studying wildlife. Besides, we are normally and morally responsible to the coming generation to leave as an inheritance an unspoiled world with intact living beauty and richness.
How biodiversity
is affected
Over the last 100 years atmospheric temperature has increased by 0.5 úC but in the next 50 years that is, by 2050, the temperature is projected to rise by 1.5ú to 2úC (IPCC 4th Assessment Report, 2007). This increased temperature is affecting precipitation intensity, pattern and distribution. It is also causing the occurrence of numerous climatic disasters with severe intensity and frequency. Scientists agree that an increase in the atmospheric concentration of greenhouse gases, such as CO2 and methane will result in an increase in global temperature and a change in the global distribution of precipitation that will eventually cause change in the global biodiversity pattern.
A model was developed by Hokdridge in 1997. According to the model, there will be a poleward shift of vegetation patterns. Approximately 30% of the vegetation of the Earth will experience a shift as a result of the predicted climate change. Although the climate change is expected to be significant, the major threat for biodiversity is the speed with which this change will occur. The rapid change in climatic conditions will hamper the ability of individual species to migrate to regions with climatic conditions similar to those of the present. Moreover, in Polar regions, the area favourable for the survival of individual species will be largely reduced. The reduction of suitable areas for a large number of species, and a change in climate faster than the migration rate of most species, is certain to result in a drastic reduction of global species diversity.
Climate change could bring increased frequency and destructiveness of hurricanes, more protracted droughts, longer and hotter waves, and more severe rainy periods and some where severe cold waves (Frolich, 2008) that will have tremendous impact on Earth's biological diversity. While there is clear evidence that climate change is altering the distribution of animal and plant pests and diseases, the full effects are difficult to predict. Changes in temperature, moisture and atmospheric gases can fuel growth and generation rates of plants, fungi and insects, altering the interactions between pests, their natural enemies and their hosts. All these will eventually take a toll on biodiversity (Parry and Jiachen 1991, Gates 1993).
Schlesinger (1998) predicts that rising temperature and precipitation will result in the expansion of boreal forests, but overall forest area is expected to contract, with grasslands and deserts increasing in extent. In North America, Europe, Asia and South Africa, desert and other areas of sparse vegetation may expand at the expense of grasslands, shrublands and prairies. The 1982-83 El Nino event gave Galapagos increased rainfall that barred many sea birds from breeding. As a result, the Galapagos penguin and the flightless cormorant populations were reduced by 49% and 77% respectively (Valle and Coulter, 1987).
Again tree species dependent on animals for pollination or seed dispersal may be affected by the changing ranges of animal species. Populations located near the edge of a species'range, narrowly endemic species, and endangered species that exist only in reserves or other extremely limited habitats, are especially vulnerable to global vegetation shifts.
Alexander (1992) notes that the melting of sea ice could also affect marine mammals that use ice floes for rest, travel and reproduction. Rising ambient temperature may result in decreased fertility and fetal survival in mammals, fish, reptiles and invertebrates that are subject to environmental sex determination may also be affected directly by rising temperatures. For example, higher temperatures produce more males of alligators and crocodiles and more females of some turtles… (Head et al. 1987).
Dr. Mohammad Ibrahim, a prominent scientist notes that about 40% of about 44 thousand species of the world are at stake due to climatic and other disasters (Ittefaq, July 7, 2009). The 2005 Millennium Ecosystem Assessment estimates that by the end of this century, climate change will be the main cause of biodiversity loss. The Intergovernmental Panel on Climate Change (IPCC) reports that a significant number of species will be at risk of extinction as the global mean temperature increases.
Existing limitations and suggested actions
Here an attempt is made to present the existing problems and to suggest some actions in conservation of biodiversity under the projected scenario of climate change.
§ Still there is much lack of quantitative data as to the climate change impacts on biodiversity how much biogene, species, and ecosystems are being lost due to climate related disasters? Which species are facing endangeredness and extinction and at which rate and where in particular? How much species are vulnerable to climate change at present and will be in future if climate continued changing at present rate? So, it is now exigent to carry out sufficient scientific researches to assess the impacts of climate change on biota.
Global concerns such as climate change and loss of biodiversity require concerted efforts among various stakeholders and institutions at local, national and international levels along with close association among other Multilateral Environmental Agreements (MEAs).
Awareness raising and communication materials on biodiversity conservation and climate change should be developed and awareness building and information dissemination should be done globally about biodiversity and the ways to conserve biodiversity under the present stress of climate change through advertisement in mass media, documentary films and other means of propaganda and motivation.
Development of international and national biodiversity conservation strategy and actions plan taking climate change and other threats to biodiversity into account is a must. Hopefully, in line with the Convention on Biological Diversity, different countries of the world have already developed National Biodiversity Strategy and Action Plan (NBSAP). Necessary support--both financial and technical -- from the international community should be made, if necessary, for the sound implementation of NBSAP in respective countries.
Concluding remarks
Under the present circumstances of climate change and climate change-induced disasters, the future of the floral and faunal kingdom looks very bleak. If it can't be preserved, this world would be a virtual paradise lost. But to save the earth's living kingdom from the impact of climate change, climate change mitigation is simply an urgency. Time is just running out. Less than 40 days left world leader are scheduled to meet in the 15th UNFCC in Copenhagen (December 7-18, 2009) for adopting a climate change agreement. In case of formulating effective international measures, there must be clear-cut policies and actions for climate change mitigation. In that biodiversity protection deserves highest priority.
Muhammad Selim Hossain is an MS student, Department of Geography and Environment, University of Dhaka.