Rangs showcases Mitsubishi spare parts
Fair ends tomorrow, 17 retailers join in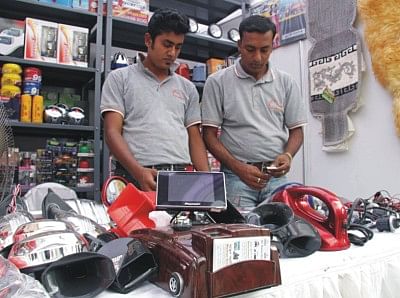 Rangs Ltd yesterday organised a three-day exhibition in a bid to introduce its Mitsubishi customers to the spare parts retailers in the city.
As many as 17 Mitsubishi spare parts retailers from different parts of Dhaka gathered at the Mitsubishi showroom at Tejgaon in Dhaka, showcasing electronic and electronics parts to customers.
There is a misconception in the auto market that Mitsubishi car parts are not readily available. "We are organising the exhibition to forward a message to our customers that Mitsubishi spare parts are always available in the market," said Md Munir Uddin, deputy general manager (head of operations) of Rangs Ltd.
Rangs Ltd is the sole distributor of new Japanese Mitsubishi cars in Bangladesh. The company has sold 5,500 cars on the local market so far.
In 2008, Rangs sold 750 Mitsubishis of different models, while this year they expect to continue their sales performance, Munir said.
He said luxury car sales dropped significantly as the current budget imposed high duties on imported cars. "Therefore, most customers are interested in buying cars up to 1,500cc."
Middle-class and upper-middle class people are the main customers of Mitsubishi cars.
Mitsubishi customers can get an idea about the exact cost of spare parts by visiting the exhibition. The exhibition remains open from 10am to 7pm. The fair ends tomorrow.