Poet Sufia Kamal's 10th death anniversary today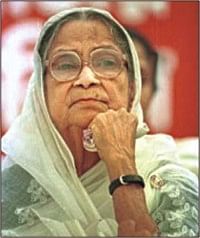 Today marks Poet Sufia Kamal's (1911-1999) 10th death anniversary. The poet, writer, organiser and women's rights activist was born to a conservative Muslim family in Barisal. When she died in 1999, she was buried with full state honour, the first woman in Bangladesh to receive this tribute.
Her first short story "Shainik Bodhu" was published in 1923. Sufia Kamal's first poem, "Bashanti" was published in Saogat in 1926. Kamal was the first Bengali Muslim female to be a member of the Indian Women's Federation.
Kamal's literary career took off after her first poetry publication. Her first book of poems "Sanjher Maya" came out in 1938. In 1937, she published her first collection of short stories "Keyar Kanta".
Though she called herself a romantic poet, her work more and more reflected the struggles to preserve the Bengali language and culture. Later in life, she made women's rights her top priority.
In 1947, when Shaptahik Begum was first published, Sufia Kamal became its editor. In October that year, after the partition of India, she came to Dhaka. In 1961, when the Pakistani government banned Rabindra Sangeet, she became involved in the movement that ensued.
The founder president of Chhayanaut died on November 20, 1999. To mark her death anniversary, Chhayanaut has arranged a commemorative programme this evening at 6 pm.
Compiled by Correspondent.