Investors urge SEC not to appeal against HC verdict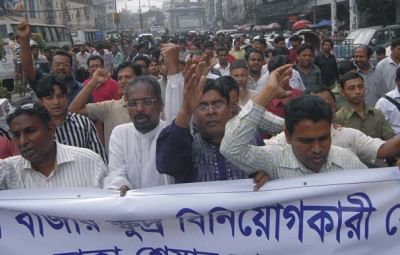 A group of retail investors once again urged the stock market regulator not to appeal against the High Court verdict on the mutual fund case.
They made the plea by submitting a memorandum to the Securities and Exchange Commission yesterday.
Earlier, hundreds of investors took out a procession under the banner Share Market Retail Investors Forum from the Dhaka Stock Exchange building to SEC building.
They said due to the writ petition, mutual funds were not giving dividends for a couple of years now.
The case has now been resolved by the High Court. If the SEC appeals with the Supreme Court, the issue of dividends will remain pending once again, they said.
The High Court on November 8 handed down a verdict allowing closed-end mutual funds to issue bonus or right issues.
After the verdict, SEC said it would appeal to the Supreme Court next.
In yesterday's memorandum, investors also urged SEC to withdraw a ban on margin loan facilities to mutual funds.
On Saturday, investors submitted a memorandum to the prime minister, seeking her intervention in the mutual fund issue.
Investors also said they will submit a copy of the memorandum to the finance ministry today.