Germans keen on investment
German-Bangladesh chamber leader says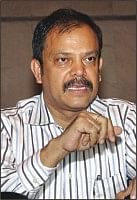 Economic theory shows every risk ushers an opportunity. The global recession has created openings for some countries, especially South Asia, a relatively consumer-driven market.
Many say the sub-prime mortgage crisis, the recession roots, deepened in the United States when major western investors targeted the South Asian region as an investment destination.
Bangladesh has remained resilient to this financial crisis worldwide, with maintaining of around 15 percent growth in readymade garment (RMG) exports last fiscal (2008-09).
The recent visit of a good number of prospective investors from Germany and other European Union countries to this country in a short span of time is an indicator to the fact that it is considered a more focused destination.
The Daily Star has had a conversation with the German-Bangla chamber leader at his office in Dhaka where the tour of a business team from Europe's largest economy got prominence.
The German team was on a visit here on October 25-29.
Checking out the investment opportunities in Bangladesh was its goal, according to Saiful Islam, the president of Bangladesh-German Chamber of Commerce and Industry.
Islam coordinated this visit.
RMG, shipbuilding, inland transport system, solar power and chemical sectors are some key areas Germans keen to invest and for this purpose a feasibility study is now underway.
The investors from the West, now showing signs of recovering recession, are now busy in re-fixing their future strategies, says Saiful Islam.
Now they turn to South Asian countries who recorded a stable GDP (gross domestic product) growth over the last few years, the entrepeneurs' trade body chief pointed out.
Profit factors outshine the risk factors of investment in Bangladesh, Islam says, and so is the observation of the team that visited Dhaka. German businesspeople are eager to visit here again to study investment climate.
However some loopholes they identified in the way of smooth investment, Islam says. Dhaka's traffic congestion and weak infrastructure countrywide are the two major things they complained about, the German-Bangla chamber's key person added.
Such gridlock causes a rise in transportation costs, the German team pointed out.
"A lot of homework is needed to lure foreign investment," he also suggested.
On another query, Islam pointed his finger at German retail giant Metro Group's interest in raising the volume of imports from Bangladesh. This globally renowned group registered a $58 billion turnover last year.
Metro Group, now outsourcing mangoes from Pakistan, has recently proposed imports of Bangladesh mangoes.
Stressing acceleration of uplift works here, Germans also complained that bad transportation system leads to the fall in merchandising quality, Islam further said narrating the German delegation's visit experience.
He said shipbuilding is an emerging industry in Bangladesh and demand for small and medium ships in Germany is also on the rise, as at least 15,000 such water vessels lost their utility last year.
Germany is one of the major water vessel users in the world, Islam maintained. "So, we, as a shipbuilding country, have immense opportunity to grab German market," he said.
He also pointed to Bangladesh's widening export basket to Germany. " Enhanced trade ties have contributed to this."
Exports to Germany were recorded at $1.59 billion up to June 2009, while imports from Germany stood at $270 million during the period.
In FY 2008-09, Bangladesh posted a 24 percent growth in exports to Germany, while imports grew 10 percent. The export figure was $2.5 billion, while the import was $330 million, Islam said.
In FY 2008-09, finished leather goods exports to that country reached $177 million and leather and leather goods $204 million. Germany is one of the major leather and leather goods markets in the world.
Saiful Islam said Bangladesh's main export item to Germany is RMG, while it imports mainly spare parts of vehicles.
Islam suggested the government deploy a trade expert in Germany as a trade commissioner from the private sector as government officials can hardly handle business scope efficiently.
Islam, an ex-mariner, also asked the government for providing two important things -- primary healthcare facility and primary education -- to raise workers' capacity.