Lanka's top general quits military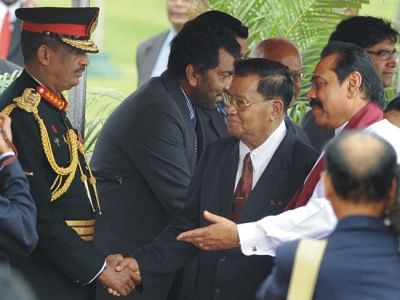 Sri Lanka's top general, Sarath Fonseka, the architect of the army's victory over Tamil rebels who was switched to a more ceremonial position, quit Thursday, a military source said.
Fonseka, who is widely tipped to challenge President Mahinda Rajapakse in elections next year, submitted his resignation as chief of defence staff after a ceremony welcoming Myanmar's junta leader at the airport, the source said.
"He gave his letter of resignation this afternoon and expects the government to ensure his security because he was the main figure responsible for crushing Tamil Tigers," the source close to him said.
Fonseka, 58, the country's only four-star general, has been at loggerheads with the government in recent months after he was removed as army chief and made chief of defence staff, which has no command responsibilities.
There was no immediate word from the government.
Fonseka declared during a visit to the United States last month that he was willing to shed his uniform and take up "social work" if politicians did not take advantage of the end of the decades-old separatist conflict to ensure economic revival.
The source said he had asked for his resignation to be effective from December 1.