The role of economic zones in tackling labour compliance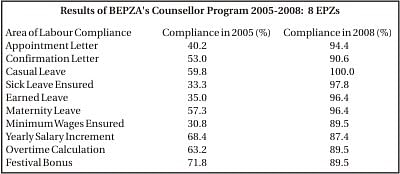 ON the morning of November 4, I opened the paper and read an op-ed about the plight of RMG workers. As a long-time practitioner in the social management arena, the issues presented were well-known to me: lack of appointment letters for employees, low wages, long hours, late payment, among others.
However, perhaps most people don't know that there are several enclaves in the country where the situation is drastically different: the eight EPZs in the country. In my recent work with the Bangladesh Export Processing Zones Authority (BEPZA) to set up social management systems in the country's EPZs, I saw first-hand a transformation in the handling of labour-related issues in the factories operating there.
What makes zones different?
We have to consider why -- not only in Bangladesh but also all over the world -- zones can be an excellent place for improving social and environmental compliance of companies.
First, there is a strong feeling of "community" inside the zones. Because zone companies are co-located within a fenced area, they can't really turn a blind eye to what their "neighbours" are doing. International buyers often have strict standards of compliance on social and environmental issues, and generally frown on suppliers with bad reputations. This creates a positive peer pressure to do what is right.
Second, zones have a central zone administration that to a certain extent keeps an eye on each of the companies functioning within the zone. The management body of a zone acts as a regulatory authority over the companies operating inside its perimeter. Even in countries that take a laissez-faire attitude towards the companies operating in their zones, the zone management nearly always knows exactly what's happening, and has a variety of tools at its disposal to monitor and enforce compliance, should it choose to do so.
Third, because companies in a zone are closely located, travelling distances between the companies are short, and the logistics of conducting inspections are simplified.
EPZs in Bangladesh
The EPZs in Bangladesh are great examples of this zone dynamic. Since 2005, BEPZA has had a group of 60 counsellors working as monitors of labour laws in the factories functioning in the zones. They visit the factories on a daily or weekly basis, provide orientation to management with respect to correct procedures for applying labour regulations, raise awareness among workers of both their rights and their obligations before the law, and also arbitrate between workers and management in cases of dispute. They submit a monthly report on every EPZ enterprise to BEPZA.
The results of the counsellor program have been astounding. As the table below demonstrates, they have racked up solid results in a number of key social compliance areas in a little over three years. Compensation to workers went up 32%, simply because the counsellors oriented the management of the zone companies with respect to correct compensation laws.
In Chittagong EPZ, for example, there are more than 130 different companies. Imagine rolling out a similar program for 130 companies scattered throughout the country, the story would have been different. There would have been no positive peer pressure by "the neighbours" to persuade companies to comply. It would have been physically impossible for the counsellors to make their daily/weekly rounds on a regular basis.
Furthermore, whereas the EPZs have the resources to deploy teams of labour counsellors to the companies within their fence, the Department of Labour has far from enough resources to deploy an adequate number of inspectors to the four corners of the country to monitor compliance in tens of thousands of companies. Also, there are few, if any, enforcement options open to the government for companies that don't comply. The EPZ authority has a number of measures at its disposal to ensure that their companies comply with labour issues. BEPZA can, for example, suspend vital services that they supply to their tenant companies if those companies do not comply.
How can economic zones help ensure company compliance with labour standards?
-Zones can be targeted for special social procedures and systems that apply to the companies clustered there. One example is the counsellor program that BEPZA has used with such effectiveness in the last four years.
-Shared facilities can be created within zones that are designed to improve the lives of those working there, such as first-class health care facilities, training facilities, dormitories that provide decent living conditions, and recreational facilities.
-The development of new zones can be encouraged, which will include social compliance in all their leasing agreements with their investors. This was apparently the intent of this government in drafting the Economic Zones Act, which was approved in principle by the cabinet in April of this year, and is now poised to be tabled in Parliament. We can encourage the government to ensure the speedy passage of the Act, which obligates new zones to comply with national social and environmental standards.
-Finally, zones can serve as pilots for labour reform and as an experimental laboratory for new procedures that can eventually be rolled out in the rest of the country. The systems currently being used by the counsellors in the EPZs, and which have proven to be so effective, can eventually be used outside the zones of the country with some variation of the counseor program.
We all know that zones are excellent creators of new jobs. In order to ensure that those jobs really do improve the lives of zone employees, these and other measures can be taken in economic zones to ensure compliance with labour standards.
BEPZA, the counsellors, and the companies that operate in the EPZs should be commended for improving the labour compliance within the EPZs. These efforts serve as a model for zones all over the world. Let's continue on this path and view economic zones with new eyes as potential torchbearers for improved social compliance.
Nazneen Ahmed is a Social Management Specialist at Bangladesh Institute of Development Studies.