The quality of a living art
Dulal Chandra's solo exhibition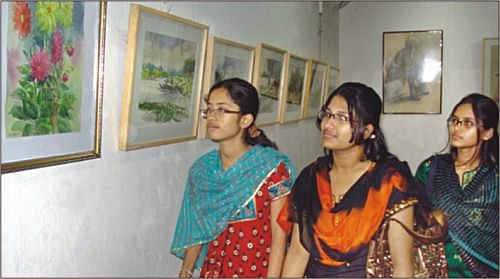 Dulal Chandra Gain's ongoing painting exhibition, titled 'Eternal Attraction', has drawn the attention of visitors and art critics alike. The weeklong painting exhibition is the first solo for Dulal. Held at the auditorium of Shilpacharya Zainul Abedin Sangrahashala (art gallery), the exhibition concludes on November 13.
The collection of 31 paintings by the artist encompasses different media like watercolour, oil, acrylic, mixed media and sketches. The drawings that have an instant appeal are the watercolours and pencil on paper. People of diverse age groups, especially the young, flocked to the venue in large numbers on the inaugural day of the exhibition.
Dulal Gain was born on October 3, 1972 in the village Boalia, Kolaroa Upazila of Satkhira district. He gained admission at the Institute of Fine Arts (now FFA), Dhaka University in 1988 and attained his MFA with first class in 2000 from the Drawing and Painting Department. He joined Shilpacharya Zainul Abedin Sangrahashala (art gallery) as an Assistant Keeper the same year.
On the inaugural day, a discussion was held at the premises of the Sangrahashala with Dr. Bijoy Krishna Banik, deputy keeper of the art gallery, in the chair. Professor Samarjit Roy Chowdhury, dean, Faculty of Fine and Performing Arts of Shanto-Mariam University of Creative Technology addressed the inaugural session as chief guest.
Among the speakers were chairman of Drawing and Painting Department of FFA, DU, Professor Farida Zaman; eminent art critic Moinuddin Khaled; artist Amirul Islam; poet Shamsul Fayez and cultural personality Yeazdani Koraishi Kajol.
The speakers pointed out that Dulal's drawings on the pre-historic times depict the living condition of ancient civilisations and the subject reveals the creativity of this young artist. His drawings on nature -- rivers, landscapes and the day-to-day lives of rural people -- have the quality of a living art, they expressed.
Terming Mymensingh as 'Shilpacharya's town', the speakers also said that as in Dhaka, more art exhibitions should be organised here to honour this world-renowned artist as well as to inspire contemporary artists of the country.