Hartal observed demanding arrest of Eti Moni's killer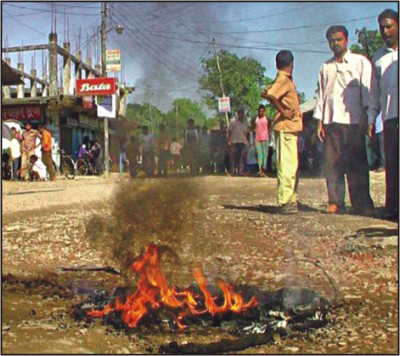 An eight-hour hartal was observed at Jaldhaka upazila headquarters yesterday demanding arrest of the killer of Eti Moni, 15, a class ten student of Jaldhaka Pilot Girls' High School, and immediate withdrawal of the officer-in- charge of Jaldhaka Police Station for his failure to arrest the culprit.
Chhatra-Janata Sangram Committee, a body comprising political parties, student organisations, trade unions and different socio-cultural organisations called the hartal from 6:00am to 2:00pm.
All educational institutions, private offices, banks and shops were closed, vehicles were off the roads and attendance in government offices was thin during hartal hours.
A number of processions were brought out in the municipal town during the hartal. The protesters chanted slogans demanding immediate arrest of the killer of Eti Moni and withdrawal of Jaldhaka OC.
Later, they held a rally at zero point intersection of the town. Chaired by Convenor of Chhatra--Janata Sangram Committee Afroza Begum Rozi, also a senior teacher of Jaldhaka Pilot School and College, the rally was addressed, among others, by upazila Awami League leader Golam Mostofa, upazila BNP leader Anisur Rahman, JSD Nilphamari district unit President Azizul Islam, Jaldhaka Upazila Chairman Sayed Ali, Vice chairmen Mahfuza Sultana and Golam Pasha, Jaldhaka unit President of Motor Sramik Union Abdul Majid, Rabeya Women's College teacher Ruhul Azad, Eti's elder brother Rustom and classmate Soma Akhter .
Daughter of Yakub Ali of LSD Para under Jaldhaka Municipality, Eti Moni was raped and killed at their house in the evening of September 30 by timber trader Mahmudar Rahman, 25, of Dhundibari village of the upazila. She was alone at the house during the incident.
Father of the victim filed a case with Jaldhaka Police Station on October 1 against Mahmud.
At the rally, the speakers announced that they would lay siege to Nilphamari deputy commissioner's office on November 7 if their demands were not met by November 6.
Jaldhaka OC Arman Hossain told newsmen that he could not arrest the accused as he has got interim bail from the high court. But the OC could not show the High Court order.