Bayern bow to Gomez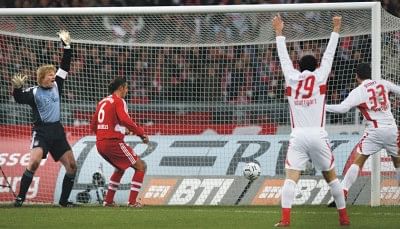 League leaders Bayern Munich's 3-1 surprise defeat at VfB Stuttgart on Saturday was the Ger-man giants' first defeat of the season and has left the club's senior figures reeling in shock.
Having enjoyed a six-point gap at the top of the Bundesliga in the middle of October, Bayern have had their lead trimmed back to a single point after they were humbled in Stuttgart.
Bayern's water-tight defence had only conceded four goals in 12 league games all season, but that record was smashed by Stuttgart as Germany's player of the year Mario Gomez scored twice to put the home side 3-0 up at half-time.
And the second-half dismissal of Brazilian defender Lucio was the final nail in Bayern's coffin.
Italian World Cup winner Luca Toni scored a late consolation goal, but it was too little, too late as Bayern's run of 24 competitive games without defeat came to a spectacular end.
"You're obviously going to suffer minor setbacks at some point during a season," said Bayern captain Oliver Kahn, whose side now has a two-week break thanks to next weekend's Euro 2008 qualifiers.
"We're still top of the table. If we now go on and win the league, no-one will ever mention this game again.
"We were lethargic in the first half, we didn't go looking for the ball, and we didn't win the ball.
"We never came near the attitude we needed for this match, so there was no way we were going to come away with anything.
"We've now got 14 days to get over it, and then we'll be back with a vengeance.
"We'll sit down and analyse the situation, but we're not going to panic."
But Bayern have now gone four games without a win, which is not acceptable for the ambitious Munich side.
Scoreless draws with mid-table Bundesliga sides Eintracht Frankfurt and Borussia Dortmund plus the defeat in Stuttgart, as well as last week's 2-2 UEFA Cup draw with Bolton Wanderers means the German giants have hit something of a low-point.
"It's not been a good week for us," said Bayern's chairman of the board Karl-Heinz Rummenigge as his side played their second game in less than 48 hours.
"Unfortunately, we failed to win in the UEFA Cup on Thursday, and today we've deservedly lost for the first time this season.
"Our problems started two or three weeks ago. The task now is to regroup and start a new run."
Having splashed out 69 million euros last summer to recruit a team of stars including French midfielder Franck Ribery and world-class strikers Toni and Miroslav Klose, coach Ottmar Hitzfeld was far from impressed.
"We slept through the first quarter of an hour," said Hitzfeld, whose side have a two week break before they play VfL Wolfsburg.
"We didn't show enough aggression, we tried to play our way to success.
"We always knew it would be extremely tough in Stuttgart, so I fail to understand why we weren't up for it physically.
"We were badly organised at the back and non-existent up front.
"We gave our opponents all the encouragement they needed.
"We woke up after their second, we had a promising spell and we were close to pulling one back.
"If we'd scored, I think we'd have gone on and taken something from the game, but it was unbelievably difficult at 3-0 down."
With Werder Bremen and Hamburg just one point behind, a few more poor results in the Bundesliga could see Bayern toppled from top spot which would trigger alarm bells in Munich.