High quality malta from Sylhet in the offing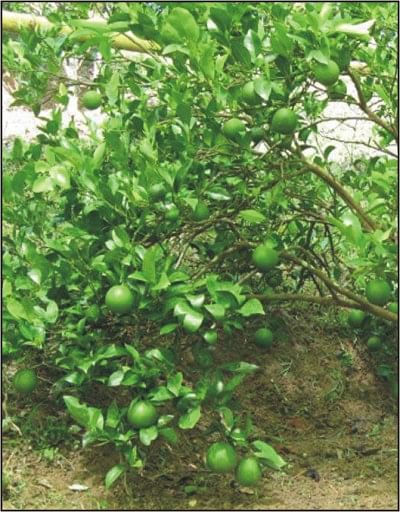 Cultivation of a high quality malta has opened up a new avenue for the growers in Sylhet as the region is suitable for producing citrus fruits.
"We have already supplied 2,000 saplings of the juicy fruit to growers this year. Quality of the new fruit variety is good," said agricultural scientist Dr Md Khalilur Rahman Bhuiyan of Citrus Research Centre.
The 'BARI-1' variety of malta was evolved at the Citrus Research Centre of Bangladesh Agriculture Research Institute (BARI) at Jaintapur of Sylhet in 2005 after years of research.
After experiments, the National Seed Board has approved distribution of its seed among the farmers, said Bhuiyan, senior scientific officer of the centre. Last year, the centre had distributed 1,000 malta saplings among the growers in Sylhet and Moulvibazar districts for the first time.
Sunshine and sandy nature of the soil in Sylhet region is favourable for farming fruits like malta and orange, he said, adding that it is possible to cultivate the fruit here as rainwater does not stay long on the slopes.
"The malta grown at the centre are very sweet and its bright yellow colour and size are very attractive. A fruit weighs between 300 and 500 grams," Bhuiyan said.
The fruit is also being cultivated in Gazipur, Khagrachhari and Panchagarh, the official said, adding that they sent saplings to those areas this year.
"On an average, a plant bears about a hundred fruits. During experiments in the last few years, we found the result encouraging. We hope that the fruit could be grown in other hill areas having same nature of soil," Bhuiyan claimed.
He said, experiments on some more types of malta are going on and it may be possible to get another species within a year.
According to Bhuiyan, making initial pit for plantation of malta saplings is very important. A pit should be one metre both in length and breadth. Around 15 kg cow dung and 200 gram of TSP fertiliser should be dumped in the pit at least 15 days before planting sapling. April-August is most suitable period for planting sapling.
Anwar Hossain, deputy director of agricultural extension department in Sylhet, told The Daily Star yesterday that the weather and soil of the region has been found appropriate for the juicy fruit.
"I have planted malta saplings as per instructions of the agriculture officials. I am hopeful about getting good yield in near future," said Abdul Hasib, a farmer of Baushi village in Golapganj upazila.