Fazlul Haque Memorial Award '09
Syed Shamsul Huq and Amjad Hossain honoured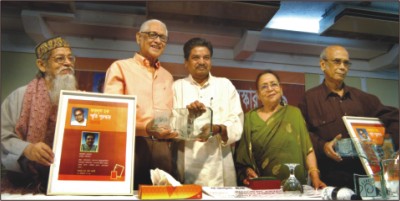 Noted litterateur Syed Shamsul Huq and veteran film director Amjad Hossain have been honoured with Fazlul Haque Memorial Award 2009. The award giving ceremony was held at a city hotel yesterday. The programme was organised by Fazlul Haque Smriti Committee.
The award is conferred in honour of Fazlul Haque, father of Faridur Reza Sagor, managing director, Impress Telefilm Limited and Channel i. Renowned litterateur Rabeya Khatun, wife of Fazlul Haque introduced the award in 2004. The award is presented to a film director and a film journalist in recognition of their work.
Syed Shamsul Huq was honoured for his contribution to film journalism and Amjad Hossain for filmmaking. The awardees received a crest, a cash prize of Tk 25,000 and a certificate each. Professor Mustafa Nurul Islam, chief guest at the event, presented the crests; special guest veteran filmmaker Soovas Dutt handed over the certificates and Rabeya Khatun gave away the cheques.
Previously the awards were conferred to Fazal Shahabuddin, Chashi Nazrul Islam, Humayun Ahmed, Ahmed Zaman Chowdhury, Saidul Anam Tutul, Rafiquzzaman, Soovas Dutt, Hiren Dey, Abdur Rahman and Golam Rabbani Biplob.
The event was well attended by cultural personalities, family members and well wishers of Fazlul Haque. Among others, Faridur Reza Sagor, Chashi Nazrul Islam and writer Imdalul Haque Milon were present at the event.
Apart from the awards giving ceremony a documentary titled "The Frontier Man Fazlul Haque" -- highlighting his life and achievements -- was also screened at the venue. The documentary was directed by Shahidul Alam Sachchu.