Sorry state of public toilets in city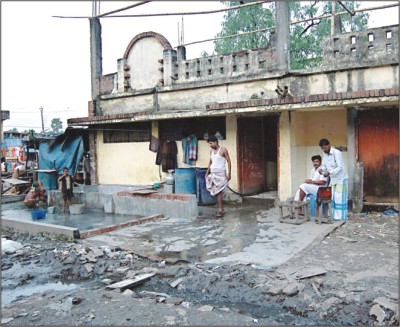 Women have little access to public toilets in the capital city, as there are no separate arrangements for them and most such facilities are unhygienic and not maintained properly.
Dhaka City Corporation has around 100 public toilets in the city, but most of them do not have separate cubicles or space for women.
Such situation poses serious health risks to women, experts said.
In 2005, some 36 toilets with separate arrangements for women were constructed under Urban Primary Healthcare Project, but they are now being used mostly by men.
Prof Moazzem Hossain, a nephrologist at Bangabandhu Sheikh Mujib Medical University, said unhygienic conditions of public toilets and holding urine for long periods of time lead to urinary tract infections.
Such infections also affect the kidneys gradually, he added.
The ratio of men to women with urinary tract infections is 1:2, said Prof Moazzem.
Girl children are most vulnerable to this disease, as they avoid using toilets in their schools for longer periods of time due to unhygienic conditions, he said.
Jobaida Akhtar, a 30-year-old woman, said she never used any public toilets as the whole ambience of such facilities is uncomfortable.
During a recent survey, it was found that a small restaurant and a tea stall occupy a portion of a public toilet at Dilkusha. There is a separate portion for women, but a fruit vendor is using it as his storeroom.
Abul Khair, owner of the tea stall set up just in front of the door of the public toilet, said he has been running the stall for a long time but does not give any toll for it.
Raihan, caretaker of the toilet, said they have been running the toilet for the last few months. The separate portion for women has been closed as women do not come here, he added.
The public toilet at Dayaganj is in unhygienic condition and also do not have separate arrangement for women.
"Women come here rarely. So, we did not make any separate arrangement for them," said Sultan Ahmed, caretaker of this public toilet.
The condition of the public toilet near truck terminal at Tejgaon is also the same.
The number of public toilets, on the other hand, is very poor to meet the demand of over one crore residents of the city while the toilets which are now running are also in very bad shape and unhygienic.
Apart from the 79 public toilets running in unusable condition, at least three of the newly built 36 toilets are now abandoned while the rest are running in poor condition.
The abandoned toilets are at Karwan Bazar, Fulbaria and Osmani Udyan areas.
The condition of the public toilets at Janapad, Dholaikhal, Sayedabad, Golapbagh and Shahbagh areas was also found dirty as well as unhealthy.
Jane Alam, who took the lease of Janapad public toilet three months ago from DCC, said they made complaints around 20 times for renovation, but did not get any effective result.
No women come here due to wrong selection of the location, he said adding that vehicles also remain parked in front of the toilet, creating obstacles to the movement of toilet users.
The sewerage line of the toilet at south-eastern corner of Sayedabad bus terminal is out of order for long. Sewage overflowed several times for the reason, said Shahid, caretaker of the toilet.
Jatrabari public toilet is comparatively clean, but the doors were found broken.
Tutul Chandra Das, caretaker of the toilet, said they took the lease around eight months ago. Being informed, the DCC employees visited the place to repair the doors about 25 days ago, but they did not get any result yet.
Around 10 women use this toilet a day as there is a separate place for them and it is also in hygienic conditions, he mentioned.
When contacted, Dhaka city Mayor Sadeque Hossain Khoka said he would look into the matter seriously and take immediate steps in this regard.
About construction of new public toilets, the mayor said they are not getting lands for the purpose.