A voice of secular values
Anusheh wins Meeto Memorial Award for Young South Asian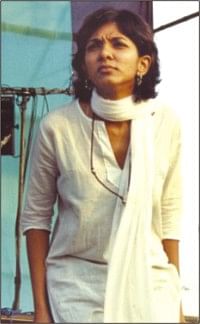 Singer Anusheh Anadil was conferred the first Meeto Memorial Award for Young South Asian on October 14 at a function at the India Habitat Centre -- one of the hubs of cultural activities in Delhi -- for her relentless fight against religious bigotry.
The other recipient of the award was Laxmi Ben Vankar who too had waged a battle against communalisation in the western state of Gujarat and worked for the upliftment of disadvantaged caste Hindus and Muslims.
Anusheh is known as a musician, songwriter, cultural activist and an ethnic-crafts entrepreneur but it is largely her music that has made her a force to be reckoned with.
Though trained in classical music, she is also greatly influenced by the club music of Canada and the music of Lalon Shah.
Through her music, Anusheh passionately fights against religious intolerance and in October 2008, when a group of fundamentalists attempted to raze a sculpture of bauls in Dhaka, Anusheh and many young activists started a cultural movement to protest against bigotry and created a pressure group to foster values of secularism and cultural freedom.
Anusheh has carved out her own place in the Bangladeshi cultural scene and won several awards for her contribution to music and activism.
Recently, Link TV of USA made a documentary on the artiste who also campaigned extensively against drug abuse.
The Meeto Memorial Award was given to Anusheh for a composite of creative achievements in the field of music and craft, and promoting liberal thinking in Bangladesh, a citation of the award said.