Pasha shot dead Begum Mujib, Jamal, 2 in-laws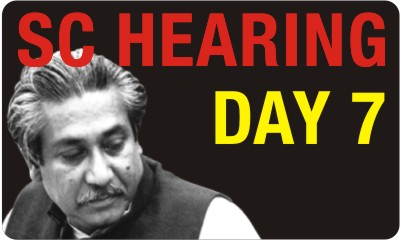 Quoting from a High Court (HC) verdict, Barrister Abdullah-al Mamun yesterday told the Supreme Court (SC) that Maj (retd) Aziz Pasha took a sten gun from the hands of Risaldar (retd) Moslemuddin and gunned down Begum Fajilatunnesa Mujib, wife of Bangabandhu Sheikh Mujibur Rahman, on August 15, 1975.
Aziz Pasha also killed Bangabandu's son Sheikh Jamal and two daughters-in-law, Mamun added.
Sheikh Russell, youngest son of Bangabandhu, was brought down from upstairs to the ground floor of the Dhanmondi house, but then taken back to upstairs and killed on the order of Aziz Pasha, Mamun quoted from the verdict delivered by erstwhile HC Division Judge ABM Khairul Haque, who is now at the Appellate Division of SC.
Mamun, a lawyer for convicts Maj (retd) Bazlul Huda and Maj (retd) AKM Mohiuddin in Bangabandhu murder case, read out the verdict while placing a submission yesterday before a five-member bench of the SC Appellate Division headed by Justice Md Tafazzul Islam during the seventh day's hearing of appeals filed by five convicts challenging their death sentences in the case.
The HC verdict stated that Maj (retd) Bazlul Huda first killed Sheikh Kamal, eldest son of Bangabandhu, and then Bazlul Huda and Maj (retd) Nur Chowdhury killed Sheikh Mujibur Rahman.
Mamun read out from the verdict, "In this case 11 innocent persons were brutally and diabolically murdered. Sheikh Mujibur Rahman, the then president of Bangladesh, became a target of a vicious intrigue, and was murdered by a handful of disgruntled army officers, some of them were dismissed. With him 10 other persons including three ladies and one little boy were murdered. The manner in which they were so brutally and mercilessly murdered repels any consideration of reduction of sentence".
Justice ABM Khairul Haque on December 14, 2000 affirmed the death sentences of all 15 persons convicted by the trial court on the grounds that all of them were involved in the conspiracy of killing Bangabandhu Sheikh Mujibur Rahman and his family.
Five of the convicts - Bazlul Huda, AKM Mohiuddin, Nur Chowdhury, Aziz Pasha, and Muslemuddin were physically present in Sheikh Mujibur Rahman's house during the killings.
The judge convicted and sentenced the other 10 on the grounds that their intentions were the same, and they assisted the other five convicts in the killings while remaining prepared with tanks and other weapons at different places around Bangabandhu's Dhanmondi house, to tackle any resistance against the killings.
Justice Khairul Haque reached the judgment and observations after analysing statements made by the accused and witnesses, and documents, evidence and arguments submitted by lawyers.
Mamun yesterday concluded reading out the verdict pronounced by Justice Khairul Haque, and started reading out another verdict delivered by another erstwhile HC Justice Mohammad Fazlul Karim who affirmed the convictions and sentences of only 12 of the 15 convicts on April 30, 2002, and who is also at the SC Appellate Division now.
The court is scheduled to resume the hearing today at 9:30am.
Five convicts -- Syed Faruque Rahman, Sultan Shahriar Rashid Khan, Mohiuddin Ahmed, AKM Mohiuddin, and Bazlul Huda who are now behind bars -- filed the appeals with the SC against their death sentence pronounced by the HC.
The SC started hearing the appeals on October 5.