Buzz
Indian Summer: Film on Nehru-Edwina relationship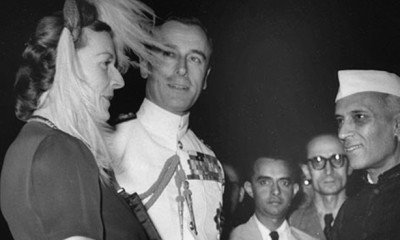 A proposed film on the relationship between India's first Prime Minister Jawaharlal Nehru and Edwina Mountbatten, the wife of last Viceroy of British-ruled India Lord Mountbatten, has received conditional clearance from the Indian government.
The script of the film "Indian Summer" starring Oscar award winning actress Kate Blanchett in the role of Edwina and Hugh Grant as Lord Mountbatten has been given the go-ahead with the rider that certain intimate scenes have to be deleted, officials in the Information and Broadcasting Ministry said.
There is no official word on who will play the role of Nehru in the film, which is slated to be released in the year 2011 and the shooting is expected to begin early next year.
The film, which examines the last days of the British rule in India, is based on a book titled "The Secret History of the End of An Empire" by Alex Von Tunzelmann.
In her book launched in 2007, the author explains how the relationships between Lord Mountbatten, Edwina, Nehru, Mahatma Gandhi and Muhammad Ali Jinnah, and in particular the relationship between Nehru and Edwina, shaped the historical moment. Keeping the sensitivity of the subject, the film also needs to be cleared by the Indian government before its commercial release.
These, officials in Information and Broadcasting Ministry say, are set procedures followed while granting permission for shooting of any foreign film in India.
An expert committee had scrutinised the script and suggested deletion of certain scenes, the officials said.
Mashraba Films, which is producing the movie, has also been told to add a disclaimer to the film saying that it is a work of fiction.
The Indian Information and Broadcasting Ministry has told the producers to stick to the script and any deviation from the approved script would need prior clearance of the government, the officials said.
In case the producers accept the conditions and decide to shoot the film in India, an officer will be attached to the shooting unit to ensure adherence to the script approved by the government.