Rhyme and reason
In conversation with Lutfor Rahman Riton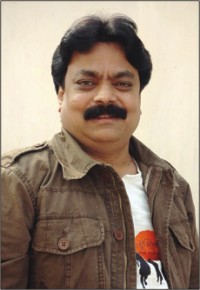 Lutfor Rahman Riton is one of the leading rhymesters of the country and has been writing over the last three decades. Though his main interest lies in rhymes, he is also immersed in writing lyrics, stories and novels. So far, over 80 books featuring rhymes, stories and novels by the author have been published. Recently in an interview with The Daily Star, Riton talked about his career as a rhymester.
Like many of his contemporaries, Riton began his journey into the world of creative writing under the aegis of Rokonuzzaman Khan aka 'Dadabhai'. Dadabhai published Riton's first rhyme in "Kochi Kanchar Ashor," back in 1972.
Riton reveals that it was not his initial aim to become a rhymester; rather he wanted to be a painter. "I had a cherished dream since my early days to be a painter. But somehow that didn't happen and I got into writing instead," says Riton.
Riton has been abroad these last few years. He returned to Bangladesh recently. Though he was absent physically from the cultural scenario of Bangladesh, he never stopped writing during this period. Since he left the country in 2001, he has lived in USA, Canada and Japan, and has been writing for various Bangladeshi newspapers and journals.
A couple of books by Riton were launched at the 'Amar Ekushey' book fair last year. He also received the Bangla Academy Award in Children's Literature in 2008 for his significant contribution to the genre.
Riton plans to stay in the country from now on and will concentrate on his writing.
One of Riton's most well known works is "Keu keu abiram chupi chupi" -- title song of the popular entertainment show "Ityadi." Riton also wrote the script for the character 'Falani,' for which Ishita -- then a child actor -- won a gold medal at the national talent hunt "Natun Kuri."
Riton started writing for adolescents and young readers in the early 1980s. His first book for adolescents was published in 1984. So far, he has written three books of rhymes for youngsters.
Riton finds that younger Bangladeshis are quite interested in rhymes. He says, "Alongside veterans, young people are doing well, especially when they are writing about the contemporary aspects. This is encouraging."
Riton thinks that though rhymes are mainly for children, adults can also appreciate this genre. Riton intends to continue his journey as a rhymester till his last breath.