Sonam Kapoor: A new milestone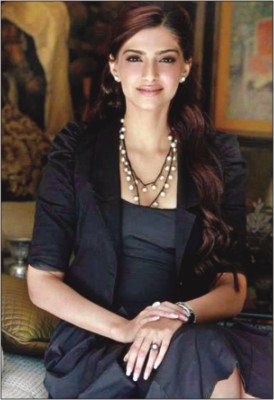 The 22-year-old newcomer Sonam Kapoor is making it big in the media these days. For one she is busy shooting for Aisha, the Indianised version of Jane Austen's Emma. This home production of her father Anil Kapoor is currently being shot on location in parts of New and Old Delhi. Like Jane Austen's classic work the story revolves around a too clever woman whose obsession with matchmaking for other people almost ruins her own chances of her own match.
Aisha is wooed by three menwell played by Abhay Deol, one film old Arunodaya Singh and popular VJ Cyrus Barucha. The film is being produced by her sister Rhea, while the director is Rajshri Ojha, screenplay writer Devika Bhagat, dialogue writers Ritu Bhatia and Devika, production designer Shruti Gupta, costume designer Pernia Qureshi. Says Sonam, "I'm the lead actress. Of course, there are a few talented men on the projectlike Javed Aktar saab (lyrics), Amit Trivedi (music) and Manurishi (dialogues) but, by and large, it's going to be one big hen party."
After two flops, Saawariya and Delhi-6, it is not surprising that Sonam has become extra cautious before signing new films. According to an insider, Anil thoroughly goes into the fine print-- enquiring about every detail such as script, budget, promotional plan and, and also analyses its box office prospects before Sonam steps in to take up a role.
Though her two films may not have done well in the box office, on the whole Sonam hasn't fared too badly. She was nominated for the Filmfare Best Female Debut Award for Saawariya in 2008 as well as the 2008 Sony Head N Shoulders Fresh Face of the Year Award for the same film in 2008. Other nominations that have come her way are the Star Screen Awards and Zee Cine Awards for Saaawariya.
The next year should see her equally busy. The budding actress is part of Dharma Productions' I Hate Love Stories, which stars Imran Khan and Samir Dattani.
A recent report in The Indian Express also describes a less known facet of Sonamas a social activist. She was appointed the young ambassador for NGO Khushi's programme called 'Joy of Giving Week'. The aim of this endeavour is to spread awareness about women and child welfare, healthcare, primary education, animals and the environment. The long term objective is to help NGOs who work on these causes by raising funds to further their outreach programmes. Says Sonam; "I hope my credentials can convince a few people to lend generously to the cause of the underprivileged."
Her fans just have to wait and watch out for the fortunes of her latest film, Aisha.
Compiled by cultural correspondent.