Loan shark's awful act
75-yr old marries 13-yr old as her Aila-victim father fails to repay Tk 4,000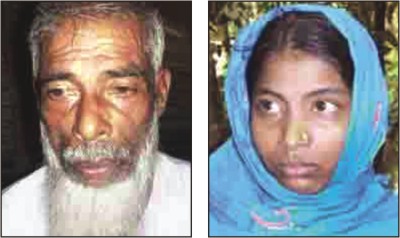 A septuagenarian moneylender has married a 13-year old girl in Muladi upazila of Barisal after her poor father failed to repay him the borrowed money.
The marriage between Akhinur and 75-year old Lokman Sikder was solemnised on September 4, as Azhar Bepari, father of the girl, could not pay Tk 4,000 he had borrowed from Lokman after cyclone Aila hit their Banimordhon village in May this year.
Locals said Lokman took advantage of the financial crisis of the poor family and forced Akhinur's parents to marry off their under-aged daughter to him in default of non-repayment of his credit.
When The Daily Star correspondent visited the remote Muladi village after the marriage, there was literally no move to catch the moneylender, who coerced the Bepari couple to marry off their daughter to him and also against the will of Lokman's first wife Ayesha Bibi, 53.
However, local administration and police said they had sent force to catch the child-abusing moneylender but could not find him.
September 4 was a dreadful day for Akhinur. She became dumbfounded when her mother asked her to get ready for marriage with the person whom she used to know as 'Lokman Nana' (grandfather).
After sunset, four male persons came to their house. Of them, it was only 'Lokman Nana' she could recognise as he used to visit their house to recover loan. The three others included the imam of a nearby mosque.
They took her signature on the blue-coloured marriage register book--'Nikah Register'--and then her mother pronounced Lokman and Akhinur as husband and wife.
Akhinur's father Azhar Bepari told The Daily Star that his six-member family including two sons and two daughters was badly affected by cyclone Aila. He then took Tk 4,000 as loan from Lokman but could not pay its monthly interest.
Recently, Lokman forced him to clear the loan immediately with interest or marry Akhinur off to him in lieu of the loan. Azhar gave in to this cruel exchange offered by Lokman, as his financial condition did not permit him to repay the loan.
Lokman has his first wife with two sons and two daughters and a host of grandchildren. He had the shamelessness of justifying his act as he claimed that he married Akhinur to free her poor father both from the debt and the burden of bringing up a daughter. He kept silent when asked about the legality of marrying a minor.
Lokman's first wife Ayesha demanded punishment of her husband, saying that he married a minor girl without her approval.
However, Kazi Abdur Razzak, local marriage registrar, denied his involvement in registering the marriage.
Char Kale Khan Union Parishad (UP) Chairman Nazrul Islam, chief of Child Marriage Prevention Committee in the union, told The Daily Star that after getting information he sent local Chowkidar to nab Lokman and rescue the girl. But they were not found at their addresses on Thursday, he said.
Amiruzzaman, officer-in-charge of Muladi police station, said they also had sent a police team to arrest Lokman and rescue the girl, but the team could not trace them.
Muladi Upazila Nirbahi Officer (UNO) Badrul Huq said that they have asked the local UP chairman to investigate the incident. Legal action will be taken against the persons responsible for the incident, the UNO said.