Drik turns 20
Two decades of social commitment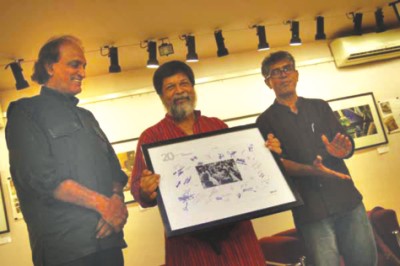 Twenty years ago a small group of people set up a picture agency in the unlikely location of Dhaka, the capital of Bangladesh. Named Drik, the Sanskrit word for vision, the agency set out to represent a group of media professionals that other agencies did not cater for. In the years that have followed, many others from Asia, Africa and Latin America have joined the original group. All of them share a common vision; one that sees the majority world, not as fodder for disaster reporting, but as a vibrant source of human energy and a challenge to an exploitative global economic system.
Built upon the concept of social commitment, the agency has played a central role in the civil rights movement in Bangladesh and championed the cause of photographers from the developing world.
Drik celebrated its 20th anniversary at its premises on September 6.
Renowned Indian photographer Raghu Rai inaugurated the celebration at Drik Gallery, while artist and teacher Dhali Al Mamoon launched the Golam Kasem Daddy Lecture Series.
Dhali Al Mamoon made a PowerPoint presentation featuring selected photographs and paintings, and provided narration with precise information. Dhali Al Mamoon, Raghu Rai and Shahidul Alam (director of Drik) answered several questions from the audience after Dhali's presentation.
Raghu Rai opened a retrospective exhibition at Drik Gallery, featuring publications spanning the last 20 years of the organisation, on the same day.
At the end of the programme, a video footage featuring Drik's activities over the last two decades and its achievements were shown.
Raghu Rai's own exhibition, "India," opened yesterday morning at Bengal Gallery of Fine Arts by Professor Anu Muhammad through live videoconference, as he was hospitalised.
In the field of photography, Drik has made Bangladesh a global leader. Groomed by Drik and its education wing Pathshala, the South Asian Media Academy and Photography Institute, Bangladeshi photographers have been the first Asian recipients of the prestigious Mother Jones Award. They have gone on to win the National Geographic All Roads Awards and have been selected from the Joop Swart Masterclass. A Bangladeshi continues to be the only non-white person to have ever chaired the World Press Photo International Jury, which is considered to be the "UN" of photojournalism.
Here's to Drik; hoping it continues its triumphant journey.