Gas Exploration
Protesters clash with cops: 30 hurt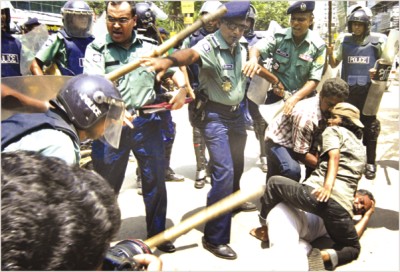 At least 30 people including 10 policemen were injured yesterday as activists of the National Committee to Protect Oil, Gas, Mineral Resources, Power and Ports clashed with police at Bijoy Nagar on their way to lay siege to Petrobangla office at Karwan Bazar in the capital.
About seven vehicles were vandalised suspending traffic movement in the area for over half an hour.
Of the injured, committee member secretary Prof Anu Muhammad, Musharefa Mishu and Haidar Akbar Khan Rono and nine others were rushed to Dhaka Medical College Hospital while the rest received treatment at several clinics and hospitals.
Source said police barred a procession of over 500 leaders and activists of the committee at Bijoy Nagar at around 12:00noon from marching towards Karwan Bazar.
The committee on Saturday announced the programme protesting what it said was the lease of three offshore gas fields to foreign companies.
The government has awarded Ireland-based company Tullow Bangladesh shallow water block SS-08-05 and US oil company Conoco Phillips South Asia New Ventures Ltd deep sea blocks DS-08-10 and 11 in the Bay of Bengal for oil and gas exploration.
The committee held a rally at Muktangan around 11:30am and brought ought a procession from there to lay siege to Petrobangla office.
Justice Golam Rabbani, columnist Abul Maksud, Prof MM Akash, General Secretary of Communist Party of Bangladesh Mujahidul Islam Selim, Gono Front leader Tipu Biswas, CPB leader Ruhin Hosain Prince and Prof Mezbah Karim led the procession.
Witnesses said police tried to stop them twice -- near Muktangan and Paltan intersection -- but the protesters defied the barricades.
The law enforcers then intercepted the procession near Bijoy Nagar intersection and charged baton on them leaving at least 20 people injured.
The protesters also pelted police with brickbats and damaged five vehicles suspending traffic movement on the Kakrail-Paltan road.
Later, the protesters regrouped and staged demonstrations on the Dhaka University campus. The activists of Pragatishil Chhatra Jote and left-leaning student bodies joined them.
They vandalised two vehicles at TSC intersection on the campus.
Injured Saiful Haque, general secretary of Biplobi Workers' Party, said "We were heading to Petrobangla office at Karwan Bazar from Muktangan. Police personnel suddenly swooped on us leaving our leaders and activists injured."
Saiful, receiving treatment at the DMCH, said five policemen beat him up.
Reazul Karim, officer-in-charge of Shahbagh Police Station, said the protesters suddenly attacked the law enforcers near Paltan intersection leaving ten policemen injured.
He said they would file a case in this connection.
The injured policemen were taken to Rajarbagh Police Lines Hospital.