Ramzan Mubarak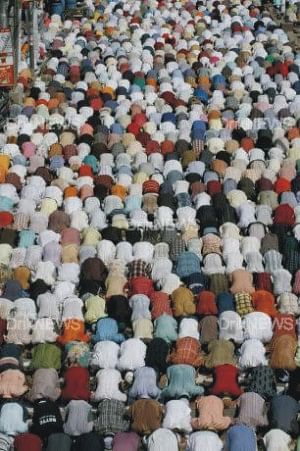 I am a Bangladeshi Muslim and I find it really vexing when I read the word "Ramadan" in an English newspaper or receive a card that says "Ramadan Mubarak" in English. Ramadan sounds awfully confusing to me as I have known it as "Ramzan" all my life.
Ramzan is a time for Muslims around the world to reevaluate their temporal missions, to rediscover the truest meaning of compassion, and to focus on others rather than themselves. It is a time for retrospection, reflection, contemplation, and supplication, a time to share pains and pleasures with fellow brothers and sisters. The glowing power of sacrifice becomes irresistible and enthusiasm for sacrifices lies in every Muslim during the whole month of Ramzan; during fasting, during regular prayers, during sharing food, and during tarabi (the night prayer after isha prayer when the entire Holy Quran is recited). Ramzan teaches us: "Anything given is much more enjoyable than taken."
Every person needs a breakthrough in some areas of his or her life. That breakthrough comes through pain in the form of self-sacrifice. The spirit of self-sacrifice shifts the focus away from our selves, but we must bear in mind the importance of the higher priorities we serve. It is for those priorities that we work hard, spend our energy, give away our earnings and do whatever we can to ease the pain and alleviate the suffering of others. These are the important points Ramzan teaches us, and never our self-interest, our comfort, or our convenience. Once we empty ourselves of greed and narrow personal self-interest it becomes much easier to put make sacrifices for the "higher good."
In our temporal life we also have many needs, and we need a breakthrough from God to meet those needs, if they can serve others. Fasting and prayer break the yoke of bondage and bring about a feeling of God's presence, power, and provision to open the doors to have our needs fulfilled.
Ramzan cleanses our body, purifies our inner soul and protects us from harm. Prayers combined with fasting put us in the best possible position for a "breakthrough." The breakthrough might be in our spiritual realm. It may also be in the realm of our emotions or habits. Many addicts who smoke like a chimney or drink like a fish suddenly stop those bad habits during and after the month of Ramzan.
We may be heading for many pleasant breakthroughs during the month of Ramzan that is starting on Sunday next. What was not a reality may suddenly become an actuality. What had not worked for many years may suddenly work. The unwanted situation that was there suddenly may not be there. The relationship that was unloving suddenly may become loving. What had not materialised for long may suddenly materialise. All during the month of Ramzan!
For the next 30 days, a billion Muslims will abstain from eating, drinking, sexual contact, smoking, and indulging in anything in excess from sunrise to sunset. Muslims are expected to ask for forgiveness for past sins, pray for guidance and help from God in refraining from everyday evils, from anger, from retaliation and from impatience, and in rectifying themselves through self-restraint, patience, modesty, spirituality and good deeds during the month of Ramzan.
May our blessings be too many to count and our worries too few to matter! May we never go hungry and be able to share our bounty! May God bless and protect us and strengthen our faith! May our fasting be our spiritual atomic bomb to destroy the strongholds of evil and usher in a new chapter for peace and harmony all over the world! May blessings be showered on Bangladesh!
Ramzan Mubarak!
Maswood Alam Khan is a banker. E-mail: [email protected].