High-pressure sodium lamps now light city streets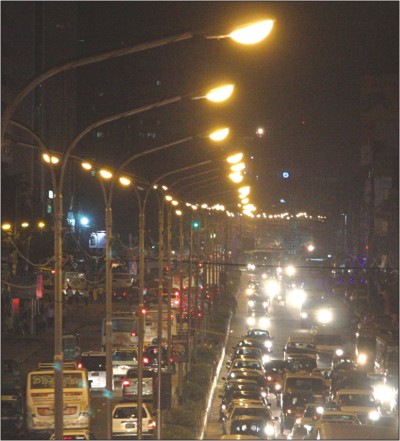 Dhaka City Corporation (DCC) and Roads and Highways Department have replaced the existing low-pressure sodium lights with high-pressure ones in a bid to enhance the visibility of the traffic at night.
DCC has installed around 1400 high-pressure lights from Banani level crossing to Bangabhaban via Mohakhali, Prime Minister's Office, Sonargaon and Shahbagh while Roads and Highways Department has installed another 500 from Banani level crossing to Airport Road, said Zafor Ahmed, executive engineer of DCC.
He added that DCC found it difficult to replace the low-pressure lights that went out of order since they were not available in the international market.
The project cost DCC around Tk 1.5-2 crore, he said.
"We are looking forward to a satisfactory outcome," he said, adding that Rajshahi City Corporation was the first to introduce the high-pressure lights.
However, these high-pressure lights consume more electricity.
Around 24,000 sodium lights are being used in the city streets now, he said.
Meanwhile, DCC is also planning to replace the fluorescent tube-lights on the streets with energy saving lights in a bid to save electricity.
"We are now installing energy saving lights in the indoor and around 300 to 400 bulbs are being installed every month as part of the project," said Zafor.
He said they will install around 10000 energy saving bulbs in Uttara within two or three months.
"We will install energy saving lights in the whole city based on the result of the pilot project in Uttara," he also said.
By using energy saving lights in the whole city, 4KW of electricity can be saved, which is half of the need for the streetlights, he added.
However, there is a risk of using the lights since they are easier to steal, said Zafar.
Around 80,000 tube lights are being used in the city streets while another 20,000 are being used in the indoor.
At present the demand for electricity in the peak hour is approximately 1700MW, but there is a shortfall of supply of over 400MW.