China exports at low ebb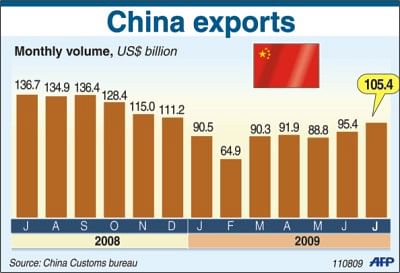 China's export-dependent economy remained hampered by a "grave" global situation in July, an official warned Tuesday, as new data showed continued reliance on government spending to boost growth.
Shipments abroad saw a steep drop in July from a year earlier -- although they grew month-on-month -- but investment in fixed assets in the cities rose massively, the government said.
"The grave international environment affected our exports," said Li Xiaochao, a spokesman for the National Bureau of Statistics.
"The growth of some sectors' industrial output remained rather slow," he told a briefing in Beijing.
China's economy, the world's third-largest, has taken a heavy hit from the global crisis, growing just 7.1 percent in the first half. That compares with double-digit annual expansion between 2003 and 2007 as well as for the first two quarters of last year.
The government has set a target of 8.0 percent growth for the year, a level it says is needed to create enough jobs and avoid social unrest.
Customs authorities said Tuesday that July exports stood at 105.4 billion dollars, a decline of 23 percent from a year earlier.
Yet the figure pointed to some recovery as it marked an increase of 10.4 percent from June, customs said in a statement.
"We believe that exports will start to recover in the fourth quarter, while the real estate sector remains strong," said Li Huiyong, chief economist with Shenyin and Wanguo Securities in Shanghai.
The impact of China's four-trillion-yuan (580-billion-dollar) stimulus package, announced in November, was reflected in investments in urban fixed assets -- a measure of government spending on plants and infrastructure.
These rose 32.9 percent year on year in the first seven months of 2009, according to data published by the National Bureau of Statistics.
The figure pointed to a slight deceleration in July, given growth of 33.6 percent in the first half of the year, but economists still considered the rate of expansion strong.
Industrial output expanded by 10.8 percent in July year on year, compared with a seven percent rise in the first half, the bureau said.
"China's July data release points to continued economic recovery in the second half, led by strong government-backed investment," said Jing Ulrich, an economist with JP Morgan in Hong Kong.
"The softness in external demand has resulted in a greater reliance on investments as a driver of China's economic growth," she said.
At the same time the consumer price index, the main gauge of inflation, fell 1.8 percent in July compared with the same month a year earlier, the statistics bureau said.
The data represents a sixth consecutive monthly decline, but analysts brushed aside concerns over deflation, saying demand would pick up.
"Despite recent deflation, prices should begin to rise later in the year with continued recovery in both the domestic and global economies," said Ulrich.
Retail sales -- the main measure of consumer spending, which the Chinese government sees as a key factor in boosting the economy -- rose 15.2 percent in July compared with the same month last year, the bureau said.
New bank loans dropped to less than a quarter of the level seen in June, according to the central bank, falling to 355.9 billion yuan in July from 1.53 trillion yuan the previous month.
But analysts said the slowdown in bank lending would have little impact on recovery this year.
"The massive amount of loans extended in the first half have not all been spent yet and there are ample funds to sustain high investment growth," Li said.
Overall, analysts were confident that China would reach its goal of eight percent growth in 2009.
"We are optimistic about the economy in the second half because consumption growth will remain stable while investment growth will accelerate," said Hao Daming, an economist with Galaxy Securities, who predicted 8.3 percent growth.
Analysts at Goldman Sachs, meanwhile, upgraded their growth forecast for 2009 to 9.4 percent from 8.3 percent.