Bangabandhu's killers out to take country backward
Speakers tell book launching ceremony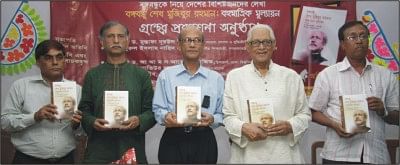 Bangabandhu Sheikh Mujibur Rahman was murdered by the vested quarters who were defeated in the liberation war to take the revenge of their defeat, said the speakers yesterday.
They said these quarters have now been conspiring to take the country backwards and not letting it to be a hunger-free modern state.
The speakers were addressing the launching ceremony of a book titled 'Bangabandhu Sheikh Mujibur Rahman: Bahumatrik Mullayan' at the seminar room of the Public Library in the city.
Speaking as chief guest Education Minister Nurul Islam Nahid said Bangabandhu was killed as part of a big conspiracy by those who were defeated in the liberation war and the conspiracy is still on to push Bangladesh backwards and deviate it from its cherished goal.
He said Bangabandhu is not only the history of Bangladesh but also an inspiration for the future.
The minister said the historic March 7 address of Bangabandhu would be included in the curriculum of Class 8 from next year.
Speaking as special guest Dhaka University Vice Chancellor Prof AAMS Arefin Siddique said a special commission should be formed to let the people know who were behind the brutal murder of Bangabandhu.
"People should know who have sent the self-proclaimed killers of Bangabandhu to different foreign missions and who barred the trial of the killers through indemnity ordinance," he added.
Bangladesh Bank Governor Prof Atiur Rahman said Bangabandhu was the greatest hero of the country as he was never afraid of death.
"Bangabandhu should not be limited to a small institution or to a street as he is in the hearts of all people," he added.
The ceremony was presided over by eminent writer and intellectual Prof Mustafa Nurul Islam.
The book, consisting of 164 essays on Bangabandhu written by eminent writers, was edited by Prof Momtajuddin Patwari of history department at Bangladesh Open University and GM Tarikul Islam, lecturer of the same department of the same university.
The book has been published by Anindya Prakash.