World Indigenous Day celebrated in Khagrachhari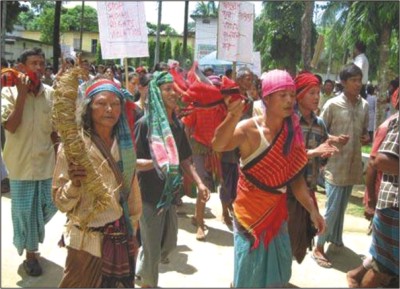 The indigenous community of Khagrachhari celebrated the World Indigenous People's Day with festivities and programmes. They also gave a call for the protection of their culture and constitutional rights. The programmes attracted a large turnout of Bengalis too.
Traditionally attired representatives of the Chakma, Marma, Tripura, Tanchangya, Khyang, Pangkhu, Bawm, Mro, Lusai, Khumi and Chak communities took part in a procession brought out on the occasion.
The demands placed to the authorities were: the protection of constitutional rights of the indigenous people, mother tongue-based education and full implementation of the CHT Peace Accord.
Colourfully dressed indigenous men, women and children, holding aloft tree leaves, flowers, posters, banners and placards, paraded the main roads of the hill town of Khagrachhari. Indigenous men, complete with drums, bows and arrows, performed their traditional dances and rendered songs on the streets of the hill town yesterday.
A large crowd lined up on the roadsides and thoroughly enjoyed the cultural programmes on the occasion.
The day's programme began at 10 am on Sunday with a big rally of nearly 2,000 indigenous people from eight upazilas in the hill district of Khagrachhari.