Climate change and conflict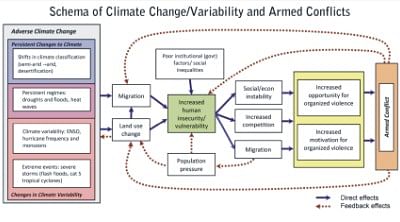 FIVE complementary mechanisms have been proposed to link broad climate change/variability processes to conflict. These are :
(i) Political instability: Economic stagnation, increasing unemployment rates, and costly measures to counter climate change could weaken the state's capacity for governance, including redistribution and political control. These intermediate effects, in turn, have the potential to increase popular grievances and decrease the power and perceived legitimacy of governments relative to opposition movements, thus increasing the risk of conflict.
(ii)Economic instability: Loss of livelihood, unemployment and increasing poverty at the individual level lower the opportunity costs for joining a rebellion. Increasing sense of relative deprivation may also provide motives for marginalized groups to take up arms to alter the status quo.
(iii)Social fragmentation: Adverse consequences of climate change are unlikely to affect all segments of society equally and the consequences may also vary between and within countries. Negative developments that coincide with prevalent societal cleavages, in particular ethnicity, could accentuate ethnic antagonism and polarization, thereby undermining the unity of a country, in certain cases, and increasing the level of mutual suspicion between groups.
(iv)Migration: Aside from increasing competition over diminishing resources in adverse regions, large-scale population movements in response to declining economic opportunities and increasing vulnerability to the rising sea may instigate resource competition and rivalry between incoming migrants and the established local population.
(v)Inappropriate response: Draconian measures to counter the anthropogenic global warming, notably by reducing carbon emission to the atmosphere, could have several negative security implications. Potential scenarios include increased emphasis on biofuels that decrease food security and increasing tariffs on trade and communication that reduce global economic activity and tourism and increase poverty. Too much emphasis on the dangers of climate change may also provide an excuse for autocratic regimes that refuse to take responsibility for the impact of their own policies. The resulting causal model from these hypothesized linkages (pictured in the schema) depicts a two stage process: first, whether climate change has adverse socio-political and economic effects on a given society, and second, whether any resulting negative consequence increases the baseline risk of armed conflict.
Besides the mediating effects of societal conditions on violence, we also believe that there are direct feedback effects from violence to land-use conditions and intensity, as well as to further migration (flight from conflict) and to the sense of insecurity/vulnerability of individuals living in the conflict zones. Additionally, there are indirect feedback effects from migration through increased population pressure in zones of safety and reduced density in zones of violence to land-use. In turn, land-use changes can affect local climate variabilities. Small perturbations can have significant effects on climate.
Military activity is energy-intensive and given the present composition of energy sources, the emission of greenhouse gases is likely to increase with more extensive use of the armed forces. War is also likely to have negative economic effects, resulting in weaker economies less likely to be able to take the necessary counteraction to climate change, be it mitigation or adaptation. Potentially, this could lead to a vicious cycle between climate change and armed conflict. However, economic decline could also lead to lower CO2 emissions, as happened after the collapse of the Soviet Union.
Climate variability may also change in these regions. The changes in these regions will likely affect persistent and extreme weather features such as droughts and heat waves and even floods. Drought, which could be a result of climate change, is widely believed to relate to conflict because it may lead to local scarcity and increased resource competition and because freshwater is the resource most vital to human existence. The Sudanese government, NGO officials and some scholars have used the drought in the mid-1980s as, at least, a partial explanation for the conflict and killings in Darfur.
Bangladesh may be significantly affected by climate changes, mostly through changes in variability. For example, the rising frequency and severity of natural disasters is clearly visible in Bangladesh. To provide some background since 1991, the 1991 Cyclone (April 29), the 1997 Cyclone (November 29-30), the Cyclone Sidr in 2007 (November 15), Cyclone Bijli in 2009 (April, 14), and most recently the name of Cyclone Aila can be stated. Bangladesh and the region as a whole will be significantly influenced by possible changes to modes of variability such as severe tropical cyclones, changes to the El Niño Southern Oscillation and the Tropical Atlantic Decadal Oscillation (which has strong impacts on climate in the Tropical Pacific) or changes to monsoon timing and intensity.
Given the potential range and scope of consequences of climate change, it is not surprising that there is a concern about its security implications in these regions. Indeed, this began to surface soon after the Third Assessment Report (IPCC 2001) and has recently accelerated, even though the issue is peripheral even in the most recent IPCC assessment (IPCC 2007). In April 2007 a debate in the UN Security Council firmly established climate change as a security issue. Despite the breadth of this security concern in the public debate, statements about security implications have so far largely been based on speculation and questionable sources. Research frontiers are being pushed forward in both climate change research and conflict research, but so far little work has been done to combine the two fields.
Dr. Md. Rashed Chowdhury is Principal Research Scientist of Pacific ENSO Applications Center (University of Hawaii, USA), primarily responsible to develop ENSO-based climate information the small island countries in Asia-Pacific region.