A record of records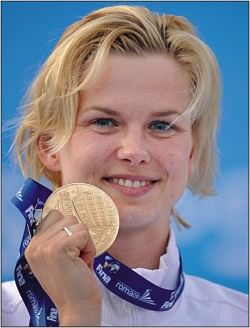 Michael Phelps ended on a golden note on Sunday as the United States rounded out the swimming World Championships' world record total at a staggering 43 with a medley relay triumph.
Phelps, whose campaign began with a shock defeat in the 200m freestyle, bounced back to win the 100m and 200m butterfly, and the United States won all three men's relays to give America's superstar a creditable cache of five gold after all.
"I think it's not how you start, it's how you finish," Phelps said. "For us to end on this note, going into next year, it's a great way to finish."
It was fitting that the meet concluded with the Americans' world record swim of 3min 27.28sec, an improvement on the mark set by the US in winning Olympic gold in Beijing.
After all, world records were what these championships, the fastest swimming competition in history, were all about.
Germany's Britta Steffen broke her third world record of the meet with her triumph in the women's 50m free - a win that saw her match her 50m-100m freestyle double of Beijing.
Liam Tancock of Britain lowered the men's 50m backstroke world record for the second time in as many days and Russia's Yulia Efimova clocked a world record to win the women's 50m breaststroke.
Tunisia's Oussama Mellouli added a world title to his Olympic 1,500m freestyle gold.
His 14:37.28 was the second-fastest ever, but shy of Grant Hackett's world record of 14:34.56 - leaving at least one sacrosanct mark on the books.
Nor did the records fall in the demanding 400m individual medleys.
Hungary's Katinka Hosszu, winner of two bronze medals already, climbed the top step of the podium with a victory in the women's 400m medley, and American Ryan Lochte captured his fourth gold of the championships with a triumph in the men's 400m individual medley.
Lochte capitalized on the absence of Phelps, who opted out of the four-stroke races this season. He broke Phelps's world record in winning the 200m individual medley, and also earned gold on two freestyle relays.
Lochte, like Phelps, Briton Gemma Spofforth and Zimbabwe's Kirsty Coventry, notched his world record here in the outdated Seedo LZR Racer, rather than one of the newer polyurethane suits that fueled Rome's record rampage.
"There's so much controversy between the suits, it seems like every race is a world record," Lochte said.
He was looking forward a rule change in January limiting the technology.
"I think we'll decide who are real swimmers out there, I hope I'll be among them."
Lochte was feeling the pressure in the closing stages of the medley, with American Tyler Clary and Hungarian Laszlo Cseh in hot pursuit.
"I didn't think I was going to hurt that much," he said. "I just gave it everything I had at the very end."
Clary made it a US one-two, as he edged Cseh in 4:07.31, the Hungarian taking bronze 4:07.37.