Moscow catches the world off guard
Moscow catches the world off guard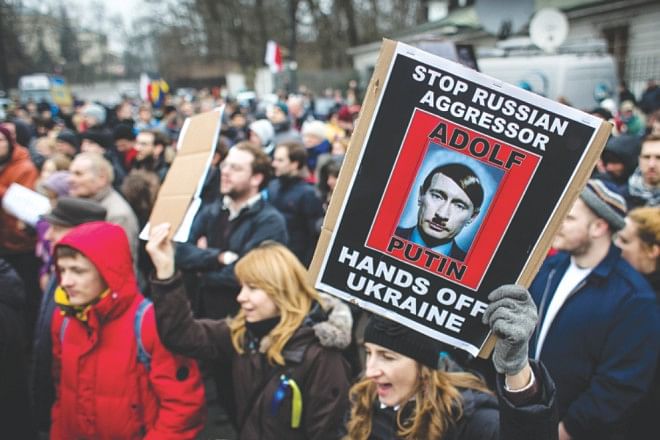 After the shock, the response. For two days Western governments clung to the illusion that Vladimir Putin would not ignore their concerns, despite the hour-by-hour escalation of events in Crimea. The Russian parliament's vote to send in the tanks snapped them out of that illusion.
The European Union, which at lunchtime yesterday was vaguely saying that foreign ministers would meet "early next week", announced this would now happen tomorrow. The UN Security Council went into emergency session last night.
"We are now deeply concerned by reports of military movements taken by the Russian Federation inside of Ukraine," President Obama said. John McCain, the former presidential candidate who in recent days has insisted threat be met by threat, went further. He wrote on Twitter: "Russian Senate backs Putin request to send troops to #Ukraine – straight out of Soviet playbook. Don't want Cold War back, but Putin seems to."
Catherine Ashton, the EU foreign policy chief, said last night: "This is an unwarranted escalation of tensions. I therefore call upon the Russian Federation not to dispatch such troops, but to promote its views through peaceful means."
Yet, as the howls of protest grow, what can actually be done? The  international community has looked impotent, condemning the actions but remaining a considerable way away from putting boots on the ground.
With events moving rapidly, what options will now be considered?
Threats: No one wants war, but that does not mean there are no military options. Already the US military's European commander, General Philip Breedlove, has ordered satellites to target Crimea and, it is being reported, called for a massive ramping-up in communication intercepts from across Ukraine. Others want more. The strident arm of the Republican party has been calling for the Bush-era missile defence plan to be revived, with missiles despatched to the Czech republic. They see what is occurring as a result of Barack Obama's weakness – the flip-flopping over Syria, abandonment of Iraq, withdrawal from Afghanistan – and believe sabre- rattling is needed, returning strength with strength.
Isolation: Although Russia, as a permanent members of the Security Council, will veto them, resolutions may be introduced at the UN condemning what has unfolded. The G8 could revert to its pre-1998 incarnation as the G7, with Russia excluded. Turkey is likely to be a key determinant. It sees Crimea's Tatars as kin, and has protested at injustices against those who returned from enforced exile after the Soviet Union collapsed.
Punishment: Sanctions are a blunt weapon, although the slowing Russian economy means a trade hit would impact – primarily on those who are poorest and weakest. The Bospherous is an important export route for Russian fossil fuels. Its closure by the Turks would hurt. But there are more targeted penalties available. Last week, Switzerland and Austria froze all assets linked to ousted Ukrainian president Viktor Yanukovych. London and the US, are likely to follow.
The Magnitsky Act, which at present has only been adopted by the US but allows it to bar Russian individuals linked to illegal activity, could similarly be extended. The Russian regime is as dependent on powerful backers as any other. Excluding them from holding money abroad, shopping in London or sending their children to favoured private schools will generate squeals of protest in Putin's court. Targeting them may prove to be the most effective way of reminding Russia of its international responsibilities. In our highly connected world, it is not only bombs that can be used to strike back.