Film Review
A Heartwarming Film

Jackie Kabir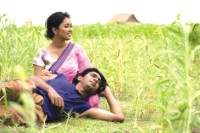 Mon kerechhe "Monpura" said someone in the elevator as I was going down with my family after watching the movie. The statement sounded acceptable as I was also thinking on the same lines. Monpura can be described as a wholesome and thoroughly enjoyable Bangla film. The director Giasuddin Selim is a member of the new generation of moviemakers in Bangladesh who has revolted against the vulgarity and poor quality of mainstream Bangla commercial film. In 2003, the film industry was virtually paralysed with actors and producers blaming each other for introducing vulgarity to movies. It was only in January 2006 when an anti-obscenity law was passed in the parliament which brought back many of Bangladeshi film makers as well as movie goers back to the local cinema theatres.
Filmmakers like Tanvir Mokkammel, Taukir Ahmed and Tareq and Catherine Masud have made films which have earned international fame. In 2003 Bangladesh officially submitted a film for nomination for Academy Award for Best Foreign Language Film. The film was Matir Moina by Tareq Masud which got many foreign awards. Bangladeshi movies have come a long way since then. Every now and then we get good films made by talented filmmakers.
Monpura is one such film that represents a genuine Bangladeshi rural love story. True the theme is common enough and other famous writers have written similar stories. But the picturisation, the setting of the island named Monpura is what has made the movie unique. Moreover, it is not only a love story; there is a hidden satire in it.
The actress Farhana Mili who plays the lead role shows amazing talent; the expressions of her eyes are something she should be awarded for. Chanchal Chowdhury, a renowned actor of recent times is a natural in his role of Shonai. In his solitude in Char Monpura he befriends the bird and the animals that Gazi left him to look after. The islet is owned by Gazi; one of the influential landowners of the locality. After Gazi's mentally challenged son kills a woman in his house, Shonai must take the blame for the murder. Gazi promises to get him out of jail in case the police catch him. Shonai being a simple soul believes his master and goes to live in Monpura. Just when he is on the verge of losing his sanity in the quiet, lonely islet he encounters the enchanting Pori, the local belle and this changes him forever. The two pairs of eyes met and many untold tales are revealed. They meet on a regular basis until one day when Gazi comes to Monpura and decides to make her his daughter-in-law. Hearing this Shonai is furious and has a row with his master. As Pori and Shonai plan to abandon everything to be with one another the police come and arrest him. Pori gets married to Gazi's son. But the wondrous strength of her heart makes her resolute in her love. What happens afterwards is something one would find out while watching the movie.
The eternal beauty of the Bangali woman in a sari is depicted in the movie. The pleats are not once misplaced nor is her kajol smudged. The work of the camera in bringing in the effects of sun and rain is commendable. The falling of leaves and dried fruits from the trees is beautifully captured. The audience in fact is constantly reminded of the beauty of the Bangladeshi countryside. The songs, which were already a big hit in Dhaka before the movie was released, added to the film's overall aesthetic quality.
---
Noroshundor

Transcending Prejudice
Rafi Hossain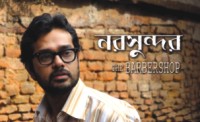 In the current context of the film industry, one is stuck in between vague promises and the degraded quality of film making in Bangladesh. One of the few bright lights that shines through the darkness of crass productions is the work of Tareque and Catherine Masud. But there is no guarantee that all works of a good director will be great. There are so many things that can possibly go wrong. But in case of 'Noroshundor', every detail seems to be fine tuned towards perfection.
To the common man, a short film is simply 'shorter' than a feature length film. But in terms of craftsmanship, a short firm is one that says the entire story, if not more, in half or one third the time. It's the director's skill that plays a pivotal role in shaping the story to be a short one in terms of duration, but not in terms of its aftermath, or its effect on the audience. This special quality is true for 'Noroshundor'. Although a film of only 15 minutes, Noroshundor's effect transcends and makes a permanent mark on the thoughts, emotions and the overall feeling that the audience takes away from the film.
The dialogue is succinct yet wholesome, and is beautifully complemented by the quality of expression created by the filmmakers. Tareque and Catherine Masud have enabled the actors and actresses to do a truly fine job, and surprisingly, not a single one of the cast members are professional actors. They have done an enticing job in making the tension, the excitement and the fear completely real. Catherine Masud's direction of the background music score enhanced the film's overall depth.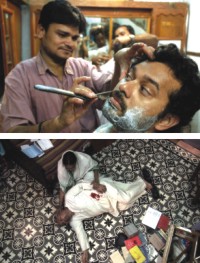 There are Pakistanis in Bangladesh who live in refugee camps who have been stranded since the Liberation War. Their next generation is already living in Bangladesh, people who were born and brought up here without citizen's rights. The most sensible view is that stranded Biharis who want to go back to Pakistan should be allowed to leave, and their second generation who have been living in Bangladesh and call Bangladesh their home since their birth should be accepted as citizens of Bangladesh so that they can live a proper life. This is the first film that brings to light an issue regarding stranded non-Bengali speaking people in Bangladesh, and in that respect, it has a historical importance.
Thoughts of war and invasion, the overall sentiment of revenge and taking offense should be discarded. It is time to globalise ourselves in terms of thought as human beings rather than labeling ourselves in terms of creed, race, colour or language. People need to become more compassionate towards one another, accommodate each other's differences in order to create a world where people of different origins can live together in harmony.
The film has churned up thoughts regarding an important issue in the minds of the audience. Thanks to 'Noroshundor' it has become food for ambition and has inspired film makers of Bangladesh to rise to new heights as film makers.
Copyright (R) thedailystar.net 2009