Bibi Russell
Weaver of Coloured Dreams
Kajalie Shehreen Islam
If there is one thing that sets Bibi Russell apart from everyone around her, it is her sense of individuality. Her bright colours and array of jewellery, from bangles to nose ring, are bound to turn heads in any room she enters, and draw a mixed reaction of awe and appreciation for her unique and artistic taste in dressing and the way in which she carries herself. Even the tea in her rather artistically decorated office in Motijheel is served innovatively, in small glasses with something akin to saree paars in different colours wrapped around them. But posted on the walls of her office are not pictures of Bibi Russell, model for Vogue and Armani which once had made international headlines, but "Bibi Apa", surrounded by children and the weavers with whom she shares her life.

Bibi is the third of five children of the Late Mukhlesur Rahman and Shamsunnahar Rahman, more commonly known as Sadhu Bhai and Rose Apa, who were devoted to cultural activities. "I am who I am and where I am today because of my parents," says Bibi.

Bibi was born in Chittagong and brought up in Dhaka and considers herself to be a daughter of Bangladesh. A student of Kamrunnesa School and later the Home Economics College in Dhaka, Bibi was never an academic, unlike her siblings. "I only studied to pass," she says simply.

"I liked to draw," says Bibi, "and as a child when I saw many villagers come to our home, I would admire the

bright and beautiful colours they would wear in their sarees and gamchhas and I would ask my father why I needed to go to school to learn things when these people could be so artistic naturally."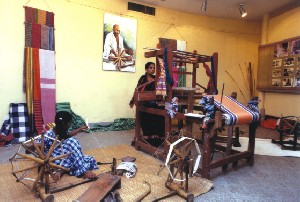 The vivacious 5'10" model-to-be was more interested in cutting up vegetables and cooking, in block printing and sewing. She had her own sewing machine when she was ten years old and used to make her own dresses which she knew weren't all that great, but gave her the satisfaction of having made something all by herself.
Bibi had a wonderful childhood, surrounded by music, art and culture. She considers it only natural to have had an interest in fashion and culture when she was exposed to everything, from books and music by Rabindranath Tagore to Chanel magazines. "When I saw the fashions in these magazines, I felt like, why shouldn't I be able to make my own?"
But you don't realise your dream overnight, says Bibi, and for her it took twenty years. Discovering her interest in fashion, she went abroad and earned her graduate degree in Fashion Design at the London College of Fashion. At art schools, you have to exhibit your work at your graduation, says Bibi, and at her own graduation show in 1975, she displayed ten of her own designs, modelling the first and last herself at the insistence of one of her teachers. She started getting important modelling offers right after that and designers and agencies were curious about the model who started her work with Bazaar assignments and took her on themselves.
For the first five years, Bibi did photo modelling for different magazines including Vogue, Cosmopolitan and Harper's Bazaar and later went onto the ramps. For almost twenty years, she worked with leading designers like Yves Saint Laurent, Kenzo, Karl Lagerfield and Giorgio Armani and "almost became the face of the Emporio Armani range" writes Jeena Mitra Banik in "Being Bibi", a piece in Femina. She walked the ramp with models like Naomi Campbell, Claudia Schiffer and Kate Moss and "snagged prestigious campaigns like Rolls Royce, Jaguar, BMW, Toyota, Vidal Sassoon, John Freida, Harvey Nichols and Fila, among others," continues Banik.
In 1994, Bibi came back to Bangladesh to fulfil her dream -- of promoting her own country's beauty and the work of its people to the world. "People say Bangladesh is poor," says Bibi, "I only see its richness of culture, and paint a picture of beauty from the poverty."
For the first two years, Bibi -- fluent in Italian and comfortable with Spanish, French and German (besides Bangla and English) -- mainly travelled around villages and got to know the people there. She learnt their different languages and dialects, their ways of life, and earned their trust. She also had to learn the tools of the trade here as opposed to the modern technology she had learnt abroad. She established Bibi Productions and from the colours weaved by the villagers, she reached out to the world.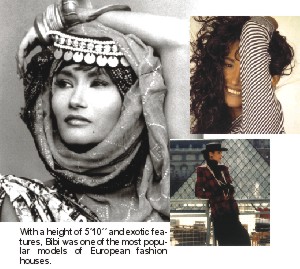 Her first European show was in Paris in February 1996, and was called "Weavers of Bangladesh", organised together with UNESCO. Her second show titled "The Colours of Bangladesh" was also with UNESCO a year later and, launched and supported by the Queen of Spain, was held in Palma de Mallorca, Spain. In September 1998, with support from UNESCO and the British Fashion Council, Bibi brought her third show to London, called "Stars of Bangladesh". In 1998, Bibi made her US debut at the closing ceremony of the State of the World Forum. Last year, she designed costumes for a film for the first time -- Dwitiya Paksha, an Indian film that was screened at the Dhaka International Film Festival last month.
The Paris show brought in orders that gave work to 30,000 weavers in Bangladesh, said UNESCO's Sayeeda Rahman at the time, who was coordinating the organisation's involvement in the microfinance programme. The huge response showed that it was obviously working. It was difficult for the weavers who lived in villages to make goods according to the tastes of the people, not to mention at a global level. With Bibi's inspiration and guidance, they finally had the ideas and the platform to market their products.
Bibi's campaigns, "Fashion for Development" and "Positive Bangladesh" clearly describe her purpose of lifting the products of the weavers of Bangladesh working at a ground level into the mainstream.
"Fashion is a part of culture," says Bibi, "and textiles are a part of the history of Bangladesh." Bibi believes that the country can never come out of poverty if the economic situation of the villagers does not improve. "I cannot tell my weavers to send their children to school without first ensuring they have work from which to earn a living, which will first feed them and their children."
Foreign journalists come to film her work here and want to edit out the parts with children working, fearing it will ruin her image, says Bibi, but she won't allow it. "I am also against child labour," she says, "but I have young children working for me because it is like a school where they learn the art of weaving. The next generation of weavers will be educated," she promises. The talented hard-working weavers of the villages would be geniuses if they had only one-third of her education and training, Bibi believes.
Bibi currently has over 35,000 weavers all over Bangladesh (excepting only Kuakata, she admits) working for her. "But it's not even one tenth of the people I want to reach," she says. There are ten lakh weavers themselves, she says, not to mention spinners and those who dye and so on. "If you can help one weaver, you help a whole family," she says.
The love and affection of the villagers she works with are her real incentives, says Bibi. "It is priceless, and nothing -- no amount of money or riches -- can ever take me away from them." When she goes to the villages, as she often does, she stays with them

in their homes and they pamper her with love, she says. Europe has given her all the fame and fortune she could have, but she came back to Bangladesh for the people, especially for the village people, says Bibi. She came back for their work and to help them and the traditional art of weaving survive in not only the national but a global market. Using fashion, Bangladesh is sure to get "up there" one day, is Bibi's firm belief.

Her company, Bibi Productions, produces everything hand-made, from a range of apparel to shoes, buttons, jewellery and even home furnishings.
She does a spring-summer and fall-winter collection each year to keep up with the global market, but 90 percent of her work is to do with textile design, she says. She works with cotton, khadi, silk, amdani and a lot of jute. For the last two years, she has also been experimenting with crochet. She first makes the textile, and after seeing the outcome -- of the texture, colours and so on -- she decides on what is to be made from it. She only wishes there were proper research facilities for textile designing. All her ingredients are from the villages and she never changes the traditional ways of weaving, says Bibi. She also does not use any chemicals that are not internationally approved. She takes extreme care with her products and says proudly that not one piece has ever been sent back from her foreign clientele. She designs for them keeping in mind a number of factors, including their climate, their tastes and their social bindings. Bibi Productions exports to Europe and Scandinavia, and though it does not have its own outlet in Dhaka, the newly-opened Essentials in Banani displays some of the products. There is something for everyone in her collection, says Bibi, whether you have 10 Taka, 100 Taka or 1000 Taka to spend.
Bibi Productions is a small, self-funded organisation, says its owner. Bibi has a team of twenty dedicated people working for her in Dhaka besides the thousands of villagers and a number of rickshaw painters. Commitment to the cause is all she looks for in a prospective employee and never at their résumé. She doesn't have the money or the time to advertise. She simply moves forward with her purpose.
Bibi has received both national and international awards for her work with the artisans and weavers in Bangladesh as well as those in India, Africa and Latin America. She was declared "Woman of the Year" by Elle Magazine in 1997, honoured with an "Honorary Fellowship" of the London Institute in 1999, and was declared "Entrepreneur Woman of the Year" by the Foundation of Entrepreneur Women in the same year. She has also been highlighted by Asia Week Magazine as "one of the 20 people to watch in the millennium". Also in 1999, Bibi Russell was named "UNESCO Special Envoy: Designer for Development." UNESCO Director General Federico Mayor gave her the title "in recognition of her commitment to the welfare of weavers of Bangladesh and her devotion to the promotion of traditional crafts in the cause of human dignity, development and eradication of poverty". Bibi has recently been made a Creative Member of the Club of Budapest and of the Global Marshall Plan Initiative with the vision of implementing a global eco-social development plan.
Bibi Russell, international model and fashion entrepreneur with many titles to her name, has little left to achieve for herself in the way of fame and riches. Yes, one day, she hopes to stage a show with the colours of monsoon, her favourite green (which as yet does not come out quite right!). Other than that, she is extremely satisfied with her life and her work, having achieved much mental peace and satisfaction. She has little time for anything else.
She has two sons and seven street children whom she calls her own. They sell flowers on the streets and come to visit once a week. Bibi loves all sorts of music which is always on around her, and reads whenever she has the time. Besides that, she has only her dream to continue to fulfil -- to enrich the lives of the weavers of Bangladesh and expose the beauty of their work for the world to see. Besides style, positivity is what distinguishes Bibi Russell. And anyone who has had a talk with her is certain to be themselves inspired to think positive and to "go for their dream".