'Madness has no religion'
'Madness has no religion'
Says Hollande as French terror victims buried in Israel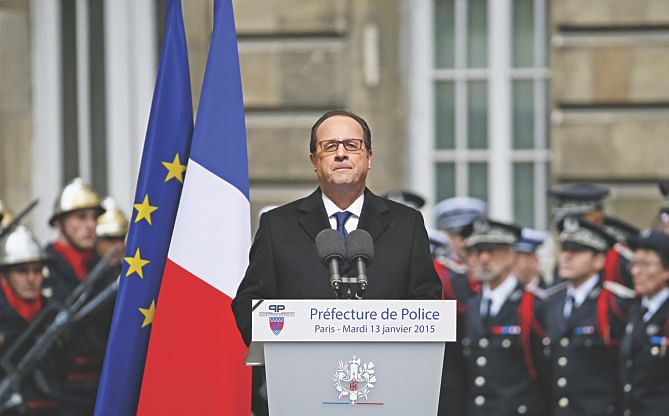 President Francois Hollande yesterday vowed that France would "never yield" to terror in an emotional tribute to three police officers shot dead in an Islamist killing spree, as four Jews gunned down in the attacks were buried in Israel.
Home to Europe's largest Jewish and Muslim communities, France was shaken to the core by its bloodiest attacks in decades, which began when gunmen opened fire at the Charlie Hebdo editorial meeting in its Paris offices on Wednesday and ended in a bloody hostage drama at a Jewish supermarket two days later.
Seventeen people, including journalists, policemen, a black policewoman, Muslims and Jews lost their lives.
In an historic show of solidarity, nearly four million people marched around the country on Sunday, and the outpouring of shock and grief continued yesterday as several victims were buried.
In Paris, the Marseillaise anthem rang out under grey skies as a grim-faced Hollande laid the country's highest decoration, the Legion d'honneur, on to the coffins of three fallen police officers draped in the red, white and blue flag.
"Our great and beautiful France will never break, will never yield, never bend" in the face of the Islamist threat that is "still there, inside and outside" the country, said Hollande, surrounded by weeping families and uniformed colleagues.
He added: "Madness has no religion, it has the face of hate, a hatred for all that France represents."
In Israel, thousands of mourners gathered at a cemetery for the funeral of Tunisian national Yoav Hattab, 22, and French citizens Philippe Braham, 45, Yohan Cohen, 23, and Francois-Michel Saada, 64, who were killed at the kosher supermarket.
Israeli Prime Minister Benjamin Netanyahu told mourners that world leaders were "starting to understand" the threat of Islamic extremism.
Meanwhile, the satirical Charlie Hebdo magazine unveiled the cover of its latest edition showing a weeping Prophet Mohammed under the banner "All is forgiven".
Egypt slammed the provocative cover which was republished across Europe, in Australia and Brazil, but French Muslim groups urged their communities to "stay calm and avoid emotive reactions" to the depiction of Mohammad, which many see as sacrilegious.
The controversial weekly, which lampoons anyone from the pope to the president, has become the symbol of freedom of expression in the wake of the bloodshed. This week it is preparing a print run of three million copies, compared to its usual 60,000.