Smart Stories
Elen Turner
The title and the epigraph of Zafar Anjum's Kafka in Ayodhya give a good indication of the central concerns of the short story collection: for the wounded 'idea of India'. The stories within the short collection are dark as well as humorous, international and grounded in India, and mix surrealism with realism.
As well as the titular story, Kafka in Ayodhya, there are Kafkaesque touches through the stories. Farce, dark humour, metamorphoses of people into things, and things coming to life. For example, the story 'The Rats' ends, creepily: 
'The thought of this made him scurry. He did not even notice the dappled shadow that ran along with him through the maze of the streets.'
In using this surrealist mode to make social commentary, I was reminded of Gujarati Jewish author Esther David's The Man with Enormous Wings. In this novella, Gandhi returns to earth as an angel and watches, horrified, as Gujarat succumbed to carnage in 2002. The same sense of witnessing the crumbling of society is interspersed throughout Kafka in Ayodhya; an author asking, through his characters, 'how did we come to this?'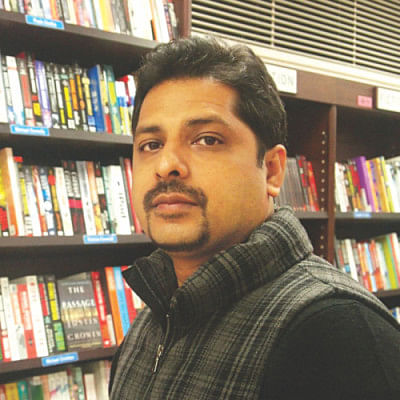 There is also a preoccupation with the act of writing and publishing, a deconstruction of the division between writer, character and reader. For example, in 'The Lone Fighter', the narrator (who is a writer) encounters a fellow writer in a bookstore who emphatically declares that all other books are rubbish; only his are any good. He has, perhaps, taken too far the modern-day importance of self-promotion. In a later story, 'The Revolt', a character who believes he has been misrepresented by his creator takes revenge, and physically traps the author within the pages of his own book. 'Don't turn the page,' the author begs of us, the reader, because when we do, he will be stuck there forever! 
A nice story that does not seem to fit the collection is 'The Thousand Yard Stare'. Set in a Palestinian refugee camp in Gaza, it tells of a young girl who sorely misses her brother. It is a well-crafted story that echoes the despair of some of the other stories in the collection, but it bears no hint of black humour, and it is entirely realist. In a short story collection, variety of subject, tone and style is welcome, but this lone example of a story unrelated to India and written in a different style stands out as not quite belonging here.
I would like to have known more about the genesis of the story 'Waiting for the Angels'. The post-script reads: "Inspired by a Spanish short story". Does this mean that Zafar Anjum read an untranslated Spanish story and thought it would present well in English? Or does this refer to an oral story? I read this statement and wanted to know much more. Overall, Kafka in Ayodhya is a fresh collection of smart stories that work well individually, and some of which work well together.