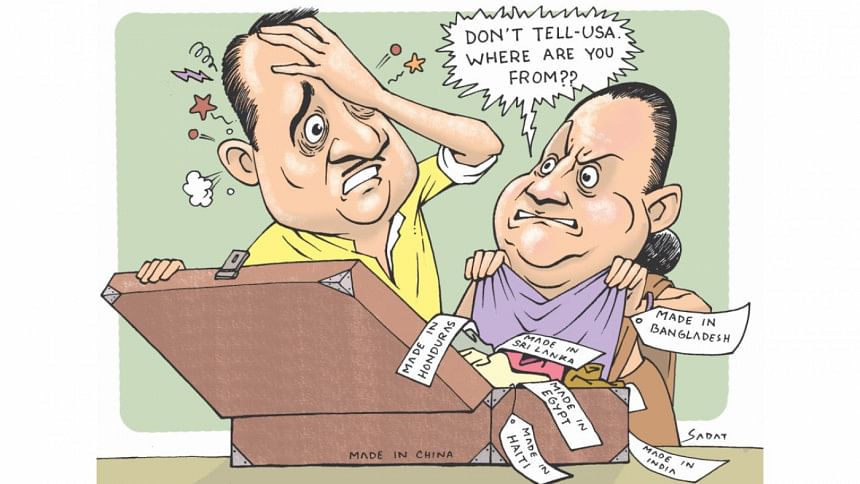 Though times have changed, in the several visits I made to the US over the last twenty years, one headache has remained constant – what to bring back as gifts for my desi people back home. Earlier, picking up gifts was a simpler affair. People back home would be craving for anything 'foreign' – things like Heads and Shoulders shampoo, Dove soap, Estee Lauder cosmetics, cheap sweat shirts, etc and I would stuff my suitcase with as many of those items as my purse permitted. But gradually with time, with swanky shopping malls in our own cities and with multinational companies spreading their tentacles in the remotest corner of the globe, the idea of picking up those earlier items that everyone craved for is totally lost. Now it is becoming extremely difficult to buy something 'American' for people back home and I realized this most in my trip to the US last month.
With China making inroads into the marketing world over the last few years in such an aggressive way, walking into any convenient store or Walmart or Dollar Tree and picking up whatever you want is no longer exciting as everything in your shopping list from A to Z will be 'Made in China.' In this last trip, I had a long list of specific things to be brought back from Uncle Sam's land and then I realized how different things were now. After I had coaxed my son to drive me to the nearest departmental store, he took me there rather reluctantly at nine at night. The store was open till eleven and I had to buy whatever I wanted within the stipulated time of two hours. OK fine. I had to buy a jacket for someone so I rushed to the men's section. The first one I picked was made in Bangladesh. Surely spending my hard earned greenbacks to pick up something from our immediate neighbour was not very exciting. So I tried another aisle. Here were jackets made in Sri Lanka. Again a 'no' from me. After doing away with several countries which did not seem exciting enough, not for the quality of the product but for the tag, I ultimately picked a jacket 'Made in Jordan.' Well at least this west Asian nation was not an immediate neighbour to India and was exotic enough for the person for whom I was buying it.
The next item in the list was a tee shirt of XXXL size for a colleague of mine. Again, apart from design, price or colour, the name tag became the more important deciding factor. The first one I picked up was 'Made in India' so it went back to the shelf immediately. After a lot of scouring, the one I ultimately chose was 'Made in Honduras' which I though sounded exotic enough. Now for some bedsheets. One counter in that section had lovely cotton sheets on sale but the 'Made in Pakistan' tag made my patriotic self put it back in the stacks and I struggled hard to ultimately select one that was 'Made in Egypt.'
By this time only half an hour was left for the store to close. I still had many more purchase requests left on the list. Loitering around the different aisles listlessly discarding merchandise by looking at the country in which it was produced, I was scolded by my son who had already grown quite impatient.
"Why is it taking you so long? If you like the stuff, pick it up and let's go."
"But people back home won't like the idea that I brought them a gift from America that was made in our subcontinent. That too paying in dollars for it," I replied meekly.
"Oh, so you want only gift that has a label "Made in America"? Ma, how stupid you can be at times; OK, here's a good suggestion. Go and pick up some American flags and take home for the rest of your folk." 
"Flags, what will they do with American flags?"
"Anything. They can decorate their lounge, use it as a tablecloth or dump it in their chest of drawers and forget about it. Your duty of bringing back an American gift will be over."
Not a bad idea, I mused as I walked towards the shelf selling flags of all sizes. Guess what? The first piece I picked up had a label "Made in Haiti." The rest of the tale is better left untold.
Somdatta Mandal is Professor of English at Visva-Bharati, Santiniketan.