Comics and Graphic Novels in Education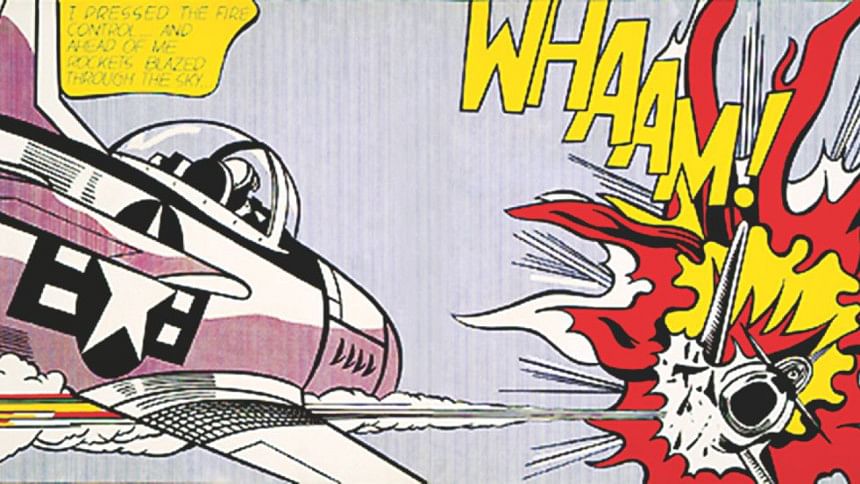 I remember reading books that had long descriptions. Some writers do love to describe. JRR Tolkien, for instance, is one of those fantasy gurus who created a world that is beyond our . . . no, not imagination—the conceptions of the elves, ogres, goblins, etc. had already existed inside our small vocabulary boxes before Tolkien's words pierced through our thought bubbles and gave birth to an Orc and a world beyond our, yes, expectation. I remember reading Tolkien's masterpiece The Lord of the Rings, an epic fantasy with insanely long descriptions! I confess my feeble imagination failed to recreate the fantastic images of the Middle-Earth that Tolkien painted so vividly in his books. The problem is he drew his enormous Middle-Earth with colorless nouns, adverbs and adjectives; despite the appropriateness of his words, I got bored and lost track while reading his descriptions. I am really sorry, Mr. Tolkien, for skipping a few of your mesmerising paragraphs.
Descriptions are pictures, drawn with words. If one wants to get the picture, he or she needs to know the language properly, must know the meanings of the words. But alas! Meanings are like butterflies with iridescent wings! If the reader's mind is a flickering light bulb, meanings will not hesitate to play hide and seek! Well, there is an easy way out. You will easily get "a rose is a rose is a rose is a rose" if you have a picture of rose beside the word rose. Now, I can bring Ferdinand de Saussure here and make things a bit complicated. But I want to keep things simple and fun. Let us dive into the main topic here: Comic books and Graphic Novels in education. 
We use illustrated books to teach young learners. Children learn fast because they do not only read the word and the meaning, but also understand the shape and the color. Mike Parkinson, founder of Billion Dollar Graphics (BDG), in his article "The Power of Visual Communication" writes that human brain can process images 60,000 times faster than it processes texts. The misconception is we think the illustrated books are for children only. We like to deliver thick boring stuffs to our grown up students and want them to understand every single word. A mature brain processes things slowly; it gets bored quickly, gets distracted easily as it tries to understand everything appealing this universe has offered. So, why not give our students something equally appealing that will not only educate them but also kindle the love of learning?
A comic book would be perfect here. It simply is not a book full of illustrations and texts, but a book chock-full of a life and a comprehensible world of its own. When we read story books, our imagination reconstructs or tries to reconstruct the tale that the authors have shaped on papers. The simple ink-borne letters are able to convey a message appropriately, but understanding the message depends ten to one on the recipient. We sometimes blame the author when we do not understand the narrative. What if the author's narrative, albeit clear and unambiguous, fails to get the message across to the reader just because the author's language is beyond the reader's cognizance? And if that is the case, how are we going to deliver the message to the person whose grasp of the author's language is weak? Don't you think a text with pictures is the best solution? 
If we want to use something as an educational tool, we want it to be effective. And the strength of comics surpasses all expectations! Award-winning graphic novel writer and academic Gene Yang, writes in "Comics in Education" that using comic books in education is a great way to motivate students. Visual representation can very easily capture readers' minds as we are naturally attracted to pictures. Thus, comics can our students interested. Moreover, since comic books are visual, the printed text and the images on the pages can give life to a subject that students consider tedious. Comics can transform subjects into characters, which can help students to connect with the lesson more effectively. 
Comics have been personifying inanimate objects, emotions, feelings, fears, dreams, etc. since the very beginning of sequential art. Story books are like a gymnasium for your mind, where the reader can boost up his or her imagination in order to stay fit, psychologically speaking. However, in comic books, these fantastic characters become more real as the readers can literally see them, observe their lives. This is why, perhaps, readers fall in love with comic book characters, knowing they are impossible; they start believing these fictional characters because they make the unreal somewhat believable. Comic books can, as Rocco Versaci puts it, "quite literally 'put a human face' on a given subject". So, why don't we use this material to teach our students? Who knows, they may fall in love with a character called The Deferential Mathematics Man or The Superlative Grammar Girl! 
Many authors have explored how and why image-oriented books leave a permanent mark in readers' minds. In comics, the art moves through sequential panels, creating seemingly living pictures. The readers walk with these pictures and observe their change and growth. This is a gradual process and therefore readers' minds absorb the information smoothly. A study from the University of Oklahoma in 2013 showed that graphic novels can be more effective in teaching students than a traditional textbook as graphic novel readers retain more information. Human brain can recollect visuals better than words. Images improve comprehensibility and memory. This makes comics exceedingly useful to explain difficult subjects and a great teaching tool for mediocre and inattentive students. What is more, a reader of comics is more active than a textbook reader since more senses are being tapped into the psyche while reading a comic book. 
We should also consider the popularity of graphic novels and comics all over the world. Older generations tend to ridicule pop culture. Nevertheless, we cannot deny the fact that pop culture defines what is "now". Unfortunately, we are stuck in the past and tend to think that our age-old experience will help us survive the uncertain future. And we love to ignore the truth that experience is not absolute; its effectiveness, however, is relative to time, and our time is constantly inconsistent. Time will change the familiar things we see around us over and over again. Now we have two options: we can go against it and fail, or we can embrace change, matters not whether we like it or hate it. How about we start it now! 
Learning something new is always a thrilling experience. Learning how to play a musical instrument, how to draw a picture and put life in it using the gorgeous colours . . . the struggle was undoubtedly there. We, however, did enjoy our struggle as it were, quite literally, entertaining! Formal education, on the other hand, was never fun. Sadly, modern time has taken us one step further and lets us confront a reality where education is at its worst ever. 
Everyone in this universe wants to be entertained. Have you ever asked yourself why students are reluctant to read a simple textbook? Many fascinating subjects are written in an uninteresting way in a language that is wearisome. Imagine a student reading a textbook and laughing as if the reading were something really funny! What would happen if we incorporate images and humour into education? Look around you: it's already happening! Teachers are using audio-visual technique to teach nowadays. There are many educational videos on the internet that can be used in a classroom. TED-Ed, for example, produces some outstanding educational videos for mature audience. 
Images are the words of the universal visual language. And if you combine the text with the images, you will have something that is supposed to be better than a text-based book. Image-based storytelling is absolutely perfect for students everywhere regardless of age. Therefore, I propose writing new textbooks in comic book format. There are many educational comics in the market that we can use, e.g. For Beginners series (For Beginners LLC) and introductory graphic guides (Icon Books UK).  However, it would still be better if we convert our official textbooks into comics. I also want to see books in the proposed format for the university students. Let's give our students something that they are going to read in their free time willingly, something that is rich in knowledge as well as exceptionally fun to read. And if this book is the official textbook of a classroom, the outcome will be unquestionably satisfactory!
Let us remove our greedy eyes off the matter how we can improve our classroom and focus on how a student can enhance his or her learning experience without the help of a teacher. What they need is enough motivation and books that can make them interested, books they can enjoy thoroughly and books that can inspire them to read more books. I am not suggesting that we should disregard text-based books completely. Many students will read traditional textbooks gladly. I have already mentioned that texts are great exercise for one's imagination. However, the problem with imagination is that the wingspan of one's flying fancy is limited to his or her knowledge. The more a person learns, the more his or her imagination booms. So, our main concern should be how to persuade them into learning more. Additionally, sometimes we consider weak, inattentive, apathetic or unruly students as "problems". They should be our first priority, and comics can help us immensely here.        
Comics and graphic novels are a great source of entertainment, and that is, without a doubt, this medium's most utilitarian strength. Modern education system thrives on selling grades, and completely ignores the love of learning. The bright torch of creativity that we want our students to hold firmly has been seriously injured and now is in a coma! Our students have become slaves to education, and we are forcing them, training them to become better slaves. We should stop killing their spirits! If we want to do that, we have to murder our conformist mindset first. Let us make our students fall in love with education. Comic books and Graphic Novels are undeniably a powerful tool and can help us tremendously to achieve this goal. Comics can be our strongest weapon if we are willing to use them in a classroom. And if we do, someday, education will definitely entertain the whole world!
Amiya Sadnam Chowdhury is a lecturer at the Center for Language Studies, University of Liberal Arts, Bangladesh. His first novel 'Wings' was published in 2011.