Bishad Sindhu (Book II Chapter 4)
Mir Mosharraf Hossain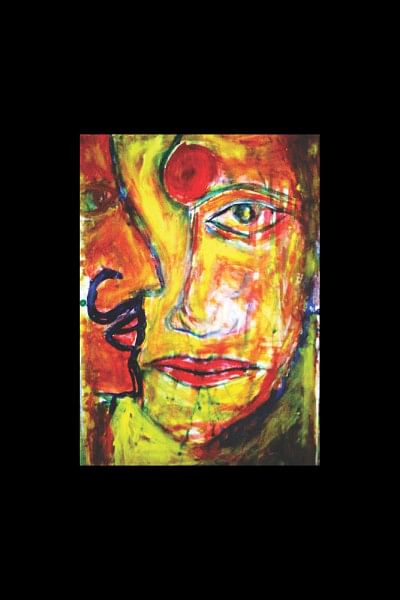 Who was this champion whose bodiless head lay sprawling on the sand; whose body had been pierced by hundreds of holes because of the very sharp arrows that had penetrated it, but the hero whose back showed not even one wound, whose chest showed that he had taken all assaults frontally, who could this brave champion be? His protective garment, waistband, spear, skin, steed, battle dress, equipment—all signified his heroic status, and yet he was so young—how well-built was this youth! Alas! Alas! Could you be Abdul Wahab? O my hero! What has happened to your head? Are you that very Abdul Wahab? The very same man who had pleaded to his old mother so that he could glimpse his beloved wife's face only once, the hero who had followed his mother's wishes and had been satisfied to view only the shape of his beloved's beautiful eyes, had listened to the call to arms and had ended up taking the lives of innumerable infidels---are you that very same Abdul Wahab? 
Who was that at the feet of this mighty hero? Those very large eyes were cast upwards as if they were beholding Abdul Wahab in the battle regalia of the champion. A teardrop in the eyes—could it be that it was for a drop of water that Wahab's bride had sacrificed herself at the feet of her spouse? 
Who was it that had wounded the heart of the woman so? Who could have done violence with a heart made out of flint stone and who could have hurt such a tender person so? Oh you infidels! Because you were warring with Hussein you thought that slaying a woman would be no crime! Is that what the code of a hero or the rules of warfare, or the principles that is supposed to inspire a champion teach you? The hand that is raised to wound a woman's body is not the hand fit to be that of a true hero; that chest is not to be counted as the chest of a hero—it can only be that of a fiend inhabiting a human body!  
Where was that lion-hearted youth, the one who was the pride of all heroes, the one who was to be the King of Medina? Where was the one who had amazed even mighty ones with his horsemanship, his skills in archery, his dexterity in wielding his sword, his ability to direct his sword unerringly—where was that mighty champion? Where was that warrior of such indomitable energy? Where was the groom who had been only recently wedded? Here was the wedding dress he had on. Here were all the accessories of marriage he was supposed to have put on. Was he the one who had on a garland on his neck because he had wed Sakhina? Was this Kasem then? Alas! Alas! Was there supposed to be no limit to such endless bloodshed?
Sakhina had revealed herself to be a consort worthy of a hero when she had smeared blood on all parts of her body and even on the dress she had on, and yet the blood seemed to be still streaming from the body of the hero and was still visible everywhere—on his sword, on the dress, and on the body of the fallen hero. His case for carrying arrows and his spear lay beside his body. Who was this regal woman next to him then? Who could this young bride of such delicate features and build be? It is as if her eyes had finally shut as she raised them up to land on Kasem's face; was it a deliberate or unconscious action on her part that she would place her left hand on Kasem's bosom? Who could you be, so emblematic of the virtuous wife? What is that on your right hand? What could this be—a sharp weapon made of steel in the hand of such a being?  And what is at the tip of that weapon? Good grief! What a moving spectacle! You must have clasped that weapon tight in your hand and guided it into your bosom! And was that you Sakhina who did such a deed? Why else would one suffer so? To have committed suicide because of the pain caused by separation from one's spouse!  No—no—O brave consort; should it be that a brave daughter and spouse can give her life up at the sorrow of separation or death thus?  What folly! If so, why is it that her countenance still had the trace of a smile? How could it be that it still retained a glow, as if a light was still being emitted from it like that of a candle that is still flickering? I can comprehend the pain of separation caused or understand the anguish induced by parting from the beloved who had been pierced by the sharpest of weapon, but this body had already been daubed by the blood dripping from the loved one. You did not have to take recourse to a dagger to reduce the weight of sorrow caused by the death of your spouse thus. But all praise to you, O widow! You are one whose example must be extolled! Sakhina, you are someone whose action is writ large for the world; what you have done has no parallel anywhere. What sweet words had you uttered as you drove the dagger into your chest? Let the world behold your deeds fully! Let the women of the world view your action in admiration. So much love, such feelings, such sympathy for Kasem, who was born of the same blood and to whom you had been wed, to whom you had been married off in the briefest of ceremonies in the most unprecedented of circumstances. And to have the heart swell with love for your spouse in the briefest of instance, and to have said to him to preserve the vows of fidelity to him completely unprompted—"I will give up all for your sake Kasem—everything! "  And what you had done after uttering these immortal and priceless words had induced compassion even in the heartless Marwan, not to mention the countless others who were witness to the scene. All praise to you Sakhina! A thousand thanks to you for what you were able to do!
And who is there in this part of Karbala's vast expanse? What priceless jewel lies here so? God, what is it that you cannot do? Could you have bestowed such looks on one that handsome so that in the end it would all be wasted? That unsurpassable broad shoulders, that immense chest, such wide eyes, such wonderful eyebrows, and only the hint of a mustache? Alas, alas, O Almighty God! To have made one so handsome and to have grudged him life? Is that why at this tender age Ali Akbar lay lifeless forever?
Why was the pair of statues lying thus? Why were these two soft, doll-like, now blood-smeared bodies lying sprawled on the dust thus? I can see that it was Yezid who was responsible for this state of things. That heartless, bloody-minded beast! Did you smash the two dear doll-like beings that Hussein loved to play with too? Alas! Alas! This is that Ferat River; its swift-flowing current took away all the dead bodies thrown into it. The river appears stained in blood here and there; in some places it appears bloodier than others; while in some places the blue waters of the river have merged with the crimson stain of blood to create a color expressive of unique sorrow. It is as if grief for Hussein is being emblematized by every wave of the Ferat in all kinds of distinctive shades of crimson.
A sound and then these words: "This is my cummerbund, this my helmet; here is my sword—why are they strewn here thus? "" Another voice and these words now: "All of these were Hussein's!"
"He was a mighty being—Medina's king." Why were all these things lying under a tree of this expanse then? Whose blood-stained dagger was this? Why were his armor, clothes, helmet and scabbard scattered thus?   What could have led to this scene? Was this a sign of self-immolation or some kind of aberration in his being? Has the world been able to grasp the significance of the hands positioned so as if he had some kind of advice to give to it, though one hand had been sliced partially? Who was it that injured the left hand thus? Was his severed head facing his homeland of Medina though it had been decapitated? Alas, homeland!