Abul Mansur Ahmad: A Versatile Genius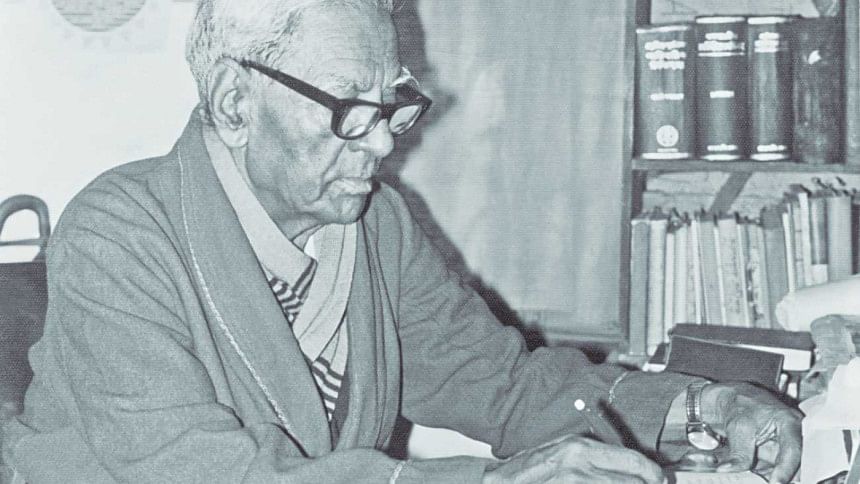 Abul Mansur Ahmad (September 3, 1898-March 18, 1979) was an eminent litterateur, journalist and politician. But his striking popularity as a political satirist in Bangla literature has possibly outshone all his other identities in undivided India and Bangladesh. During 1929-1938, he practised law in Mymensingh, and later worked in Kolkata as a professional journalist and a political activist until the 1947 partition.  Today is the 38th death anniversary of the versatile genius, and Saturday Literary Review looks back at his life and works on this occasion.
It was in a most turbulent period of the history of Bengal that Abul Mansur Ahmad fought hard against social prejudice and religious bigotry. His brilliance in various fields, be it politics, journalism or literature, made him a popular name in undivided Bengal. He was a superb satirist, a thought-provoking essayist and an astute political commentator.
He witnessed and contributed to the rise of political and cultural consciousness of Bengali Muslims. In his youth, he participated in different social and cultural movements and in his more mature years, he blossomed as a writer, journalist, politician and, most importantly, as a social thinker.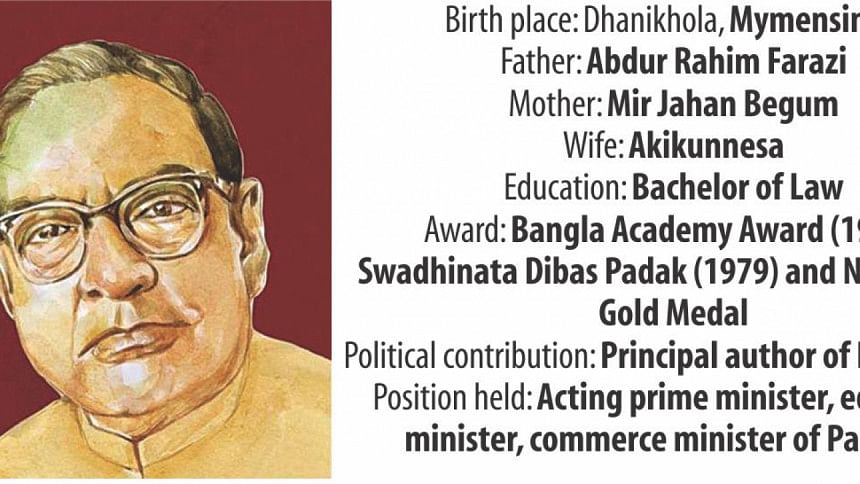 Abul Mansur Ahmad (1898-1979) was a keen observer of his contemporary world, which he saw with the eye of an artist who portrayed life not only as it is but also as it could be. The many different roles he played made him an exceptional writer, experienced politician and an ace journalist. But it is in the capacity of a litterateur that Abul Mansur shines still today and will do so in future.
His youngest son and editor of The Daily Star, Mahfuz Anam, described as follows the moment of his father's birth: Abul Mansur Ahmad was born in the Farazi family when the muezzin was calling for Fazr prayers on Saturday, September 3, 1898. His mother suffered severe pain for several days before the boy was born. After the birth the midwife declared that the boy was stillborn.
Ahmad's maternal grandfather Meherullah Faraizi was a prominent figure in the non-communal anti-British Faraizi movement. Being informed about the daughter's prolonged delivery pain, he came to see her and was informed about the stillborn baby. Deeply saddened he wanted to see the child who was wrapped in banana leaves and left outside the hut. Emotionally shattered, the grandfather's heart drew him to pick up the baby to kiss him. To his amazement he saw the "dead baby" flicker his eyes and thus Abul Mansur was born a "second time". 
Emeritus Prof Anisuzzaman said of Ahmad, "Parashuram said many things about Hindu deities, but Hindu community tolerated that; Abul Mansur Ahmad's contemporary society tolerated him too. I have doubts whether any editor now would dare to print such stories and society would tolerate him. The target of Abul Mansur Ahmad's attack was not any individual, a community of any particular religion. He revolted against prejudice and superstition in general.  Even 80 years after the publication of Aina, there is still a need for such a book."
After completing his studies in Mymensingh and Dhaka, he went to Calcutta (now Kolkata) to study further and follow his dream of writing.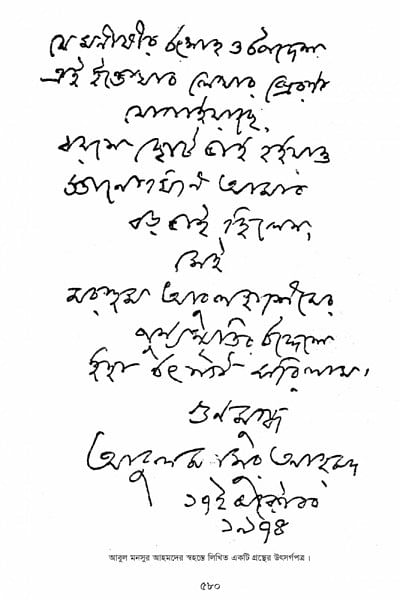 He worked in many weekly and daily newspapers and wrote his famous satires during this period. He became involved in anti-British movements, was inspired by Netaji Subhas Chandra Bose, worked under Sher-e-Bangla AK Fazlul Huq and Huseyn Shahid Suhrawardy. Ahmad started with Swaraj Party led by Deshbandhu Chittaranjan Das and joined Congress attracted by the leadership of Subhas Chandra Bose. He played a significant role in Krishak Praja Party. He was a member of Indian National Congress, Krishak Praja Party of Fazlul Huq and later joined Pakistan Movement. In 1946 he founded and edited Dainik Ittehad from Calcutta which was to become one of the fastest growing modern newspapers of the time.
Through his satires, he struggled against all forms of bigotry and exploitation in the name of religion and political hypocrisy. In the early forties, when the demand for Pakistan was gathering support Abul Mansur foresaw the issue and wrote that the state language of East Pakistan must be Bangla, and no other language.
After partition of 1947, he returned to his native Mymensingh, restarted his law practice and continued his political activities. He was one of the early leaders of the Awami League and the principal author of the famous Ekush Dafa, the election manifesto of Jukta Front (United Front) in 1954 that routed the Muslim League from East Bengal politics. He later became the education minister in Sher-e-Bangla's short-lived government. In 1956, he became the commerce and industries minister in the central government of Pakistan, headed by Husyen Shahid Suhrawardy as the prime minister. He used to be named the acting prime minister of Pakistan during Suhrawardy's foreign trips.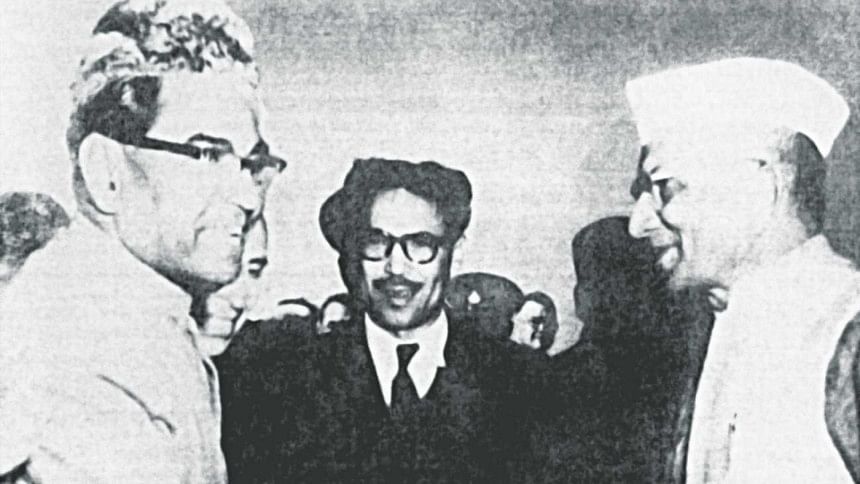 He was imprisoned, along with many leaders of East Bengal including Bangabandhu Sheikh Mujibur Rahman when martial law was promulgated by General Ayub Khan in 1958. He was released in 1963 after which he practically retired from politics and devoted himself to writing.
Among his books are his political and personal autobiography "Amar Dekha Rajnitir Panchash Bachhar" and "Atmakatha", his satires, "Aina", "Food Conference", "Guilliverer Safarnama", his books of essays "Sher-e-Bangla theke Bangabandhu" and many others.
Of all his work, Ahmad is most remembered as a satirist. He chose satire as his main genre in literature but he also wrote several novels depicting social injustice.  Each of his satires is time-tested. He sought to correct the society with his piercing satires. 
Among his satires "Aina" is most noteworthy.  In "Ainar Frame", a foreword to "Aina" poet Kazi Nazrul Islam wrote, "Normal mirrors reflect the outward picture of a man. But the Aina my friend Abul Mansur Ahmad created has caught the inner picture of man. People who roam around us wearing various masks have had their real face revealed in Abul Mansur's "Aina". We met them all the time in temples, mosques, on the dais making public speeches, and also in the literary arena."
His other humour pieces like "Hujur Kebla" and "Nayebe Nabi" are also unparalleled in Bangla literature. He showed his intellectual courage by writing these books in the 1930s and 1940s while the contemporary writers were cowed down by fundamentalists of the time.  What Abul Mansur wrote at that time about religious bigotry we cannot think of writing such things in the 21th century.
In his typical satirical style Abul Mansur had this to say about the role of an editor. "To write editorials the editors have to be a scholar in all subjects.  They are self-assigned advisor to all in all matters.  They advise Mr Jinnah about politics,  Gandhiji about non-violence,  Acharya Prafulla Chandra about chemistry, Dr Ansari about medical science,  Huq Shaheb (AK Fazlul Huq) about  running government,  Shaheed Saheb (Huseyn Shaheed Suhrawardy) about party politics,  Maulana Azad about religion, even General de Gualle  about war policy and Stalin about communism. Giving advice is their responsibility and duty.  That is why they are editors."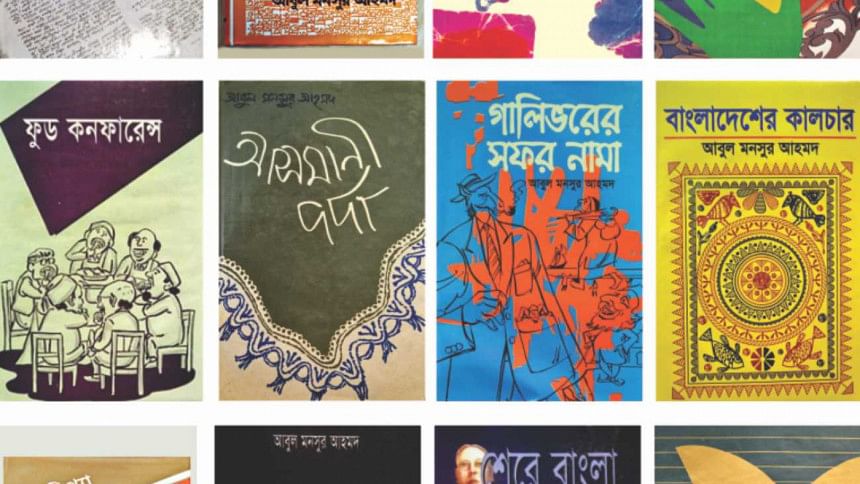 As a visionary and an intellectual, he was far ahead of his time. Imbued with patriotism, he stood against corruption all his life. He used his mighty pen against all inconsistencies in the society. His belief in democracy was life-long and unshakeable. For him it was the best form of government and he wrote relentlessly to build a democratic society.
 In his writings he was vocal against backward, negative outlook towards life. He observed life from close quarters. He adopted satire as a medium to serve his people as he observed the plight of Bengalis in general and of Bengali Muslim community in particular. With his keen sense of observation he also saw the hypocrisy of the people in the guise of so-called patriotism and serving the country.
Rabindranath wrote "Baire Jobe Hashir Chhata, Bhitore thake Ankhir Jol" (On the outer side is a ripple of laughter, inside drops of tears). This also applies to the literary works of Abul Mansur Ahmad. As Shilpacharya Zainul Abedin drew sketch of the famine, Abul Mansur drew sketch of social evils in his works. And he succeeded in unmasking those responsible for the famine and the distress of humanity.
In Bangla literature Abul Mansur Ahmad remains a very important figure. The society is not yet free from the social, political, religious and cultural vices against which he wrote so vigorously. Use of religion in politics, the influence of the pir-fakirs in social life and the hypocrisy in the name of politics still persists. But today, no one is as vocal against these as Abul Mansur had been. We now need such writers and thinkers more than ever before.
Translated by Enamul Huq