When rain is a menace
Rain sparks a gleeful mood in most, especially when it spells the end of suffocating humidity. With its chilled ambience, it's safe to say that everyone likes rain. But with rain follows the menaces, standing as if an obstacle to the way of your perfectly styled OOTDs. This rainy season, we're going to tell you how to turn all those hindrances into a perfect excuse for pulling off a trendier style. Who said rain accessories have to be plain and boring? When rain is a menace, bring your fashion senses into play, take note and turn the tables!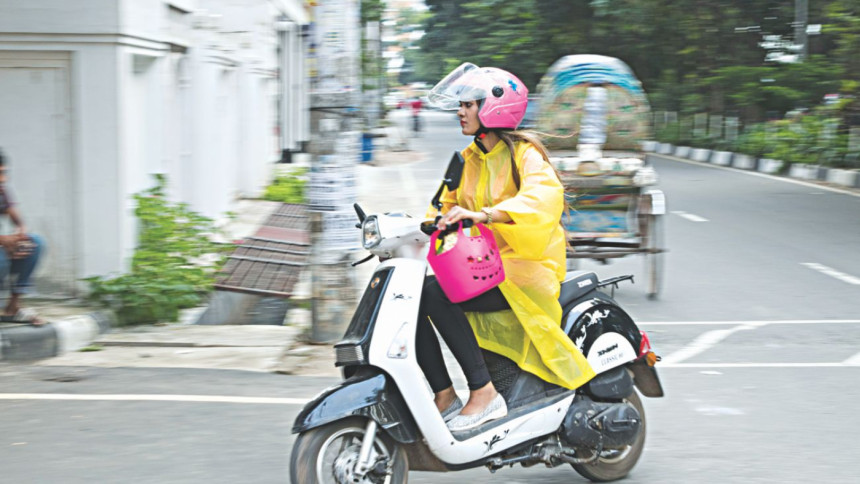 White, NO!
First and foremost, avoid white during rainy season. And the reason is simple, it'll get see-through in case you get drenched creating an embarrassing situation for you. Wear brights and pastels instead to maintain a cheerful aura in the gloomy atmosphere.
Umbrella My Prop
Use the most underrated rain accessory to not just save you from getting drenched but also as a styling prop! Ditch your typical umbrellas please, no questions asked. Get something that's simple yet chic instead. A heads up for you, transparent umbrellas are all the hype lately! These go with every outfit, look super cute and create the perfect 'insta-worthy' moment. Say hello to polka-dots, stripes, tie-dyes or even florals. Go ahead and get whichever vibes suit your usual style and you'd be good to go!
Runway Raincoats
Most people avoid raincoats, and the reason is pretty obvious. Why cover up your pretty outfit with an unflattering piece of plastic! But in 2018, that doesn't have to be the case. Transparent raincoats (yes, transparent seems to be the flow this season!) are super trendy at the moment. The ones with neon borders or chrome hemlines look really cool, especially over western outfits. Pair these with an off-white belt and you'd undoubtedly be the 'best-dressed' of the year, we're not even exaggerating!
Flats should be your go-to this season. It's easier to walk in them and also to clean them. Rubber, plastic materials are preferred over leather ones. We don't have to remind you to stay away from heels, do we? But if you're really craving a little lift, make sure to opt for wedges or platforms!Flattering Flats
Bootie Mode
Boots are so last season, get yourself some booties to not just save you from the awful mud-attack, but also have you looking like a showstopper even in the relentless rain. The ankle-length makes it appropriate to be worn with both western and traditional clothing. Look for the ones made with patent leather (it is waterproof, can be cleaned easily and won't get damaged in the rain or mud).
Bonus points if you can get a pair with a metallic, chrome finish. Ones that are rose gold, gold or silver can be a signature standout of the season!
Atypical, Latex Clothing
Latex clothing is barely in vogue in Bangladesh, but if you can get down with it, you'd be both water resistant and top-notch trendy! There are different latex pieces that you can choose from, like jackets, pants, skirts, or even booties.
Style one piece at a time with your casual outfits to look fashionable without going overboard.
Synthetic and Georgette- the new besties
If you're planning to go out and there's the slightest chance of rain, be sure to wear clothes of synthetic or georgette material. These materials dry up super fast, so if you accidentally get wet, it won't affect your outfit a bit! Now you know who to call your besty this season.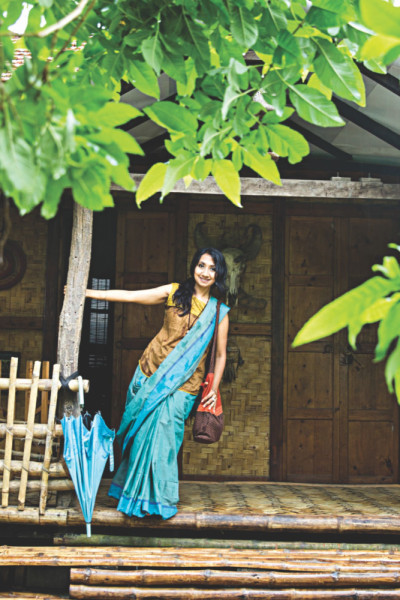 Light and Loose
Humidity causes clothes to stick to your body, making you feel super uncomfortable. So avoid dresses that are already fitted. Wear the ones that are a bit loose and style them accordingly for a cozy yet cute outfit!
Now that you're done taking notes, here are some hacks you need to know to survive this season, in style of course:
Hack 1: Always use waterproof eyeliners and  mascaras, always.
Hack 2: Keep a waterproof liner in the purse for a quick touch-up in case it gets smudged due to the rain. 
Hack 3: Attach the raincoat-pouch to your wallet so you'll never forget to carry it!
Hack 4: Keep wet tissues with you so you can easily clean up mud/dirt off of your shoes.
Hack 5: Carry a frizz-proof hair serum to fix your frizzy hair after an unwanted rain-wash session.
Hack 6: Keep a t-shirt folded in your purse and use it to dry your hair(t-shirt causes less frizz compared to towels while drying).
Hack 7: Keep a small but handy rechargeable fan with you to dry your wet dress on-the-go real quick.
Photo: LS Archive/Sazzad Ibne Sayed