The lesser-known side of Shormi Mala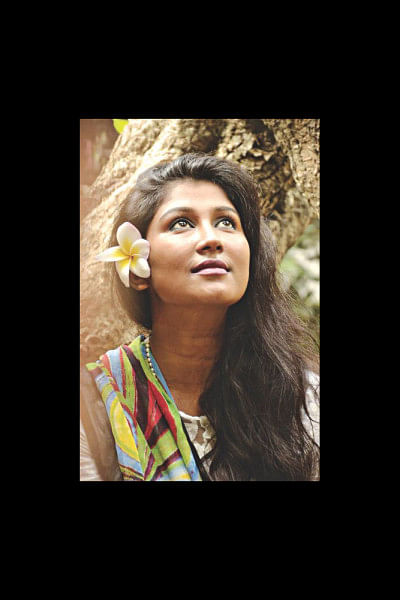 With humble beginnings in theatre, Shormi Mala has been a tour de force in the world of television and film. After marking her debut in Goutam Ghose's "Moner Manush", her performance in "Mrittika Maya" as Poddo bagged her the National Film Award for best actress, and she went on to act in the much-acclaimed "Jalaler Golpo". Despite her on-screen success, the artiste remains true to her thespian roots, and in a recent tête-à-tête with The Daily Star, she shares some of her career aspirations, and more.
What are you currently working on?
Shormi Mala: I have been busy shooting for special Eid TV plays. I can't divulge too many details as they are yet to be titled, but I am working with Salahuddin Lavlu, Masud Shezan and others.
As someone who has roots in the world of theatre, how did you delve into film and television?
Shormi Mala: There was not much deliberation on my part to transition from theatre to TV and film; it just happened somewhere along the way. Before I appeared in my first TV venture, I was offered a part in Goutam Ghose's film. The experiences I gained there gave me the courage to explore the 'reel world' more. On the contrary, joining theatre was a conscious decision, and I prepared for it by attending workshops by Prachyanat and Palakar.
What do you look for in a script before accepting a role?
Shormi Mala: I look for two things; my character outline, and the impact she has on the story, no matter how big or small the role. It is also important for me to see who is directing the play, as the execution of the script depends on direction.
Is there a role you would love to play, but hasn't been put on script yet?
Shormi Mala: In theatre I have always wanted to play Draupadi from Mahabharat and Behula from "Behula Bhashan", to name a few. As for film, it's quite hard to point towards any particular role as they are yet to be conceptualised in Bangladeshi media. I loved Konkona Sen Sharma's character in "Mr. and Mrs. Iyer", and Kangana Ranaut's character in "Queen".
Now for the fun bit – could you state three little known facts about yourself?
Shormi Mala: Lots of people don't know that I have a bad temper. It takes a lot for me to get angry, but when it happens, it takes a long time for me to simmer down. Another little-known fact is that I had never aspired to be an actor; I wanted to be a professional athlete! Throughout my years at school I was passionate about sports such as long and high jumps, volleyball, and many more. But those dreams lasted till college, as we did not have the facilities to explore further. I am also a big foodie, I love eating and cooking. I am an experimental cook and I love fusion recipes.