special feature
Reminiscing the ADDA
We arranged a pocket-sized get-together between a few likeminded individuals from various backgrounds and distinctive identities, who met each other for the first time in their lives and yet were familiar in plentiful ways. This was done in order to muse over the golden days of adda and find out why the traditional setting for a get-together was slowly fading away with time.
Adda —the very word strikes a familiar chord, signifying that we spend some quality time with people close to us, sharing our heartfelt emotions with them. The word to pinpoint here is 'adda,' which is usually between people who are likeminded, but not necessarily familiar faces. They can be strangers, random people that we meet for a day and never again, but yet, there's something very proverbial and that may just be the mind-set.
Hours can go by without boredom, engrossed as people talk about anything and everything around the world, often just over a steaming cup of tea and a few toast biscuits.
If you ask a millennial about their form of adda, they would cringe a bit before finding a close resemblance where they play video games and talk as little as possible, taking occasional selfies portraying a false idea of how much fun they are actually having.
Talk to an octogenarian about their times of adda and you would get goose-bumps. They would discuss politics and culture, reading verses from Tagore, Nazrul, Das or Dutta, trying their hand at the tabla and harmonium, and singing with an open mind.
Karaoke presence was unnecessary, and everyone somehow remembered their lines because culture was ingrained in the blood and there was simply no other way around it.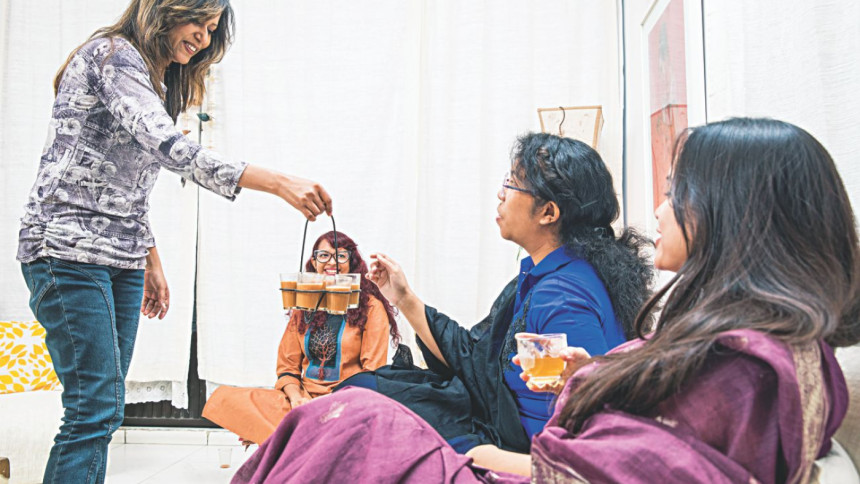 Where did those days go…?
Steaming hot 'tong er cha' in pint glasses have been replaced with champagne glasses, brimming with mocktails. The ubiquitous 'shitolpati,' arranged haphazardly in the courtyard, and welcoming anyone to rest a bit, has been replaced with super expensive Persian rugs in the centre of the drawing room, bounded by glass walls, often out of reach of children, pets, and strangers.
Culture has also taken a backseat. The soothing ragas once hurled out in the early morning air have been replaced with disturbing foreign music, with zero form and sagacity. Children today do not see their parents play the sitar or the flute; they hear synthesised music from their laptops, disregarding emotions. They do not grow eager to listen to the lyrics as there are none and the tempo is just noise.
---
---
A CONVERSATION WORTH EAVESDROPPING ON
Anna Nasrin, one of our esteemed guests, a self-proclaimed musician trying to create a name for herself in the Bangla music industry, agreed with the notion. According to Nasrin, if her parents had not encouraged her enough during her childhood years to practice music, she would have probably been removed from the world of culture.
"My parents were always my inspirations and at the same time, my critics. I learned about music from them," she said.
Eeshita Azad, managing director at Bengal Creative Hub, agreed, saying, "Parents are highly responsible for the development of their child's mind-set. Having said so, it is also our duty to build on that and give the person a chance to flourish."
Rabiul Bashar Lisan, vocalist of the band Oblique, and another promising artist of the Bangladeshi music scenario, admitted that technology was taking a huge bite off live performances.
"Nowadays people are keen on taking selfies, watching Netflix, and playing video games; they usually do not have the time or the interest to play a bit of music by themselves. I remember my days at DU where hours were spent with friends at the TSC, just strumming the guitar and building on tunes. Nowadays, everyone is so busy with other things that music, performance arts or any sort of art form have simply taken a backseat in their lives," mentions the budding musician.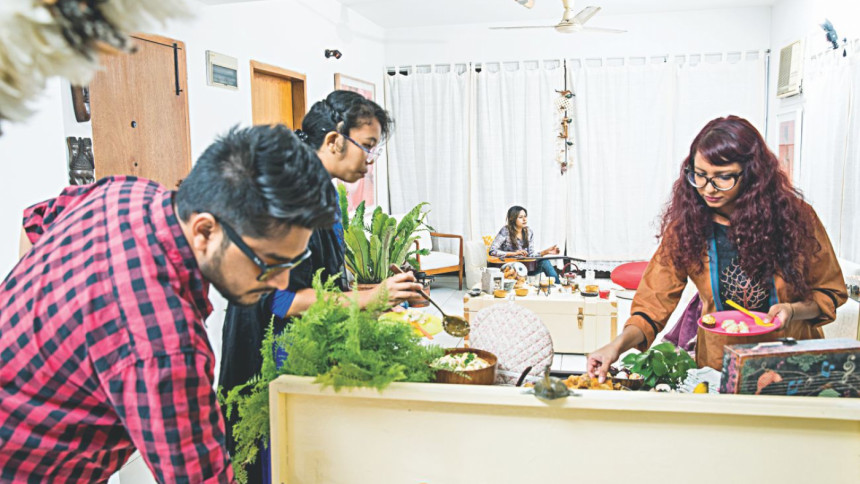 However, Tamoha Siddique, a rising poet from the capital, begged to differ. According to her, culture is still deeply ingrained in the mind-set, but it is the lack of security and safety in the outside world that deters people from coming together for adda.
Siddique argued that this is the reason why people do not get to see addas as often as before.
"I'd probably think twice before having a cup of tea anywhere in or outside the city. People are out there judging you with their eyes. It was not like this even in the '60s or the '70s. Women could blissfully enjoy a cup of tea and an adda at any coffee house or roadside tea stalls with male friends or colleagues. No one would bother to look their way twice. The generation may have advanced based on technology, but culturally, we certainly have gone backwards."
Chelsea Veronica, an up-and-coming writer, remembers the days when she used to spend hours devouring books and sharing them with all her siblings.
"Books were my good friend," she recalled, and went on to say, "Reading books made me feel alive, and I delved into the characters so deeply that I almost became a part of them."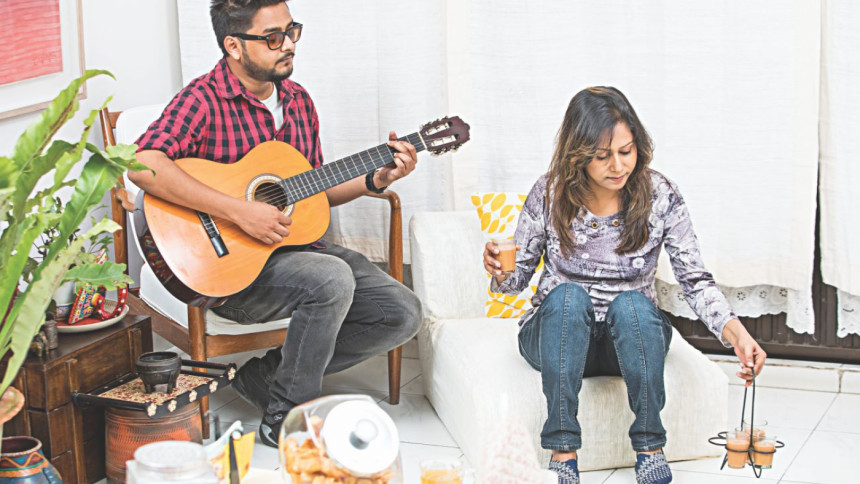 According to Chelsea, reading an enormous number of books helped her by broadening her horizons.
"I am basically an introvert; books and social media have helped me get out of my shell and make friends. Writing has helped me get out of character and mingle with various personalities and understand them better. Reading and writing have actually made me sociable and a gracious human being," admitted the amateur writer.
Eeshita Azad also pointed out the fact that children today are totally bogged down by their academic studies, thanks to their career-conscious parents. According to Azad, while this is part of growing up, children also needs other forms of recreation, including sports, as well as an understanding of culture without which they are unlikely to develop empathy and other qualities necessary for being a well-rounded person.
Another thought that came out of our discussions, our little adda, was that television channels back in the days were limited, and hence, everyone had to think deeply in order to remain entertained. Nowadays, due to the presence of non-stop TV and unlimited channels, entertainment is too easily provided on our doorsteps, making us lazy and demotivated to perform on our own.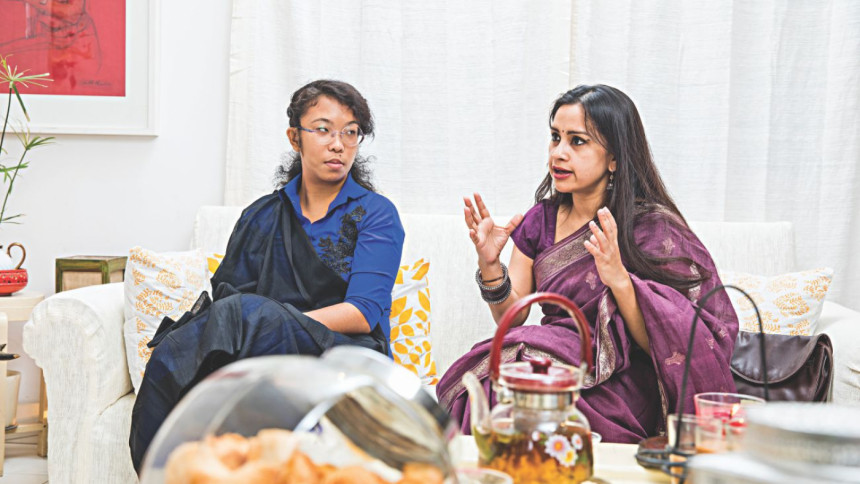 So, where does the solution lie? Perhaps in the question itself!
Maybe it is time we concentrated more on our humane side and paid heed to our emotions. Maybe it is time we blocked the outside traffic and listened to our inner self, what our hearts have to express — through writing, music, art, or poetry. Maybe it is time we formed a bond with strangers again, and maybe, just maybe, that can take us one step closer to a beautiful idealistic world.
In and around our real adda, while singing a few songs, we realised how warm the environment made us feel. It is within this very confinement that we made friends, people that we have met for the first time in our lives.
Over a cup of tea, shingara, and a dollop of potato salad, we bonded and shared our experiences through performances, poetry, and music. Our hearts were open and our minds welcoming. We reminisced about the laid-back metropolis that we used to know – our beloved Dhaka – which slowly gave way to a chaotic city characterised by noise and pollution.
By Mehrin Mubdi Chowdhury
Photo: Sazzad Ibne Sayed
** Special thanks to Eeshita Azad, managing director of Bengal Creative Hub, for helping us arrange this informal get-together with such talented individuals which was hugely entertaining.