Homeless but not hopeless
Refugees across the World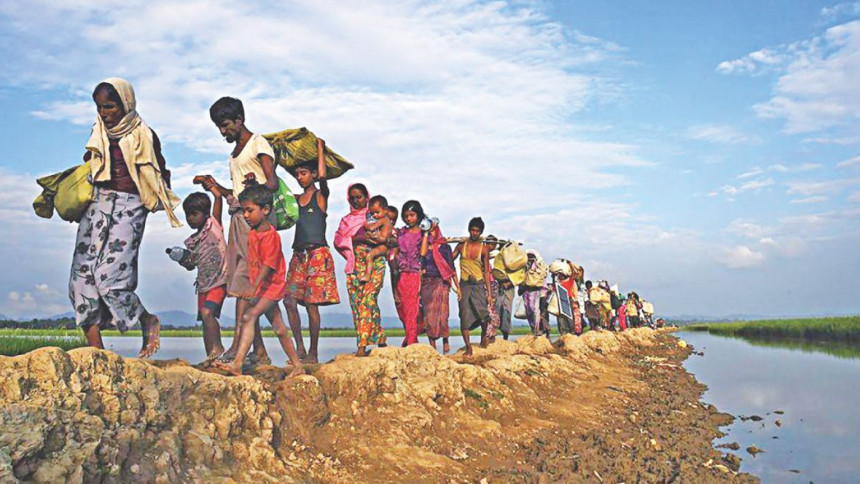 "No one leaves home unless home is the mouth of a shark."
— Warsan Shire, British Poet
A home is one's sanctuary — somewhere where they can feel safe, loved, and secure. But when one is faced by the perils of invasion, imprisonment, rape, murder and/or mass persecution, there is no other way than escaping from the place they call home. And when they do so, they become what the world knows them as — refugees.   
A 'refugee' is defined by the UN High Commissioner for Refugees (UNHCR) as someone who has been forced to flee his or her country because of persecution, war, or violence.
Each year, the number of refugees across the world is increasing at an alarming level. In fact, between 2016 and 2017, the number grew by 2.9 million, and today, a staggering total of 68.5 million people are accounted for as refugees.
This clearly goes to prove the fact that while most of us are fortunate enough to have a roof over our head and a place we can call home, this despaired lot has only a hope at survival to hold on to.
About two-thirds of the total number of refugees comes from Syria, Afghanistan, Somalia, South Sudan and Myanmar. Syria, in fact, is the worst humanitarian crisis of our time, with more than 12 million people either killed or forced to flee from their homes in fear for their lives.
During the Liberation War in Bangladesh, over 10 million people fled to India in search of a chance at life. Today, several developed countries are accepting the influx of refugees with open arms and working on placing them in safe centres and/or even proper homes.
Bangladesh itself has received accolades globally for the way we warmly welcomed and temporarily housed over 730,000 Rohingyas (as of January 2019).
Several books, poems, songs and articles have been written and numerous movies and documentaries have been made surrounding the refugee crises. The movie 'Hotel Rwanda,' a film based on a true story, depicts how a hotel manager takes in numerous evacuees from the overburdened refugee camps and cares for them until they are sent home safely during a civil war between the Hutu and Tutsi groups in the Rwandan Genocide in 1994.
Another such exemplary portrayal was done in a more recent movie, 'Children of Men,' which depicts Europe in the face of a massive refugee crisis. On the other hand, one of the most notable poems written on this topic remains Allen Ginsberg's soul-crushing piece "September on Jessore Road" that describes the exodus during the 1971 War in Bangladesh.
All these are not tall-tales, but beautiful depictions and bitter facts that paint quite a grim, unsettling picture of the world we live in. After reading this far, you may be moved enough to be struck by a noble idea of doing something helpful. But most of us are actually unaware of the practical ways on how we can reach out to refugees.
Melissa Fleming of the UN Refugee Agency had a few suggestions regarding this notion in her article on the website of the non-profit organisation Ted.
Being in Bangladesh, you can firstly reach out to the several NGOs which are working to alleviate the living conditions of the Rohingya population who are still stationed at the makeshift settlements in Cox's Bazar. After forming the link, you can help them through sending care packages or monetary donations. Moreover, helping them integrate into the surrounding culture and providing them with a stable form of employment opportunity could truly be the best possible way to uplift their broken spirits.
You can make the same attempts to reach out to international refugees placed in other countries across the world by making contacts with international organisations such as UNHCR, Refugees International, ORAM, Care, Save the Children, Project Amal, OXFAM and many others.
The refugee crisis has been with us since time immemorial. And perhaps that will never change. The least we can do is extend our hand to those in peril. Refugees flee fearing persecution, even death. But what they live through in their life as a stateless, the first thing they lose is dignity. And that is an amputee of the soul.
Photo: Collected