special feature
Gentlemen do not plagiarise
Bespoke
adjective British
* made for a particular customer or user
"a bespoke suit"
Fashion is not for the fainthearted — true! When one argues that trends are important, we do not disagree, but we prefer to equally reason that any man can be his own couturier — with practice, patience, and some thought.
Cynics say, bespoke is for misers; the fashionably numb or dumb! Let the naysayers make their claim but know this, once you give it a try, facts reveal, Eid or no Eid, bespoke is one time-tested way to go about style and fashion.
Picking an off the rack panjabi, or shirt is always an option, but not necessarily an ideal one. Selecting a fabric, and then tailoring it according to your physique not only allows one to have 'the perfect fit,' but also the exact cut you desire.
Embellishments are also at your discretion — one may choose to raise the dazzle quotient, or decide to keep it low.
You can mix and match all aspects of an attire, from comfort to style or trend. Particularly fond of blue with a penchant for traditional attires, but awe-struck with an uber comfy fabric at the 'pantaloons' section of the store? Just proceed to make a coatee, or even a sherwani. Sounds blasphemous? Once stitched to perfection, there is no faux pas in it. Not a bit!
FIRST STOP: THE FABRIC
No surprises there.
If we say choices are endless, it may sound cliché, but know we speak from experience.
Variety of options however, can often be a hindrance — as you are spoilt for choice. One must realise, and this is a must to ace such an endeavour, that it would be foolish to experiment too much.
There is no greater faux pas known than going against your usual self — if you are known for your use of subtle shades, do not suddenly become flamboyant just because you can. If indeed you feel for a fresh start, make it a slow transition rather than one done on the spur of the moment. 
While selecting the fabric, comfort should be key; colour is also an important consideration, given the weather. But what stands out is what you wish to do with the fabric. Check the texture to see how it feels against the skin.
One of the greatest benefits of tailored clothing is versatility! With some thought, any man can turn the fabric sold for trousers and turn it into a sherwani. Embracing the bespoke option, fabric selection becomes a fluid concept and the store fabric labels — "shirts," "suits," "panjabis" — simply disappear. One can be creative and make a fatua, or even a panjabi, from the fabric taken straight form the SHIRT section at the stores.
Looking at the fashion prospects for this Eid, it's easy to realise that sherwanis are definitely in. Yet, imagine yourself standing under the sun — waiting for the Uber ride to a post Eid lunch or an evening extravaganza— the idea does not seem so bright does it?
Yet, know this, sherwanis can easily replace a suit or a jacket — as long as you master the art of selecting the right textile, the right cut, and accessorise accordingly.
If you are looking for something to walk you through the summer, cover the monsoon, and right till the start of the wedding season, a monochrome, sharp cut sherwani can do just the trick. Save the extravagant pieces for December, because you will definitely be needing one, or two, when the invites start to pile on the desk.
The month of Ramadan is still a week away, but planning for Eid is already underway. It's not just the travel plans, irrespective of where you are heading, but to plan ahead for a smooth Ramadan, one that not only has spiritual aspects, but also earthly ones.
While the fashion houses are busy stocking their shelves with new arrivals for Eid, one also finds much activity at the tailors who are busy taking orders. So, if you thought browsing through the online stores, looking at fashion albums was the only way to go, think otherwise!
Now, have we forgotten suits? Certainly not, but keeping the nature of the festivity in mind, we suggest prince coats over blazers. But go for the summer coat by all means!
These can be wonderful additions to your wardrobe, but keep in mind the nature of the fabric, and what is paramount – the shade.  The colour of the summer suit/prince coat is the factor that can make or break!
A middle ground between coats and sherwanis can easily be the versatile coatee, which is now on trend. Sartorial experiences have taught us that tailors here are yet to master the skill of making a summer suit, but almost all tailors can easily make the coatee you desire. And truth be told, we would rather have you opt for this, as we promote local styles and fashion — needless to say, the coatee and the panjabi go hand in hand!
Speaking of panjabis, do you already hear pundits screaming, "stagnant fashion"? Well, no one dares to call the sari stagnant, simply because it is not.
Panjabi is a timeless piece Bengali men cannot do without! The best thing about going bespoke with the panjabi is that you can do a market survey of what the trend is, and then just go back some years in time, and then try that!
Once again, do not let the inner rebel take over and go outlandish or something straight out of a sixties film. So, hippie-inspired panjabis are out!
Shirts — now that's another fashion staple. This is one aspect where going to the tailor can really make a difference, because everyone hates a shirt that does not fit. Although the ready-to-wear range offered by fashion houses is quite diverse, they often do not fit the myriad body types. So if you are a little on the 'plus' side, or have an odd protruding belly, stick to the tailor.
If we may, while selecting the fabric for shirts, do try to think ahead. It would be quite pointless to tailor shirts that will not be of much use in the future. If your profession requires formal wear, then go for it.
If you have the option to wear something not quite 'starched' — then please do so. The reason for this is simple. Eid is perhaps the time when fabric stores will stock the most variant types of shirt fabrics. There will be something for everyone. So make the best use of the boon of Eid.
THE TAILORING  
This is where things get a little trickier, especially if you are a rookie at ordering at the tailors. Your best bet would be a referral. As sad as it is for men out there, there is not a single place that can cater to all your sartorial needs. So, depending on what you are planning to make, one needs to find a suitable tailor.
Yes, we have heard horror stories. So, to pre-empt disaster, take a sample that fits you perfectly. It would make some sense to go through their catalogues, but this is where you draw the line — gentlemen do not plagiarise!
Pinterest may seem like a boon, and for some it is, but once again, we raise the red flag — spoilt for choice…Only a seasoned hand at bespoke fashion can manage to steer his way through this predicament. But chances are, the secret to the best dressed man in your friends list is an ardent 'bespoke' guy.
It may seem a hassle. And it can be. But you will not know better unless you try. And once you develop a good rapport with the tailor, be it for shirt or suit or panjabi…you will be able to reap the benefits of bespoke fashion to the fullest.
Any fashionista knows the importance of having the right tailor, and if you have any intention of maintaining your love affair with bespoke, you too must have a pool of efficient tailors at your disposal.
A stitch in time
Eid may seem like a long five weeks away, but that is only for you. The Eid preparations have already started and the tailors are already being bombarded with orders. If it is a run of the mill design that you are trying to make, you have the luxury to wait; anything exceptional must be addressed ASAP. Your regular guy may not feel confident enough to make the sherwani in the desired way, for instance. Admire his honesty and move on to someone else.
Placing an early order also gives you the opportunity to check if the clothes are made the way you wanted them. If there is some problem, and there is a possibility that there would be some, early delivery will mean that there is a chance that you can have the attire altered.
True, tailoring is the biggest problem of going bespoke. But then again, it is also the thing that makes bespoke fashion so great.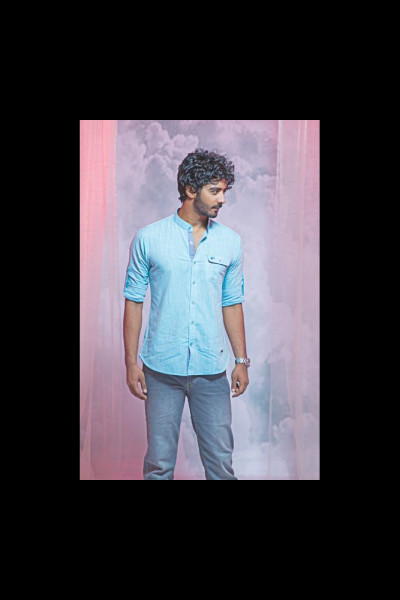 Embellishments
This is where the bespoke way of life really starts paying dividends, especially for those who are trying to make an attire that can set him apart. The factory made ready-to-buy outfits are designed to attract a wide clientele, and this takes out the individuality from the lines.
There are couturiers who make one-offs, but once you weight the price factor, bespoke reigns supreme.
It offers you an opportunity to amp up the glam factor with various embellishments in various forms, like embroidery, stonework or just patches and pipings, without costing a fortune.
Time is however of the essence. Not all tailors offer embellishments services, however, they often collaborate with those who do. Once again, this is where referrals not only works, but at times, is essential to produce quality results. But when done properly, it can be perfection!
A NOTE ON PRAGMATISM 
Time is of the essence. By the time most of the stores finish stocking their entire Eid inventory, the popular tailors will stop taking orders. Acing the art of bespoke involves proper planning. The first step is often the most crucial — selecting the fabric. As this is the time when the offerings are most diverse, this is your chance to stock for textile that you can use for the rest of the year, at least till winter comes.
If you are rookie, we would suggest taking baby steps. While selecting the fabric may be the easiest of the part, haggling for the right price is a trick few get to master. And then there is the selection of design, and taking it to the right person who can produce what you are imagining.
But do give bespoke fashion a try.
By Mannan Mashhur Zarif
Photo: Eid Album Archive 2015/Sazzad Ibne Sayed