Amisheé, jewellery extraordinaire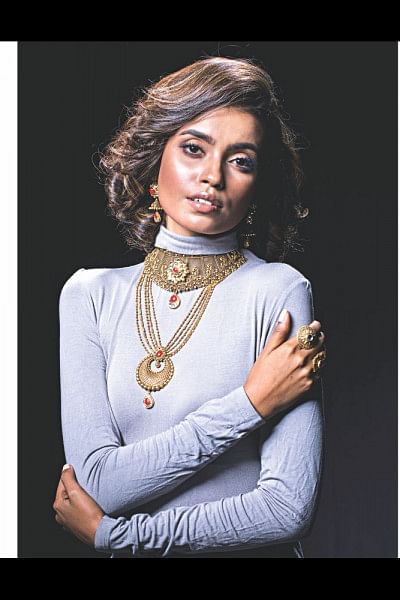 Amisheé, a fine jewellery store on Gulshan Avenue, is riding high this festive season. It essentially caters to the taste of the new age Bangladeshi; the uber—women, who know what they want.
THE BRAND
Amisheé's exclusive jewellery line was launched at the end of 2017, with the idea to empower women; and hence, this unique nomenclature. All designs are exclusively handmade by artisans, and each bears a mark of authenticity.
THE CLIENTELE
Despite the fact that the jewellery business runs on trust, Amisheé has garnered a niche clientele. Though the designs are elitist, every woman can feel connected to them. It has also enthralled the youth who look for exquisite things. The jewellery line also has social media presence in terms of being on Facebook and Instagram.
The two-storied, expansive and spacious showroom caters to international standards and looks chic and hip in every respect. Moreover, their launch of specialised pearls, which are sourced from Japan, have found an immediate following here. The patrons are the same people who, otherwise would have travelled to other South Asian countries even if just to find exclusive jewellery.
COLLECTIONS, 2019
In February, 2019, Amisheé's men's line was launched. From time to time, seasonal collections, wedding collections, and Valentine's Day collections are launched. This year, International Women's day got its own collection, a line resonating the theme of urban women.
With Eid, Amisheé plans to unveil designs for the youth, like trinkets, small pendants and ear studs with unconventional and elegant designs. The collection promises to be classy and unique, without being very expensive.
Apart from that, the customers will find fresh stock as every month features a new collection to showcase, and that will continue for Eid as well.
THE FUTURE
Amisheé has a long way to go, but it has already established its own factory this March. The raw materials are imported and the craftsmen, some local and others brought from other parts of the world, work to deliver the finest products, handcrafted by their adroit, nimble hands.
Machines are used in diamond jewellery for added finesse. Amisheé plans to expand the factory and unveil stores in other countries, thereby going international. In their zeal to be the finest Bangladeshi designer jewellery brand, they adhere to strict quality control standards and strive to maintain that.
Amisheé plans to launch beautiful bracelets in tune with the modern day designs for the young adults of both sexes. There will also be a better online presence very soon, as they plan to have a website to boost publicity and public presence.
-- LS Desk
Photo: Sazzad Ibne Sayed
Model: Efa
Jewellery: Amisheé
Styling: Sonia Yeasmin Isha
Makeup: Farzana Shakil's Makeover Salon