Bangabandhu Statue of Speech and Freedom built in Jhenidah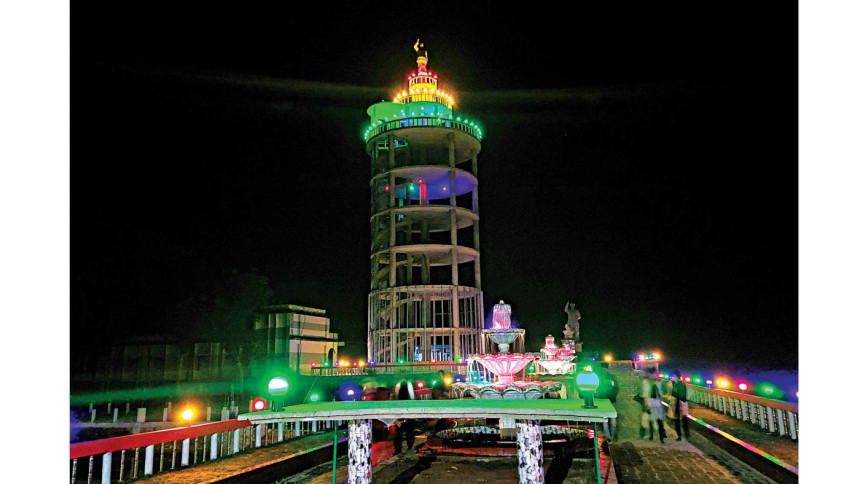 A Statue of Speech and Freedom has been built acquiring 50 decimal land at Bangabandhu Sheikh Mujib Memorial College campus at Shamsher Nagar village, Kaliganj upazila in Jhenidah.
The colossal statue of Bangabandhu has been set up along with that of the family members of the Father of the Nation who were killed on the night of 15 August 1975. In total, 52 statues of various sizes have been commissioned including that of Kazi Nazrul Islam, Rabindranath Tagore, former Indian Prime Minister Indira Gandhi, the Bir Shreshthas, martyrs of the Language Movement of 1952, and the last Nawab of Bengal Nawab Siraj Uddowla.
Founder Principal of Bangabandhu Sheikh Mujib Memorial College, Md Shafiqul Islam, mentioned that a six storied building is being constructed as a symbol of the Six-point demand of 1966. In the first floor there will be a cafeteria, Bangabandhu museum will be located in the 2nd and 3rd floor; in the 4th floor there will be Bangabandhu research laboratory and library; Chchatra Shangsad and The Young Bangla Sporting Club will be at 5th floor, and in the 6th floor there will be a Projonmo-71 and Muktijoddha office.
UNO Sadia Zerin of Kaliganj upazilla appreciated the fact that being a college principal, Md Shafiqul Islam has taken the initiative to construct a statue of speech and freedom, which will hopefully become a tourist destination.
Photo: Azibor Rahman