Dinner ideas for winter nights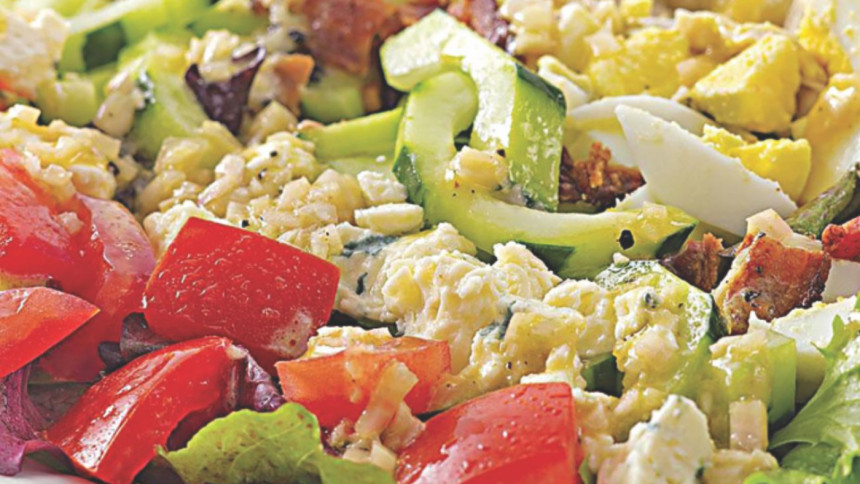 COBB SALAD
Ingredients
8-10 pieces of beef (cold meat)
4 handful salad leaves (torn into bite-sized pieces)
3 hard-boiled eggs (shelled and chopped)
500g skinless, boneless cooked chicken (diced)
2 avocados (peeled, stoned and cubed)
150g cherry tomatoes (halved)
100g blue cheese (crumbled)
Bread rolls (to serve)
Dressing —
½ tsp Dijon mustard
4 tbsp red wine vinegar
1 tsp Worcestershire sauce
1 garlic clove, crushed into a paste
¼ tsp salt
¼ tsp pepper
6 tbsp olive oil
Method
Put cold meat in a frying pan over a medium-high heat and cook until crisp. Drain on kitchen paper. When it is cool enough to handle, crumble and set aside. Make a bed of salad leaves in four shallow bowls. Arrange eggs, meat, chicken, avocados, tomatoes and cheese in rows on top of the lettuce, covering the surface completely. To make the dressing, whisk mustard, vinegar, Worcestershire sauce, garlic, salt and pepper. Slowly drizzle in the oil, whisking constantly. Pour the dressing evenly over the salad, and serve immediately with bread rolls.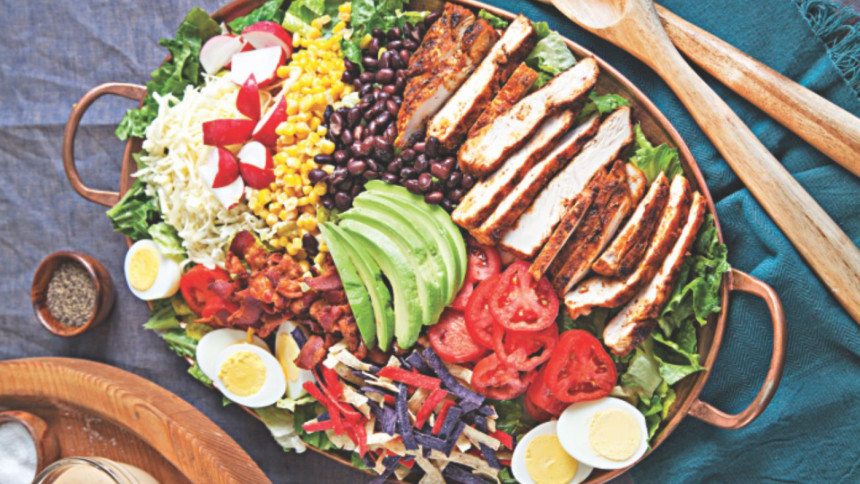 RED CHICKEN SALAD
Ingredients
4 skinless, boneless chicken breasts
2 tbsp Thai red curry paste
2 tbsp vegetable oil
175g fresh spinach (torn into large pieces)
½ cabbage (shredded)
2 onions (finely chopped)
2 garlic cloves (crushed)
1 tbsp rice wine vinegar
2 tbsp sweet chilli sauce
2 tbsp Thai soy sauce
1 head Chinese leaves, shredded
Method
Slash the flesh of chicken several times and rub curry paste into each cut. Cover and marinate in the refrigerator overnight.
Heat a wok over a high flame then add 1 tbsp of oil. Add the chicken breasts and cook for 5-6 minutes, turning once or twice, until the chicken is cooked through and the juices run clear when a skewer is inserted into the thickest part of the meat. Remove from the wok, set aside and keep warm.
Heat the remaining oil in the wok and stir-fry spinach and cabbage until just wilted. Add onions and garlic, and stir fry until just tender but not browned. Add vinegar, chilli sauce and soy sauce. Remove from heat. Arrange Chinese leaves on four serving plates. Slice chicken, arrange on salad leaves and drizzle the hot dressing over. Serve immediately with dinner buns.
SPICY CHICKEN PITAS
Ingredients
4 pita breads (cut in half to serve)
Filling —
1 small onion (very thinly sliced)
500g chicken breasts (chopped)
½ tsp dried oregano
¼ tsp cayenne pepper
¼ tsp ground cinnamon
1 tbsp oil
Salt to taste
Yoghurt sauce —
1 garlic clove (finely chopped)
1 lemon zest (finely grated)
1 tbsp lemon juice, 100ml natural yoghurt
¼ tsp chilli sauce, or to taste
50-70g cucumber (grated)
¼ tsp fresh parsley
Method
Put sauce ingredients into a small bowl and stir to combine. Add all the filling ingredients to a mixing bowl and mix well. Heat a large frying pan over a high flame until very hot. Add the filling mixture and sauté for 5 minutes until the chicken is tender and cooked through. Fill the pita halves with chicken and spoon in the yoghurt sauce. Serve immediately.
HONEY AND MUSTARD CHICKEN
Ingredients
8 pieces chicken
2 tbsp Dijon mustard
2 tbsp Worcestershire sauce
1 tbsp clear honey
Salt and pepper
Crusty bread to serve
Method
Preheat the oven to 220 degree Celsius. Trim any excess fat from the chicken and cut deep slashes into the thickest parts. Place the mustard, Worcestershire sauce, and honey in a large mixing bowl; season to taste with salt and pepper and mix together. Now add the chicken and turn to coat evenly. Arrange the chicken in a single layer in a large shallow roasting tin. Bake in the preheated oven for 15-20 minutes, turning occasionally, until the chicken is cooked through and the juices run clear when a skewer is inserted into the thickest part. Transfer to a warmed serving dish and serve immediately with crusty bread or naan.
Photo: Collected