Vibrant hues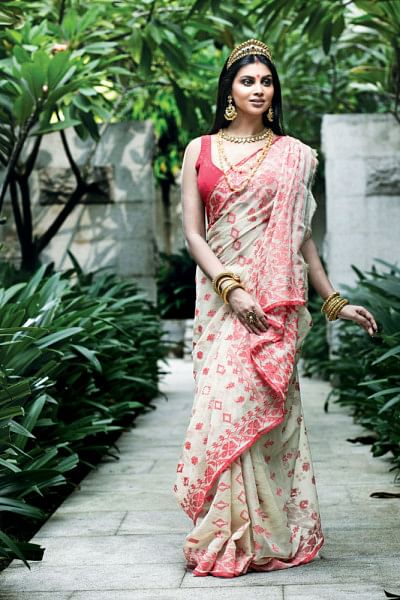 There is something about the red and white; it reminds me of Apu and Durga, or Devdas and Paro, and invariably in a Sarat or autumn setting. Where the young women are draped in flowy cotton white saris, the borders of which are painted red, running through the high white fluffy kansgrass, their hair blowing in the autumnal wind. The romance of the clear azure sky dotted with soft white clouds, the ochre red sunsets, these colours usher, with the sweet whistle of the conch shell, the coming home of Durga the Goddess to her home on Earth.
Let it be said, I let my imagination loose where the authors leave off. Yes, its Puja time and the red and white is the theme colour of the month.
The women in a kora or off-white jamdani, stitched in intricate designs in red thread, draped in rustic 'ek pach' style or worn without pleats, few heirloom gold jewelleries and a brass plate filled with red hibiscus, few grass slivers, a sindur pot in their hands; it's a typical Hindu woman in her puja avatar. In fact, she is a vision of the goddess herself.
Our favourite look is the red and white combination, or mix and match for the aura of elegance it creates during Durga's homecoming.
The white sari contrasts with her vermillion 'teep' on the forehead and that passionate splatter of the powder on the hair partings, her feet and palms painted red with 'alta.' There is a definitive love story to see when her beau stands beside her in freshly starched white panjabi and dhooti. This is a very traditional and classical scene of puja. However, with changing times and evolving fashion, the red and white combinations often change to either all white jamdani with a red sleeveless blouse or an all red silk sari in beautiful designs stitched in rich silk threads. The best part of puja fashion is you can opt for other colours and designs on six different days.
White is a mixture of seven different colours; hence it symbolises a little bit of purity, cleanliness, peace and knowledge. Red indicates both sensuality and purity. It is also the colour of Shakti (power). Thus, these colours truly represent the goddess mood, especially on Nabami.
There is actually colour coded fashion for each day of Durga puja. There are nine colours associated with the goddess and to wear clothes accordingly, it is believed that it brings prosperity, blessings and good luck. Yet, it is the red and white that strikes as the quintessential puja hue — white signifies peace and purity; red signifies beauty and fearlessness!
This week, Star Lifestyle brings to you our puja fashion mini portfolio, shot just for you, my readers.
Photo: Sazzad Ibne Sayed
Model: Meghla
Jewellery: Jarwa House
Wardrobe: Tangail Saree Kutir Ltd.
Make-up: Hossain
Styling: Sonia Yeasmin Isha
Location: InterContinental Dhaka