Loving and Living with Plants
Fading greens in the concrete jungle
There is something unforgiving in how concrete and bricks come together to form the urban geometric skyline. Ask any colour theorist and they will go into a lecture on how the most depressing colours lie within the dreary burnt umber and stained, icy greys. Add to it the ever present dust clouds, lung searing smoke, the incessant rumble and honking of vehicles, and garbage that seems to grow on its own; a typical Dhaka street simply materialises in front of you. But how can that be?
A city is meant to sustain life in every form. The concrete and the dust just do not seem to add up with the bustle of the people. Ask yourself - where is the green? Where are the grassy fields filled with children in the afternoon, peeking vines from balconies or inviting comfort of a shady tree beside the street? Or maybe that is just asking for too much…
It takes almost a century for a forest to form, but only days to clear it off and maybe two to five years for a bustling city to take its place. When it comes to number in ages though, plants and greens are resilient in their billion-year-old streak for survival. 
Clumps of grass with fine stalks of 'ghash-ful' simply place themselves on dead, brown moss and peek through walls. Just below the much advertised 'leak-proof' water pipe joints, banyan plants grow and spread their roots into every fine crack of the seemingly unyielding walls they can find. Then there is the blessed rain water - a life bringer in the cement wrapped, fume covered city. Just a drizzle of rain brings out a host of shrubs from a lifeless pile of construction debris.
Even unseemly weeds are often a welcome sight as they bring tiny treasure blossoms. These fleeting moments of greenery are signs that nature is not about to give up her hold on the land, not yet.
Throughout Dhaka, household plants, and roof top hobby gardens have all become rarities. Apartment owners and tenants try their hands at gardening, but the burdens of work and life limit their efforts. At the hands of the caretakers and household help, in time only the dead stalks remain in neat painted pots. Sometimes the only greenery is on one's digital screen rather than an actual leaf on a living plant.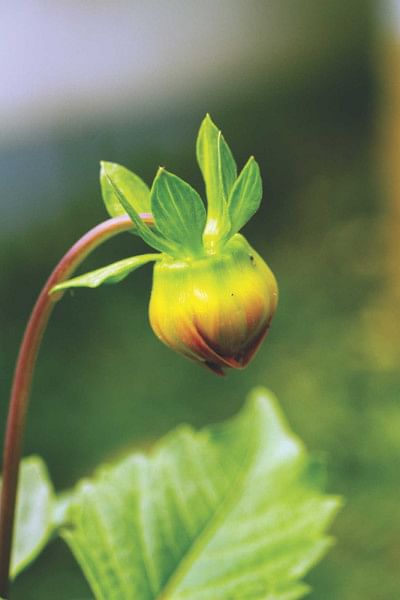 Green Road, the stretch of never-cooling asphalt from Farmgate to Science Laboratory Crossing was flanked by towering trees on both sides just twenty years ago. Just as the official name of the road has changed, so did the scenery - the green now replaced by wry concrete housing and hospitals. Only a handful of the old generation of trees remain here and there, all awaiting the inevitable urbanisation. 
Yet in the heat of the summer, a lone 'krishnachura' tucked away in the alleys, does not fail to bring out its fiery boon of red like its siblings spread-out through the city. It does not need a beholder's eyes to announce its existence. It only needs to grow as it was meant to be – wild and free.
In a city where a room with a view is a luxury, it is almost too much to expect to see any kind of large tree out of the window. But just like the hard working people in the city, the remnants of nature are working tirelessly to grasp onto whatever host, which can accommodate them. 
Instead of growing time defying behemoths, urbanisation now allows for fast spurts of green to appear and disappear in a day. Maybe nature too has become urbanised and is slowly taking leave of the land. But for the time, the glimpses of green on the palette of burnt umber and icy, stained greys are still a sign that nature has not forsaken the concrete jungle.
By Iris Farina

Photo: LS Archive