deshi mix
Poush sankranti recipes
Poush Sankranti, also known as Makar Sankranti is celebrated all over South Asia. Known by different names, it is celebrated with different customs in different parts of the sub-continent. Many people take a dip in the river Ganges and pray to the Sun God. The southern part of India celebrates this festival as 'Pongal', and Punjab as 'Lohri,' 'Uttrayan' in Gujarat, Karnataka and Andhra Pradesh as 'Sankranti,' Maharashtra as 'Til Sankranti' and "Bhogali Bihu" in Assam.
Poush Sankranti is mainly a harvest festival. It is also known as Sakrain in Old Dhaka, and people celebrate it on 14 and 15 January (dates vary among localities). On this occasion every year, people fly kites on rooftops with loud music and fire spinning to accompany by. 
The most important event of the harvest festival in Bengali homes, is the making of rice cakes by the womenfolk from newly harvested rice and jiggery made from fresh date-palm juice.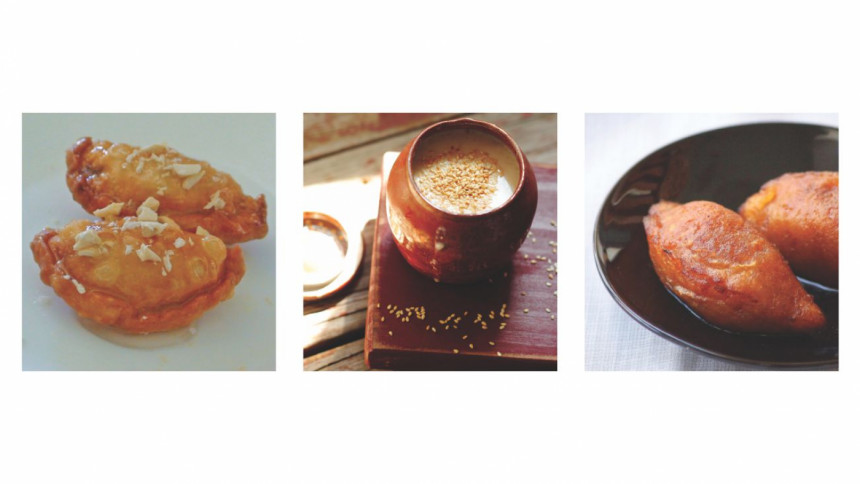 Kheer malpua
Malpua - an eggless, sweet fried pancake - is a popular dessert of Poush Sankrant. It is mainly flour and semolina based which are mixed with milk to produce a thick batter, and finally fried and soaked in hot sugar syrup. 
Malpua can be prepared with different ingredients. Sometimes banana, other fruits, khoya are included to make variations, but traditionally khoya malpua is prepared on Poush Sankranti.
Ingredients:
2 cup milk
1 cup milk solids (khoya)
½ cup semolina
4 tbsp all purpose flour 
2 tbsp sugar
1 cardamom powder
Oil for frying
Ingredients for sugar syrup -
1 cup sugar
1½ cup water
½ drop rose water, optional
1 tsp lemon juice
Method:
Boil the milk. Add khoya and mix well. Keep stirring continuously to avoid burning. Make sure there are no lumps at all. Switch off the flame and let it cool a bit. Add the rest of the ingredients except oil. Make sure the batter is smooth and lump free. Heat oil in a flat pan. Add a spoonful of batter in the hot oil. Fry it until golden brown in both sides. Flip more than once if required. Remove with a slotted spoon and rest them on paper towel. 
Now take a deep bottomed pan. Heat the water on high flame until boiling. Add sugar. When the syrup is producing a lot of bubbles add lemon juice. Once the syrup reaches stirring consistency add rose essence, if using at all. Drop the malpua in the hot syrup. Wait for one minute and remove them from the syrup. Place and arrange in the serving bowl with slivers of pistachio or almond. Serve hot with kheer.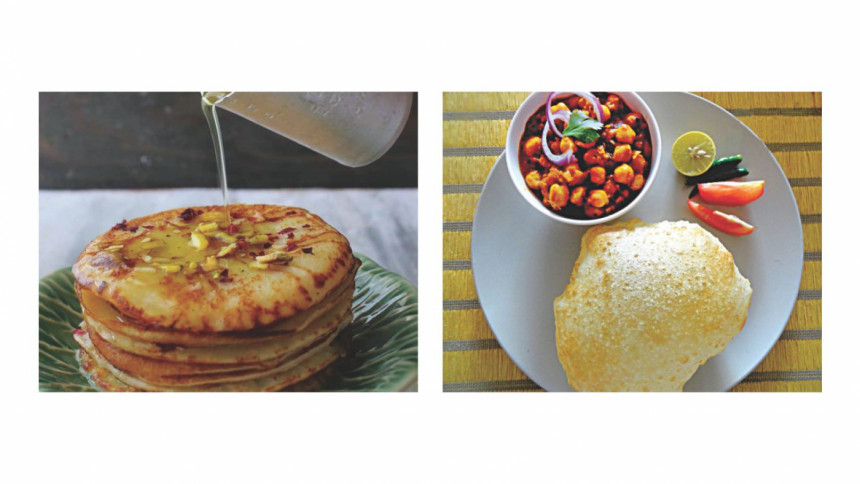 Chole bhature
This is one of the most popular Punjabi recipes, which is now liked almost all over India and foreign countries too. Chole stands for a spicy curry made with white chickpeas and bhature is fried leavened flat bread. Chole bhature is a spicy, tasty and a heavy dish. 
Chole Dhania Masala -
(chickpea with fresh coriander)
Ingredients -
¾ cup chickpeas (kabuki chole)
Split Bengal gram (chole dal)
1 small bunch fresh coriander leaves
½ inch cinnamon
1 tsp cumin seeds
1 black cardamom
4-5 cloves
3 green chilli
10 medium onion, sliced
1 tsp ginger paste
½  tsp garlic paste
½ tbsp dry mango powder 
Black salt to taste
½ tsp garam masala powder 
¼ red chilli powder
4 tbsp ghee
Salt to taste
Method:
Soak the chickpeas and Bengal gram separately for four to six hours. Drain and mix. Add 4 cups of water and a little salt. Cook till the dal is tender. Lightly roast and add the powdered cinnamon, cumin seeds, coriander seeds, black cardamom and cloves. Grind the fresh coriander and green chilli to a smooth paste. Heat three tablespoon of ghee in a non-stick kadai, add the onion and sauté for 3-4 minutes. Add the ginger and garlic paste, continue to sauté for another minute.
Add the roasted spice powder, dried mango powder, garam masala powder, black salt and coriander-green chilli paste and sauté till ghee separates from the masala. 
Add the boiled chickpeas and Bengal gram, mix well. Add half a cup of water if the mixture is too dry. Adjust the salt and bring the mixture to a boil. Lower the heat and simmer for four to five minutes. Heat the remaining ghee in a small pan, take it off the heat and add the chilli powder. Pour immediately over the chickpeas mixture and cover the pan. Leave to stand for five minutes. Serve hot with bhatures.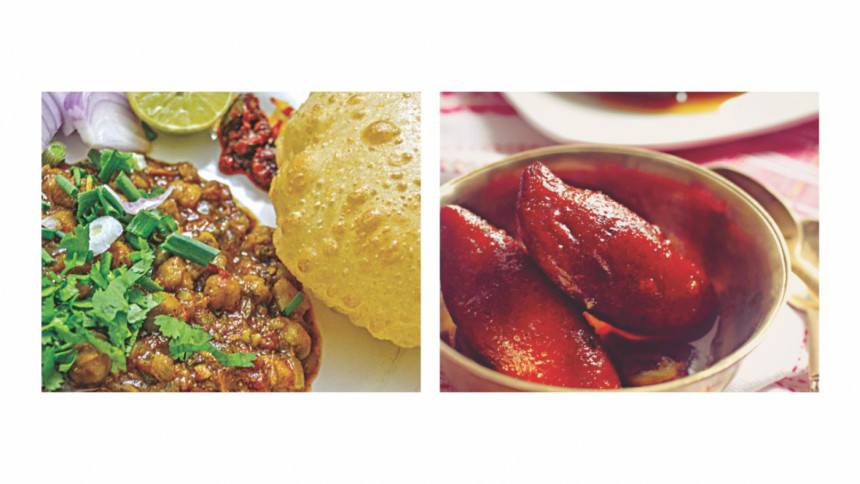 Bhature ( deep fried bread)
Ingredients:
2½ cup refined flour
½ cup yoghurt
½ tsp baking powder
One pinch soda bicarbonate 
1 tsp salt
2 tsp sugar
2 tbsp oil
Oil for frying
Method:
Place flour and baking powder, soda bicarbonate and salt in a bowl. Mix well and pass it through a sieve. Mix yoghurt with salt and sugar. Add this to the flour and add about a cup of water and mix gradually to make a soft dough by light kneading. Incorporate two tablespoons of oil into the dough and cover the dough with wet cloth. Keep it aside for an hour. 
Divide dough into 15 equal portions. Roll them into balls. Cover and keep to ferment for ten minutes.
Grease your palms with a little oil and flatten the balls. Roll them into five inch diameter diskettes. Heat sufficient oil in a kadai and deep fry the bhatures on high heat till light brown on both sides. Drain on absorbent paper. Serve hot with chole.
Sweet potato puli
Ingredients:
For the outer layer -
3 medium sized sweet potato (1 cup when boiled and mashed)
3 tbsp all purpose flour
1 tbsp rice flour
For the stuffing -
1 cup grated fresh coconut
½ cup grated jaggery
For the syrup -
8 tbsp sugar
8 tbsp jaggery powder
1¼ cups water
1/8 tsp cardamom powder
Method:
Combine the coconut and jaggery in a pan and let the jaggery dissolve completely. Cook on a medium flame. Stir continuously until you get a thick mixture. When the mixture thickens, remove from the flame and let it cool. Divide it into 9-10 equal portions and set aside. 
Boil the sweet potatoes until soft. Peel and mash them until smooth. Add the rice flour all purpose flour to the mashed sweet potatoes and knead it well to from a smooth dough. The dough should be soft and non sticky. 
Divide the dough into 9-10 equal balls and set aside. Flatten the dough ball with your greased palm. Place the coconut stuffing in the center. Carefully fold the dough to form a semi circular. Seal the edges. Repeat with remaining dough. Keep them covered to avoid drying. 
To make the syrup, combine the jaggery, sugar and water in a pan and stir until jaggery dissolves completely. Add cardamom powder and let it boil on a low flame for 10 minutes. 
Turn off the flame and keep the syrup warm. The syrup should not be too hot or cold when you add the fried sweet potato puli to it. Heat oil in a pan. Deep fry the stuffed puli over a medium flame till golden brown. Remove from the oil and immediately drop them into the warm syrup. Let them soak in the syrup for 5 minutes or sometimes. Serve warm or cold.
Gajrela
Gajrela is a sweet dessert pudding associated mainly withNorth India and Pakistan. It is traditionally eaten during all of the festivals in India, mainly on the occasion of Makar Sankranti, Diwali, Holi, Eid and Raksha Bandhan. 
Nowadays Gajrela is a popular worldwide dessert with many variations such as red velvet halwa, carrot and beetroot halwa, and cheesy carrot halwa. Gajrela is also known  gajar er halwa. The dish is popular among adults as well as children.
Ingredients:
10 medium carrots, washed and grated
1 cup milk
4 tbsp pure ghee
10 cashew nuts chopped
2 tbsp raisins, 1 cup sugar
1 cup milk solids (khoya) grated
¼ tsp green cardamom
Method:
Heat three tablespoon ghee in a heavy bottomed pan, add carrots and sauté for few minutes. Add milk and cook on medium heat until the milk evaporates and carrot is cooked. Meanwhile heat remaining ghee in a separate pan; shallow fry the cashew nuts and the raisins until the cashew turns brown. Drain and keep aside. Add sugar to cooked carrots and cook, stirring continuously, till the sugar melts. Add khoya and green cardamom powder. Stir and cook for five minutes. Add cashew nuts and raisins and continue to cook for two minutes more. 
When it is done, serve hot or at room temperature.
Photo: Collected