Best resort offers for monsoon 2022 in Bangladesh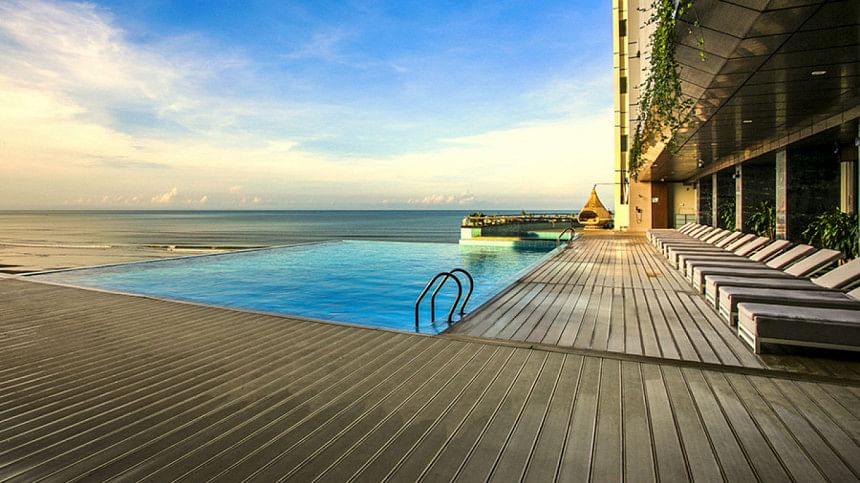 Residents of Dhaka have long come to associate monsoon with grey skies, rumbling thunder, sudden downpours, and traffic. Those who have the luxury to stay indoors do everything they can to avoid stepping out during the rainy season. Summer, particularly monsoon, serves as the perfect time to take that dream holiday and resorts around Bangladesh are pulling out every lucrative offer in their books to lure customers out of their homes and into their luxurious facilities.
Here are some exciting and irresistible resort offers in Bangladesh for summer 2022 for your vacation.

DuSai Resort and Spa, Sylhet
Situated in Moulvibazar on the way to Srimangal, DuSai is a world class 5-star boutique Villa Resort and Spa nestled within hills and a small tropical forest. Beside chic rooms and classy villas, the resort also boasts a 70-feet infinity pool, a children's nursery, a 56-seater cineplex, biking facilities, indoor and outdoor sports, canoeing, pool, and a spa offering inimitable relaxation.
For a tranquil time outdoors, one can even avail the open air jacuzzi or the amphitheatre. The resort has an enticing 50 percent off on regular rooms for the season and the offer will go on until the 30 June, 2022 only. So, no time to waste!
For more details, log into: https://www.dusairesorts.com/packages

The Grand Sultan Tea Resort and Golf, Sylhet
A gem, hidden deep inside Sylhet, the Grand Sultan is equipped with all the state-of-the-art amenities needed for a luxurious mini-holiday inside the country. With top class rooms and suites, the resort also offers a temperature-controlled pool, jacuzzi and a relaxing spa experience to drain away your exhaustion.
The Grand Sultan also includes access to various indoor and outdoor sports facilities, a gymnasium, a gaming room, a theatre and a warm and cosy library. The Grand Sultan Tea Resort and Golf is currently offering a seasonal package with very attractive room rates and a summer offer, with up to 50 percent off on room rent, both including meals and free stays for children.
The offers are valid until the 8 July and simply begging to be taken up.
For more details, log into: https://www.grandsultanresort.com/special-offers

The Palace Luxury Resort, Sylhet
A palatial resort sprawling over acres and acres of lush green land, The Palace Luxury Resort offers a one-stop solution for all your holiday needs. A complete package with deluxe rooms and villas, recreational facilities such as trekking, cycling, boating, fishing, a maze and kids' zone, sports facilities, a gaming zone, a theatre, saunas and Turkish baths, there is something here for everyone.
The Palace Luxury Resort is currently offering night stays for a couple, complete with meals and amenity usage, at very attractive rates. The offers can be availed until the 30 June and we are here for it.
https://www.thepalacelife.com/offers.php

Ocean Paradise Hotel and Resort, Cox's Bazar
Situated in Cox's Bazar, the first choice for vacationers inside Bangladesh, Ocean Paradise Hotel and Resort is a 5-star luxury facility that offers premium comforts to its customers. While their gorgeous rooms are the epitome of luxury and style, other amenities such as their swimming pool, indoor gym, and spa will elevate your holiday experience to another level. Offering a very reasonable package for 2 nights, this offer is just too good to pass up.
For more details, log into: http://www.oceanparadisehotel.com/special-offers

Sayeman Beach Resort, Cox's Bazar
A shining star of Cox's Bazar, the Sayeman Beach Resort brings to you an array of relaxation amenities such as their infinity pool, children's pool, gym and Tararom Spa.
For the adventurous souls, Sayeman Beach Resort offers kayaking, jet skiing and surf boards. They also have a pool table and a foosball set up to while away extra time indoors.
Their current offer has a very lucrative starting rate and each package comes with accommodation, free breakfast, pool and gym usage and 24/7 access to free WIFI. With accommodation and food par excellence, this offer for 2 nights and 2 days is one of a kind.
For more details, log into: https://sayemanresort.com/special-offers/