Bangladeshi pilgrims have to pay Tk 59,000 in addition to Hajj package
Executive committee on Hajj management announces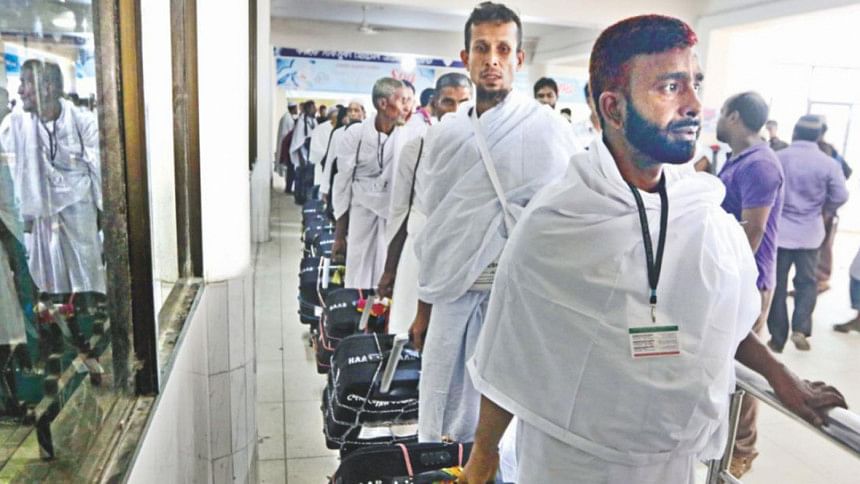 A Bangladeshi aspiring Haji will have to pay Tk 59,000 in addition to the Hajj package, earlier announced by the religious affairs ministry and Hajj Agency Association of Bangladesh (HAAB).
The executive committee on Hajj management made the announcement today, following its meeting at the religious affairs ministry.
State Minister for Religious Affairs, Faridul Haque Khan, presided over the meeting.
While announcing the decision, Faridul said they were forced to take the decision for the Hajj package as Saudi authorities recently informed Bangladesh on the increased moallem fees and other expenses.
According to the latest decision, an aspiring Haji will have to pay a minimum of Tk 5,22,744 for performing Hajj under private agencies, meaning that he/she will have to pay Tk 1,68,150 more compared to 2020.
Earlier on May 12, HAAB – a platform of around 1,500 Hajj agencies – announced the rate of minimum Hajj package at Tk 4,63,744.
The state minister for religious affairs today said an aspiring Haji, under government management, will have to pay minimum Tk 5,21,150 which was earlier Tk 4,62,150.
For category A, an intended Haji will have to pay Tk 5,86,340 which was earlier Tk 5,27,340.
Besides, every pilgrim would have to pay an additional Tk 19,683 for qurbani (sacrificing animals) coupon from the Islamic Development Bank in Saudi Arabia.
According to the bilateral agreement between Bangladesh and Saudi Arabia, a total of 57,585 Bangladeshis will be able to perform Hajj this year, likely to be held on July 8 depending on moon sighting.
Of the total pilgrims, 4,000 will perform Hajj under government management while the rest will perform Hajj under private agencies, he also said.
In 2019, around 1.27 lakh Bangladeshis were allowed to perform Hajj. However, due to the global Covid-19 pandemic, the largest annual Muslim congregation was held on a limited scale in the last two years.